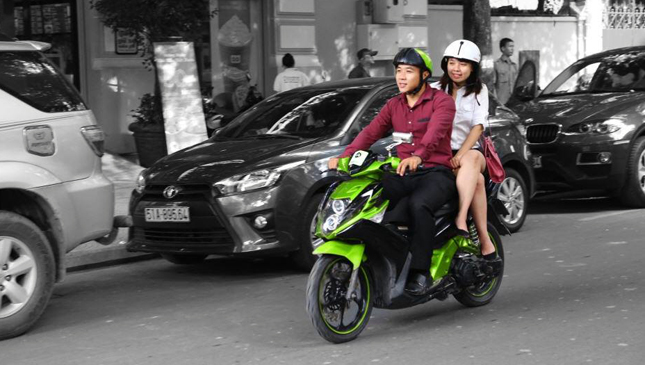 The love-hate relationship between Grab Philippines and the Land Transportation Franchising and Regulatory Board (LTFRB) is in the news again these days--this time regarding Grab's relatively newer service known simply as GrabBike. For not having a franchise or authority to operate as a public utility, LTFRB issued a cease-and-desist order against GrabBike as a service, first addressed to MyTaxi.PH, the legal entity currently accredited with the LTFRB as a Transport Network Company (TNC). Later on, LTFRB issued a new C&D order addressed to Grab Bike Inc., a new company.
You see, one of Grab's defense is that GrabBike is not operated by the same company that runs GrabTaxi and GrabCar, but rather, by a different company called Grab Bike Inc. Curiously, Grab's same representatives also assert that since GrabBike is currently operating for free, it is not covered by the LTFRB's authority over all public utility vehicles.
Let's discuss the above-mentioned two points.
Grab's claim of having a separate corporate entity for Grab Bike versus the rest of Grab's services appears to be a textbook example of the use of corporate fiction to flout regulation. In all its marketing materials, social media assets, billboards, and communications to the public, Grab has been telling the public that all the various services they offer are under one company, which is Grab. Indeed, there is no separate app to use if you want to use GrabCar, GrabTaxi, GrabBike, GrabExpress, GrabHeli, or GrabHorse (this seriously existed). All of these services are under one mobile app, which is the Grab app.
When you encounter a problem with any of the Grab services, you get in touch with them through the same phone hotline, e-mail, Facebook or Twitter channels. All the various Grab services are found on a single website, and their office is in the same building. Plainly, Grab has been telling everyone in the Philippines that it is a unified company--everyone except the LTFRB. When facing the LTFRB, Grab's representatives suddenly insist that GrabBike is "not connected to MyTaxi.PH."
At this point, you may be wondering why Grab is using this "two separate companies" argument before the LTFRB when clearly Grab has been telling everyone that all its services are under one company. Well, the answer lies in this legal creature called Transport Network Company. You see, one of Grab's current core services--and probably its main source of revenue--is GrabCar. In order to legitimize the previously gray-area operations of GrabCar (and Uber/UberX for that matter), the DOTC and the LTFRB issued regulations that created what are called Transport Network Companies.
ADVERTISEMENT - CONTINUE READING BELOW
TNCs are the equivalent of the franchise owner in the old PUV paradigm. For Grab, the accredited TNC is the company called MyTaxi.PH. Because MyTaxi.PH is an accredited TNC, the day-to-day operations of GrabCar vehicles (each owned by a separate Transport Network Vehicle Service provider, called "peer" by Grab and "partner" by Uber) are legitimized. By implication, if the accreditation of MyTaxi.PH as a TNC is revoked by the LTFRB, then all the thousands of GrabCar peers suddenly lose their legitimacy and (gasp) become colorum again.
Operating a colorum vehicle carries a P200,000 penalty plus at least six months of impounding. With the above context, it becomes clearer why Grab is asserting the two-company defense: to protect the day-to-day operations of its currently legitimate GrabCar peers, under the accredited TNC, which is MyTaxi.PH.
By claiming that GrabBike is operated by a different company (Grab Bike Inc.), Grab is trying to have its cake and eat it, too. Grab is one unified company in marketing communications, but is two (or more?) separate companies when facing government regulators and possible sanctions for its blatant violation of the two issued cease-and-desist letters issued by the LTFRB (again one to MyTaxi.PH and one to Grab Bike Inc.). This regulatory gamble by Grab is of course putting at risk the daily livelihood of the thousands of legitimate GrabCar peers, as the LTFRB has already stated that it is ready and willing to pierce this veil of corporate fiction. What this means is that the TNC accreditation of MyTaxi.PH is in danger of being revoked if Grab continues to run GrabBike in contravention of the cease-and-desist order(s). The LTFRB is not buying the two-company argument of Grab, but is instead treating them as one and the same. There is vast jurisprudence to support this position of the LTFRB.
Stated another way, Grab is putting the daily livelihood of their legitimate GrabCar peers and drivers on the gambling table, betting that LTFRB would not dare sanction its organization even after its continued violation of the cease-and-desist order(s). Grab is doing this so that it can continue to run and operate GrabBike, a service that right now is not covered by existing regulations, and which neither Grab, MyTaxi.PH nor Grab Bike Inc. have any legal right or basis to operate.
The fact that GrabBike is currently being run for "free" is again another attempt to go around regulation. By having a "free" service, Grab's argument is that GrabBike falls outside the coverage of the public service law. The LTFRB has already told Grab that "it is still covered by the public service law because you are transporting a passenger with compensation...Compensation under the public service law is treated as any economic benefit to the entity which provides the service...the company is still benefiting by increasing patronage of the service." Indeed, even the city of Makati had to go to the LTFRB to seek permits for its libreng sakay service along EDSA.
ADVERTISEMENT - CONTINUE READING BELOW
To explain why the "free" argument against regulatory coverage is weak, imagine this scenario: A rich man wants to get rid of all public-utility jeepneys plying JP Rizal in Makati. He concocts this plan of buying 500 AUVs and offering everyday free shuttle services along the route covered by the jeepneys. His advisers tell him that since his shuttle service is free, he need not talk to the LTFRB anymore to get any franchise or permit. After three months of operations, the legitimately franchised jeepney operators are forced to abandon their routes, sell their jeeps, and find other means of livelihood because the free shuttle service of the rich man has cannibalized all their business. Of course, why would anyone pay to ride a jeepney when there's a free AUV shuttle service? After getting rid of all the jeepneys, the rich man now goes to the LTFRB to apply for a franchise to cover this route, at double the fares charged previously. Since there is no one servicing the route anymore other than the rich man's AUVs, the LTFRB is then put in a tight spot to approve this rich man's application.
The above scenario is exactly what regulation is for: to protect the commuting public's interests. A free service could have intended and unintended effects that affect the other stakeholders. A free service, in fact, could be a form of predatory pricing that is frowned upon by regulators all over the world. There is no such thing as free when long-term corporate interests are involved. And this is exactly why even if "free" for now, GrabBike is still subject to LTFRB's regulatory powers. It is not really free, but rather, free until Grab is able to get the public to pressure the LTFRB to allow it to run for a fee (read: not free).
I have tried GrabBike several times, and I do think that it is worth looking into by the DOTC and the LTFRB. The DOTC, the LTFRB, the MMDA, the LTO, the LGUs, Grab, the habal-habals operating along McKinley Road, and the commuting public should have a serious discussion on this matter. By working together and not against each other, I'm sure that all parties can come to a regulatory framework that would protect and promote the interests of the riding public. This is what happened last year when GrabCar and Uber became legitimized through the DOTC and LTFRB orders on TNCs and TNVSs. But this discussion cannot happen if Grab will continue to blatantly disobey the lawful orders of the regulators. Again, in doing so, Grab is endangering the livelihood not only of GrabBike and GrabCar peers, but more importantly, the daily interest of their patrons, who have come to rely on Grab's services for their daily commute in this country.
ADVERTISEMENT - CONTINUE READING BELOW
Photo from GrabBike Vietnam's Facebook page