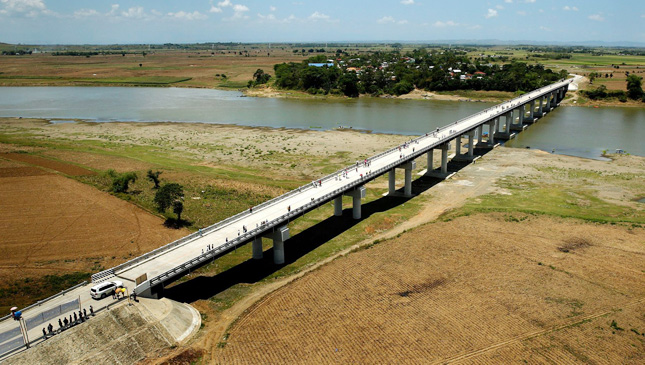 There has been overwhelming sentiment among the motoring public that the construction of new roads in the Philippines cannot keep up with the influx of new cars in the market. And it is this infrastructural inadequacy that many are blaming for the worsening traffic situation especially in Metro Manila.
This is perhaps why the Department of Public Works and Highways has released a press statement enumerating all its accomplishments in the area of road-building under the Aquino administration. In particular, DPWH Secretary Rogelio Singson has itemized completed projects from fiscal year 2011 to 2015. Perhaps it's also to enhance the President's image in the eyes of Filipinos as his six-year term winds down to a close.
Here are the facts and figures, according to DPWH:
* DPWH received P60 billion as government allocation for Tourism Road Infrastructure;
* Out of that amount, "about 1,549km of roads are completed to date";
* There are a total of 463 projects being financed by the said amount, including "the construction, upgrading, rehabilitation and improvement of roads and bridges...with a total length of 2,502km";
* Of the 463 projects, 110 are completed "with 316 ongoing and 37 under detailed engineering and procurement stage"; and
* For 2016, DPWH is now requesting an additional amount of P24 billion "for the completion of about 1,200km in critical/prioritized sections of ongoing tourism road projects."
Meanwhile, the DPWH has also listed down its major tourism road projects (either completed or ongoing):
* 6km road with two-lane tunnel, known as Ternate-Nasugbu Road;
* 5.6km access road to Puerto Princesa City Underground River in Palawan;
* 44.6km Taytay-El Nido Road in Palawan;
* 11km Ambangeg Junction National Road to Mount Pulag;
* 24km access roads to Donsol in Sorsogon;
* 41km Panglao Island Circumferential Road in Bohol;
* 31km Island Garden City of Samal Circumferential Road in Davao del Norte; and
* 4km construction and improvement of Junction Ilocos Norte-Abra Road.
In blowing its own trumpet, the DPWH claims all these road projects "complement the Philippines' natural attractions and draw local and foreign tourists nationwide."
So never, ever accuse President Aquino's administration of not building enough roads for us.
UPDATE: As someone acutely pointed out on our Facebook page, if all 463 projects costing P60 billion have a total length of 2,502km, that means the DPWH will have cost us P23.9 million per kilometer of asphalt or cement when all is said and done.
Photo from Official Gazette of the Philippines