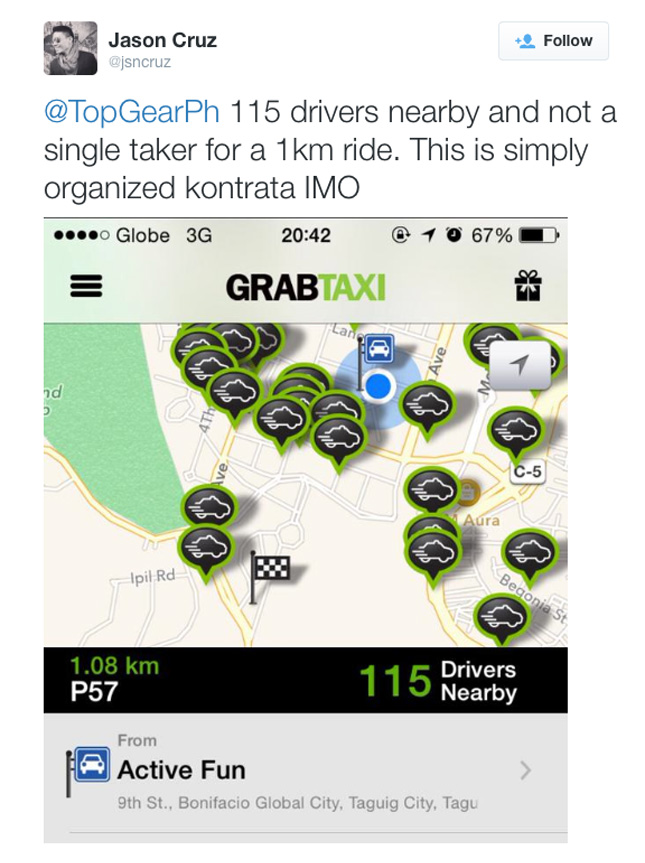 The main reason app-based transport services are popular nowadays is the public's general aversion to the common malpractices of regular cab drivers--like refusing to provide service to a passenger if the destination is a little remote or congested. We've welcomed the likes of Uber and GrabTaxi/GrabCar precisely because we feel they champion the basic rights of commuters.
But then there's this dude on Twitter named Jason Cruz, who was able to show that he was trying to get a GrabTaxi last September 8, and he couldn't get one in spite of the app indicating there were "115 drivers nearby."
"Organized kontrata," he called it. A "contract" is what commuters call the unethical deal that taxi drivers foist upon them usually during peak hours, when cabs are hard to come by. The passenger is basically asked to agree to pay more than the usual fare so the cabbie will accommodate him/her. And that's one of the reasons we've lost taste for regular taxis.
"We're not arguing supply versus demand here," Cruz tweeted to GrabTaxi. "We're arguing 115 choosy drivers who didn't want to take a 1km ride." He also accused GrabTaxi of having "a history of ignoring feedback from irate consumers."
And this is how, we assume, GrabTaxi ended up issuing a statement on its Facebook page on September 10. Here it is, in italics:
Official statement regarding recent complaints on GrabCar's services
GrabTaxi has always been committed to providing a better option for public transportation. We would like to apologize to commuters as not everyone was able to get a ride home via our service during the downpour last Tuesday, 8 September 2015.
Heavy rains resulted in traffic congestion and flooded areas all over Metro Manila. Many of our drivers were affected and got stranded, like the rest of Metro Manila, and were not able to accept bookings as they were caught in the gridlock. The flooded road conditions also meant that they would have risked passenger safety and their cars breaking down.
We acknowledge, however, that we can still improve our passengers' experience and are taking active steps to increase the number of bookings accepted, including:
* Release of a few app updates already lined up in the coming weeks to improve the algorithm of matching demand and supply, particularly during peak hours. Currently, availability of drivers can be more accurate, and we are further developing the app to address that.
* Enforce stricter process of reprimanding drivers for the improper use of the app (i.e. not switching off app if unable to accept bookings), and remind them on the high service levels expected. We will not hesitate to investigate and deregister errant drivers. We urge passengers to rate our drivers and give proper feedback in our app so that we may be able to take corrective actions, if any.
ADVERTISEMENT - CONTINUE READING BELOW
* Review pricing model and effectiveness of the optional tip feature, while maintaining simplified fixed pricing for GrabCar passengers. The fixed pricing model was designed so that passengers don't have to worry about unreasonable fares because of unforeseen circumstances like different route, traffic, or surge in demand. In the event that these happen, the tip function allows us to balance out high demand during low-supply situations without forcing passengers to pay a surge. There have been varying viewpoints on the value of this feature, and we commit to reviewing it to better suit the market.
We will be meeting with the LTFRB to discuss in detail consumer needs and feedback around GrabTaxi/GrabCar, and we will continuously improve our service to provide a safe and reliable service for passengers in Manila.
Are you a GrabTaxi/GrabCar user? If you are, have you been refused service by any of the network's drivers? The comments section is yours.
Screenshot from Jason Cruz's Twitter account