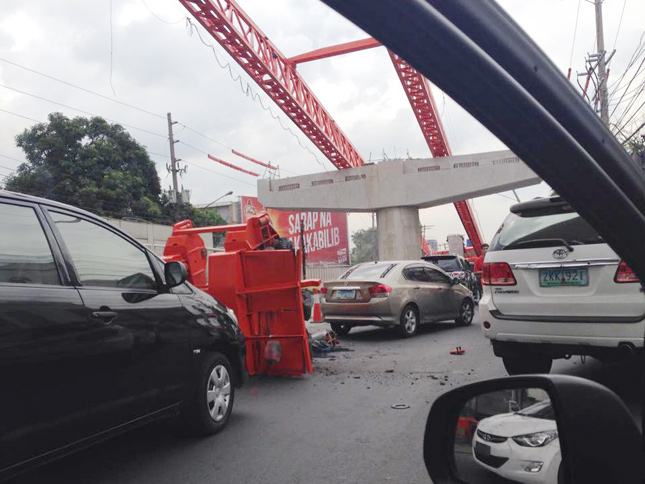 Driving in the Philippines can be very dangerous--we already know that. But it's one thing to be rammed by a speeding bus, it's quite another to have heavy steel equipment falling out of the sky right in front of you.
This accident happened just now in Pasay City, as related by reader Sean Pestano.
"I was driving on Andrews Avenue on my way to Domestic Airport from Resorts World, when the equipment above the NAIA Expressway construction suddenly fell, damaging a few cars," Pestano reported. "The Innova next to my car would have been crushed if it hadn't been able to back up in the nick of time."
Wait. Did he just say that thing fell?
"It fell from above!" he confirmed.
And how was the Innova able to avoid it if it suddenly fell?
"We were watching the long orange steel as it suddenly moved forward--it sped forward--then the front end fell, causing a domino effect," Pestano explained. "Cars immediatley backed up, and the thing missed the Innova by a few inches. If he hadn't backed up, part of the equipment would have fallen directly on top of it. The occupants of the Innova ran out for safety, same as the other cars."
Were there people injured, or cars damaged?
"No one was injured, I think, as all the cars were able to either pull to the side or speed away," Pestano recalled. "However, there were about three to four cars parked on the side with damages. Damages to doors, fenders. It could have been caused by the parts that flew and bounced after impact. Most cars simply fled immediately after because the bent Meralco posts might topple."
Amazing, the kind of public works safety--or the utter lack of it--we have in this country. Be careful out there, especially when passing a huge infrastructure construction site like this.
Photos from Sean Pestano