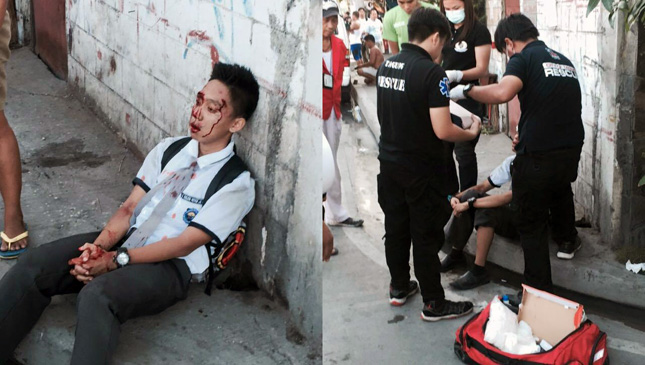 Yesterday, we posted on our Facebook page photos of what was reported to be a hit-and-run incident in Taguig. The photos were captured by John Paul Escario, who said that the accident took place "in front of Cypress Towers Condo in Taguig," and that the vehicle that hit the victim was a "silver Toyota Avanza with plate number UIQ-764." According to Escario, said Avanza and its driver escaped without facing responsibility.
The post immediately went viral. As we write this, it has reached 6.7 million people after having been shared more than 47,000 times. Naturally, some people were able to trace the ownership of the vehicle with the help of LTO insiders. Many of them posted the name of the company that supposedly owns the vehicle: BPI Rental Corporation.
Turns out this company is a subsidiary of Bank of the Philippine Islands, which sent us a formal statement (in italics):
Bank of the Philippine Islands was made aware of the unfortunate hit-and-run accident yesterday in Taguig City that involved a leased vehicle registered under BPI Rental Corporation (now known as BPI Century Tokyo Rental Corporation) operated by a lessee.
BPI Century Tokyo Rental, a BPI subsidiary, is a leasing company that offers clients leasing and rental services and options on properties including real estate, equipment and vehicles.
Under a typical lease contract, the leasing company conveys a property to a client who uses it for a specific period of time in consideration of rent or other compensation.
The operation of the vehicle involved in the accident is fully within the control of the client of BPI Century Tokyo Rental in accordance with the terms and conditions of the lease agreement.
BPI will cooperate with the authorities who are now investigating the accident.
BPI reserves further comment on this matter to the proper authorities who are now investigating the accident.
There you have it. The Avanza wasn't being driven by an employee of BPI Rental Corporation at the time of the accident, but by a lessee. We don't have knowledge of the lessee's identity, but we are confident the authorities already do.
Photos from John Paul Escario