Take note, Cavite residents: Major rehabilitation and construction activities are expected to affect traffic flow over the next three months along the R1 section on Cavitex. According to the Cavitex Infrastructure Corporation, mobilization will kick off on February 27, with most of the work wrapping up in May.
"There will definitely be an effect on the passage of our motorists in the construction areas," said CIC president and general manager Roberto V. Bontia. "That is why we have laid out a comprehensive traffic management plan supporting all these works to ease their passage, and additional on-ground support and more-than-ample [signage] will also be positioned to ensure safety and smooth flow of vehicles. We are working together with our JV partner, the Philippine Reclamation Authority (PRA) and the [Public Estates Authority Tollway Corporation], on the implementation of the traffic management activities at Cavitex R1 segment."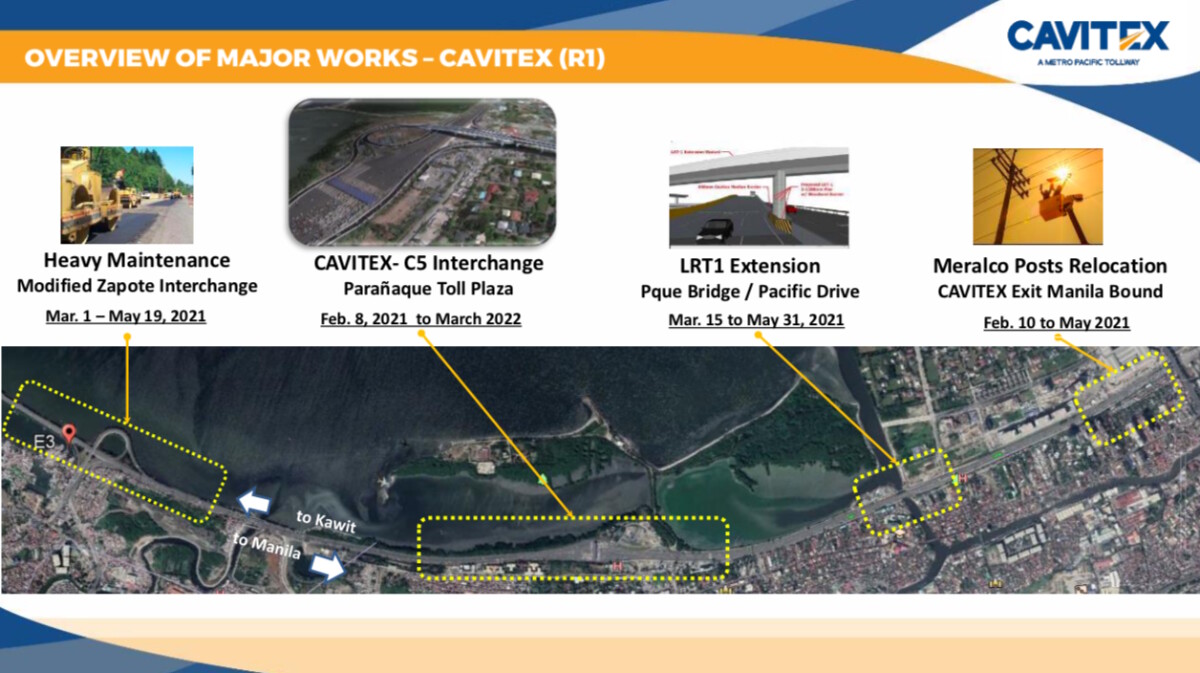 Continue reading below ↓
Recommended Videos
Affected areas are as follows: the Modified Zapote Interchange, which will undergo heavy maintenance; Parañaque Bridge and Pacific Avenue, for LRT-1 Extension construction; and the Manila-bound stretch exiting Cavitex, for the relocation of Meralco posts. Work on the Cavite-C5 Interchange (Parañaque Toll Plaza) is also ongoing in four stages until March 2022.
Work on Modified Zapote Interchange
The scope of maintenance along the Modified Zapote interchange includes Wawa Bridge to Viaduct 1, Kawit-Bacoor Separator to Longos down ramp, Bacoor down ramp to the main carriageway, and the Kawit off-ramp. Counterflow schemes will be implemented during morning and evening rush hours, with more lanes bound for Manila in the morning and more lanes bound for Kawit in the evening. The expected date of completion is May 19, 2021.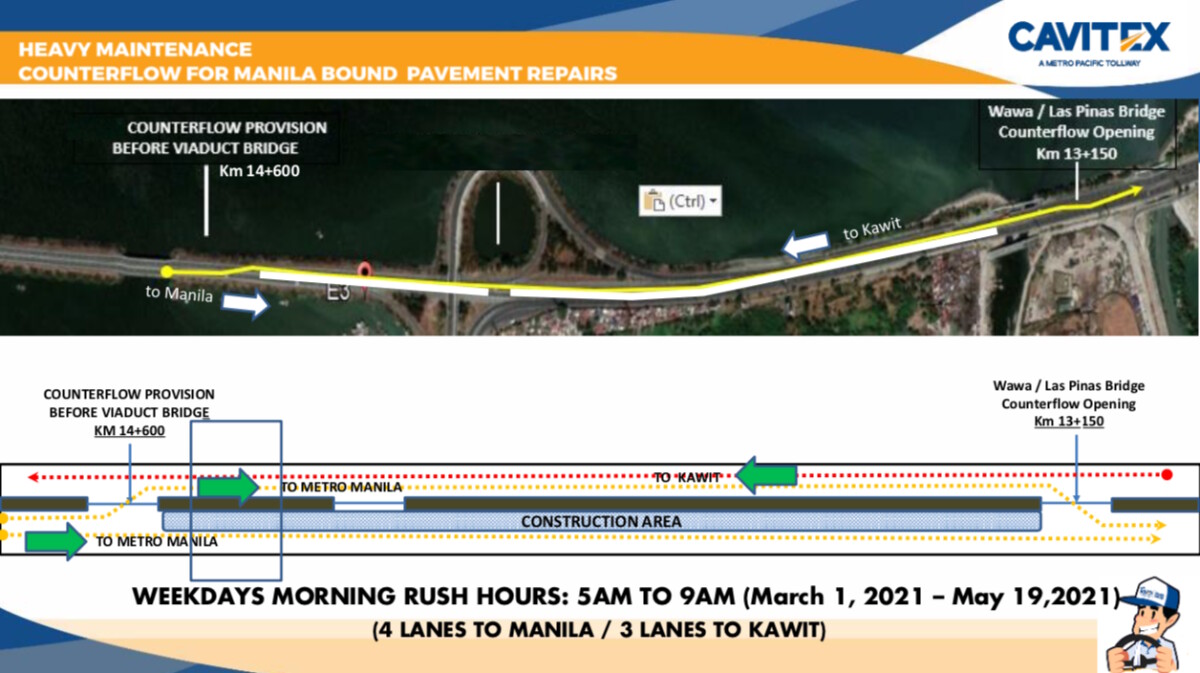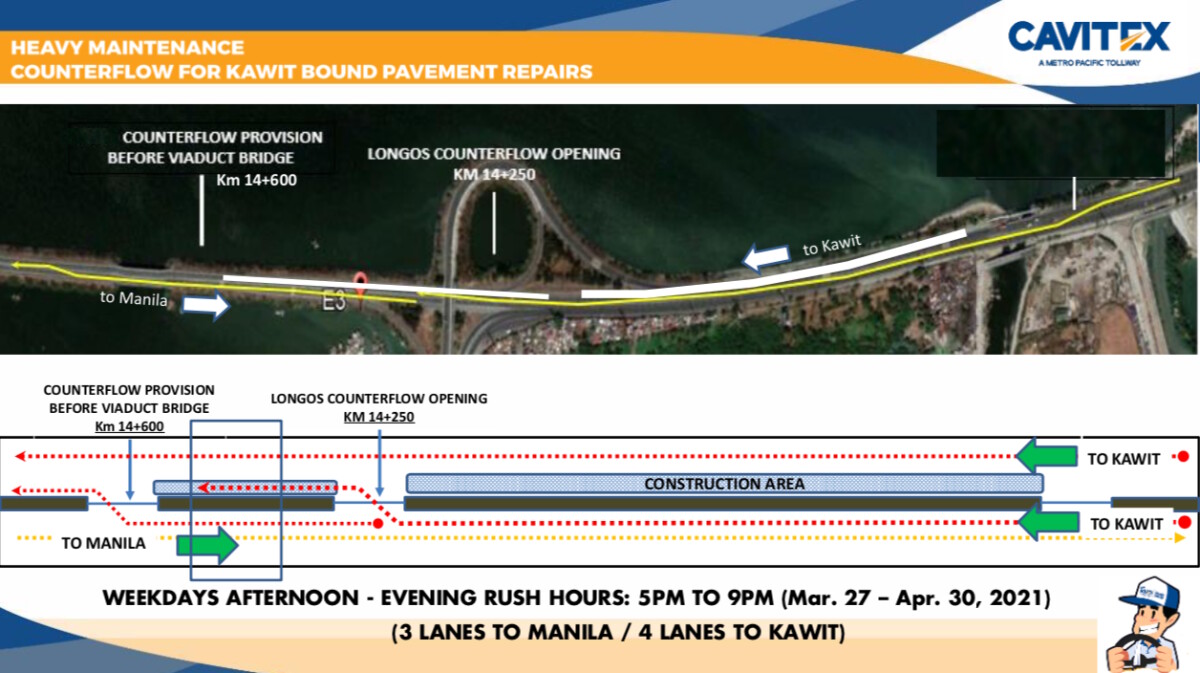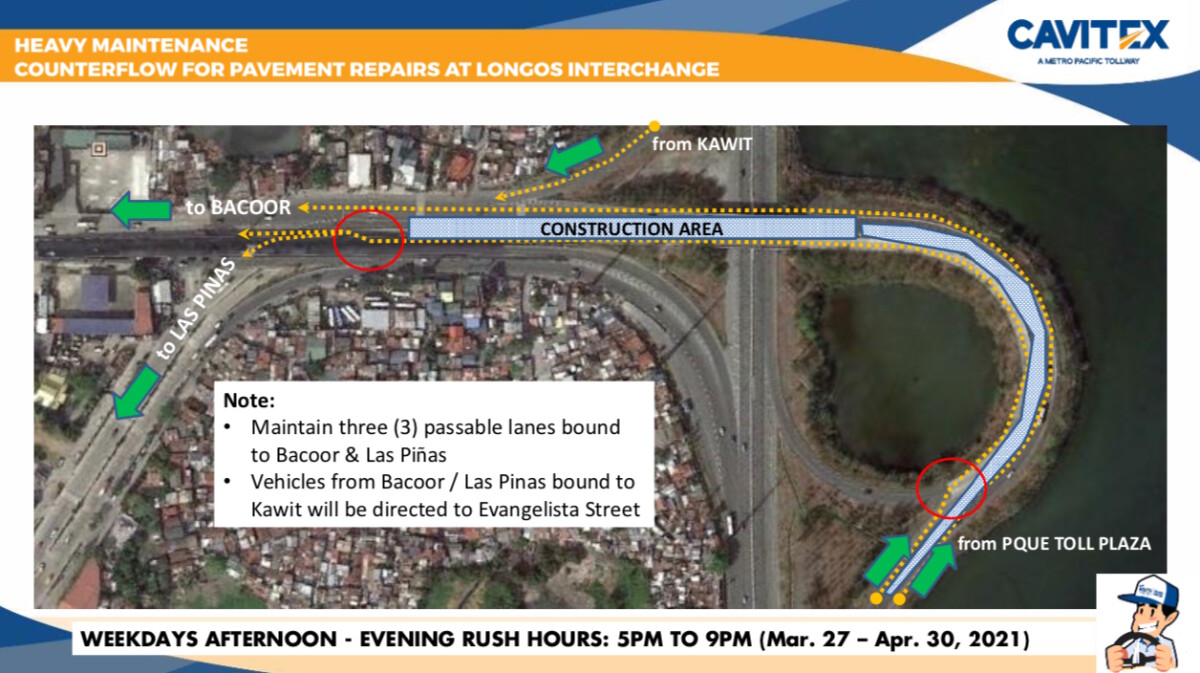 Construction of LRT-1 Extension
The installation of Pier 115 along Parañaque Bridge will take place from March 1 to May 31. A counterflow scheme during evening rush hours will be in place from March 1 to May 15; from March 15 to May 31, there will also be a counterflow scheme during morning rush hours.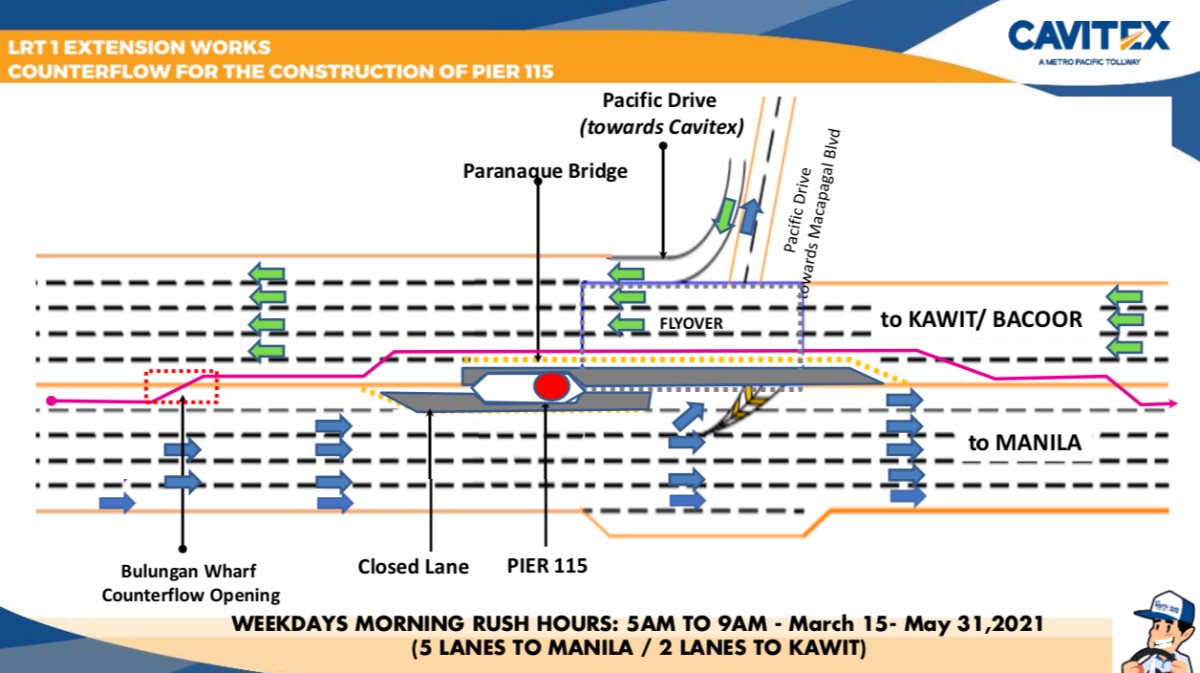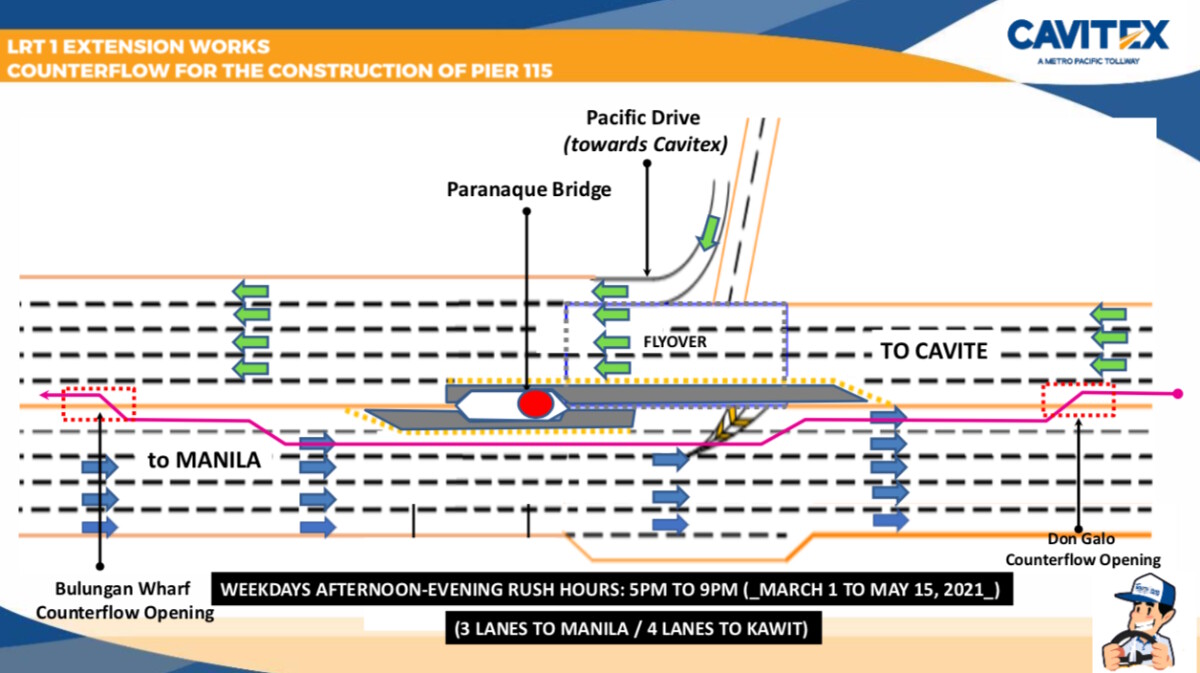 The installation of Pier 114, meanwhile, will lead to the closure of the Cavitex entry on Pacific Avenue from March 15 to May 31. Cavitex-bound traffic will be diverted to the MIA intersection.
Relocation of Meralco posts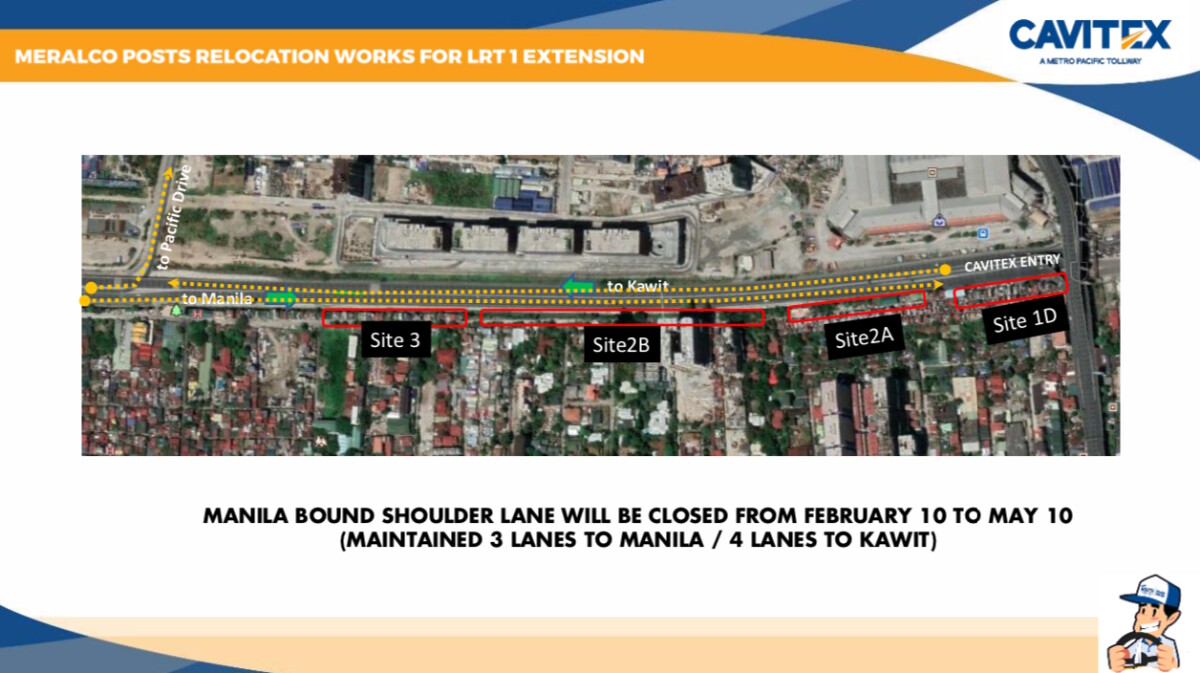 Finally, the relocation of Meralco posts will close off the shoulder on the Manila-bound side leading to Seaside Drive until May 10. Four lanes to Kawit and three lanes to Manila will remain open.