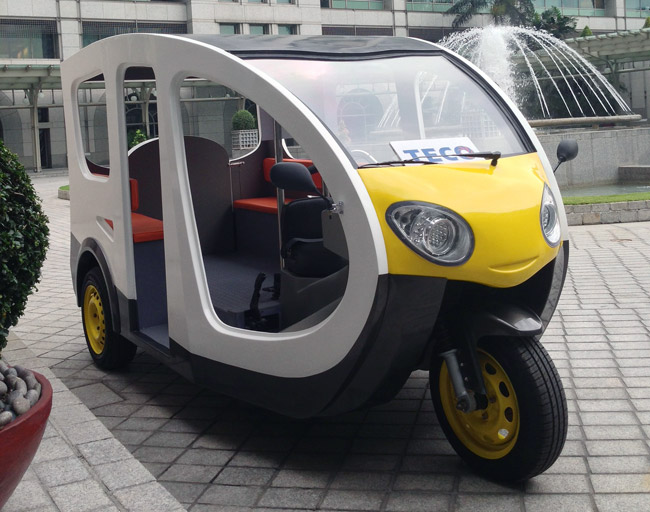 Late in 2012, the Department of Energy revealed its $500-million electric tricycle program with the Asian Development Bank, the aim of which is to help the country find a sustainable solution to mass transportation. Since that time, the ADB has been screening potential manufacturers of the e-trike that it will supply to local government units. The latest of these applicants is TECO Electric & Machinery Co. of Taiwan.
The Taiwanese firm recently presented its e-trike model to the ADB. This e-trike, which features a fiberglass body that is said to be made locally, is assembled by a local partner, Philippine Utility Vehicle Inc. PhUV claims to be the "pioneer in electric vehicle assembly in the country."
"It looks like the DOE-ADB e-trike program is on track since we have now proven that given reliable local suppliers and partners, an e-trike that is fully compliant with international standards can be manufactured and assembled locally," said George Lien, CEO of TECO's business development center after his company's presentation and demonstration to representatives of the ADB.
ADVERTISEMENT - CONTINUE READING BELOW ↓
According to Lien, TECO's technical team engineered the electric motor, the controller and the converters to be "perfectly compatible with the lithium-ion batteries, the charger and the on-board Battery Management System."
PhUV sales manager John Marasigan pointed out that, in the past, Filipino EV companies would import parts separately from various sources overseas--mostly from China--then assemble them "only to find out later that they are not technically compatible."
"The performance suffers, the parts and the EV do not last long, and ultimately the buyer is left with a 'disposable' vehicle with no after-sales service in terms of capable technicians and spare parts," Marasigan explained. "With a big foreign partner like TECO behind us, we are very confident of the EVs that we produce."
TECO's e-trike was demonstrated within the ADB compound with a full load of five passengers plus driver.
"Prior to this, we had already subjected this e-trike to various performance tests on the hills of Antipolo, where it showed its capability to navigate steep grades," Marasigan said. "Its 3kW, 48V motor delivered a top speed of 60kph and performed well without any problem under varying terrain and driving conditions."
ADVERTISEMENT - CONTINUE READING BELOW ↓
Recommended Videos
Marasigan boasted that PhUV has over six years of "solid experience in all aspects of the EV industry."
"Right now, we are the first and so far only local e-trike assembler to have actually registered an electric tricycle with the Land Transportation Office," he added.
Well, here's hoping we'll see these environment-friendly movers on the road soon.
ADVERTISEMENT - CONTINUE READING BELOW ↓