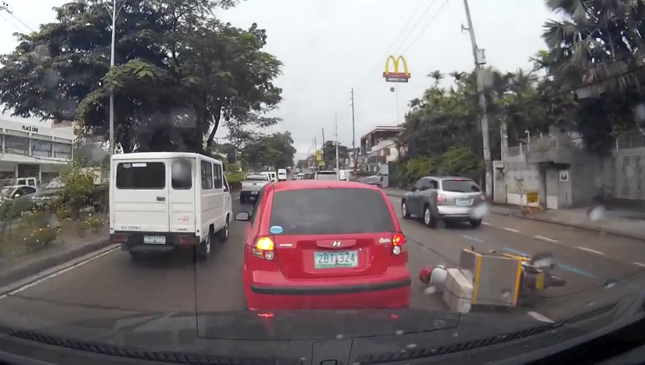 So, a guy sent us footage captured by his vehicle's dash camera, showing an incident in which a motorcycle rider ahead of him suddenly lost balance after slipping. As a result of the motorbike's split-second fall, a Hyundai Getz (which was directly in front of the dash-cam vehicle) nearly ran over the rider. Meanwhile, the dash-cam vehicle, an Isuzu MU-X, almost rammed the back of the Getz. Unfortunately, the MU-X did get hit by a Toyota Revo that had been trailing closely behind.
After we watched the video, three very important motoring lessons immediately came to mind, and we'd like to share them with you. Take these to heart as they could spare you from legal (and financial) trouble in the future.
1. Never take your eyes off the road while driving--not even for a second. Imagine if the Getz driver had been fiddling with his mobile phone or the audio system at the exact moment when the motorcyclist keeled over. The result could have been fatal, as he was merely inches away from crushing the bike rider's helmet. You're tired of hearing this (and we're tired of reminding you), but never look at anything else other than the road when you're driving.
2. Leave a safe braking distance between you and the car in front. Never tailgate, in other words. The Revo hit the MU-X because it was running too closely behind. Always leave room for the unexpected. You have no control over the vehicles ahead of you, and you can't predict what might pop up in the wink of an eye. Do yourself a favor by keeping a safe distance at all times. You'll thank yourself later, especially in times like this accident.
3. Install a dashboard camera. According to the video-sender, the footage saved his skin. "If I didn't have this footage, my car and the car of the guy behind me would have been impounded for 'reckless imprudence resulting to injury'." Yep, that was the offense quoted to him by the responding traffic cop, before he revealed he had a camera. Protect yourself from unnecessary legal implications by using a video-recording device. Your peace of mind is so much worth the price you'll spend for one. A dash cam will eventually pay for itself, believe us.
Watch the dash-cam video here.
Photos from Aaron Concepcion