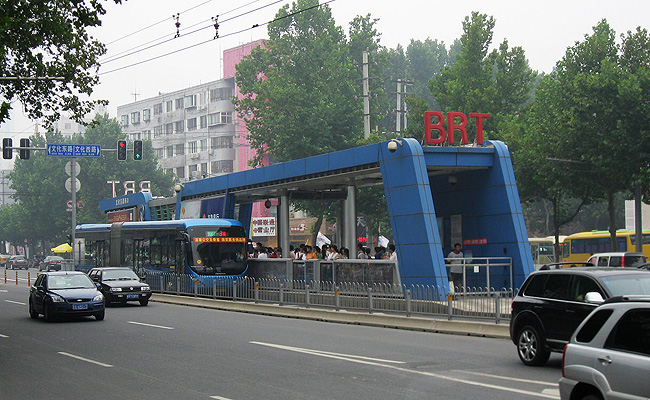 After getting the National Economic Development Authority's approval last May to construct the country's first bus rapid transit system in Cebu, the Department of Transportation and Communications is now proposing to build a similar system that will serve the Quezon Circle-to-Manila City Hall route.
"BRTs are game-changers," said DOTC secretary Jun Abaya. "They are as effective as rail systems in terms of moving people around quickly and efficiently, but are much cheaper to build and are faster to develop. Since they will be granted as concessions, their riders will not be at the mercy of colorum vehicles or transport strikes. They will be spared from unnecessary disruptions and unsafe traveling conditions."
According to the agency, a BRT system has five components that make it the perfect mass transport system. These are:
* Modern buses with technical specifications designed precisely for the system, such as bus floors with the same height as station platforms, which would save time for boarding and alighting;
* A segregated lane or busway, which only BRT buses may ply;
* BRT stations at locations identified to be most suited to riders;
* Continuously operating services programmed to meet passenger demands; and
* Intelligent transport systems or information technologies that ensure the efficient operations of the system--such as automatic signaling, which controls traffic lights to ensure that the BRT buses are not impeded during trips.
Continue reading below ↓
Recommended Videos
Besides the Quezon Circle-to-Manila City Hall route, the DOTC is reportedly also looking at other possible BRT locations in Metro Manila, "in a bid to provide commuters with a modern, safe, convenient and efficient mass transit bus system, which current transport schemes are unable to offer."
Check out the DOTC's proof-of-concept video for the BRT below.
Photo from Wikimedia Commons
If you're viewing this on a mobile device and can't see the video, please click here.