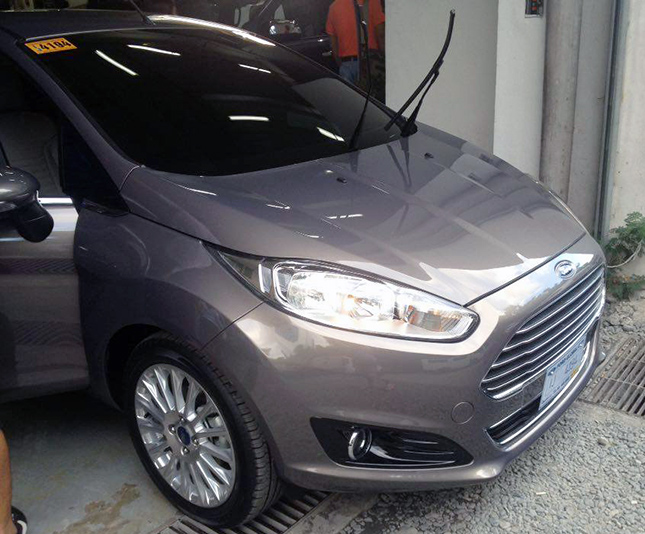 The car you see above--a brand-new Ford Fiesta 1.0-liter EcoBoost with conduction sticker number IJ-4194--is just one of the dozens of vehicles that have gone missing after their owners fell for a rent-a-car scam. It is owned by Meryll (not her real name), who purchased the car last November 23 with her husband, who works as a salesperson at Toyota Alabang.
According to Meryll, one of her husband's colleagues at Toyota Alabang--another salesperson named Sarah Martinez--introduced him to a new sideline that seemed like a good source of extra income. Sarah reportedly had a contact in the rental-car business.
The deal went like this: An owner would lease his or her new car to the rental company (the exact identity of which the car owners didn't know; Sarah served as the middle person and guarantor) for a minimum contract of three months to be used as a rental vehicle. The rates were P30,000 a month for an automatic-transmission sedan, P25,000 a month for a manual-transmission sedan, and around P40,000 a month for a bigger vehicle (like an MPV, for instance).
If you had just acquired your car and were paying a monthly amortization of, say, P15,000 to P20,000 a month, the above rates would definitely appeal to you.
And so Sarah's fellow salespeople at the dealership leased their (and their clients') new cars through her. All in all, a Toyota Alabang employee told TopGear.com.ph, some 62 units were leased to the "rental-car company" through Martinez. According to our source, Martinez got a P5,000 commission for every car that she was able to enlist in the business.
The scheme ran for months, and the car owners indeed got the promised rates. Meryll, for one, received a total of P17,000 for 17 days. On the 18th day, however, she and her husband were informed by Martinez that their car had gone missing--along with all the other vehicles that had been leased to the not-so-transparent company.
It turned out that Martinez had herself been dealing with another "middleman"--a woman named Veronica Brequillo. It isn't clear how Martinez had met Brequillo. But the word is that Brequillo had a gambling problem, and that she had actually been pawning the cars to various bankrollers at the casino. Veronica apparently delivered the agreed-upon rates for a few months, until the whole scheme collapsed and she could no longer honor the contracts. That was when Martinez first learned that the cars were already gone.
ADVERTISEMENT - CONTINUE READING BELOW
To be fair, both Meryll and our Toyota Alabang source believe that Martinez isn't part of the scam--that she herself is a victim. In fact, they said, Martinez is fully cooperating with the authorities in tracking down the missing vehicles. The last time we talked to our Toyota Alabang source, some 30 units had already been recovered. Our source also said that Martinez was on indefinite leave, but expressed belief that the latter would be discharged by management for the fiasco.
Brequillo, we understand, remains at large.
Another victim whose Mitsubishi Adventure was also lost in the deal, contacted us and asked for help. He also informed us that there was a preliminary hearing scheduled for today at the NBI office.
We'll keep you posted as we receive further news on this. In the meantime, may we remind everyone to always be extra cautious when entering transactions like this. If it looks too good to be true...your car is probably gone.