We can't blame you if think that headline looks too good to be true. But while many of us might be thinking that the traffic situation on EDSA will likely not improve dramatically anytime soon, the Department of Public Works and Highways (DPWH) believes otherwise.
In a recent briefing with the press, DPWH secretary Mark Villar announced that the volume of vehicles plying the metro's most notorious thoroughfare is expected to be reduced by 20-30% by the second quarter of 2020, once two big-ticket infrastructure projects under the EDSA Decongestion Program are completed.
The first of these two is the NLEX Harbor Link, which will be fully aligned by March. The second and arguably the biggest project in the P384-billion decongestion program is Skyway Stage 3, which is scheduled to be completed by April. Through the latter alone, Villar says that 100,000 cars will already be diverted from EDSA.
ADVERTISEMENT - CONTINUE READING BELOW ↓
In total, there are 13 roads and expressways and 10 bridges that will be built to decongest EDSA and the metro. You can refer to the following lists for more details, and you can also watch the entire briefing by clicking play on the video below.
Roads and expressways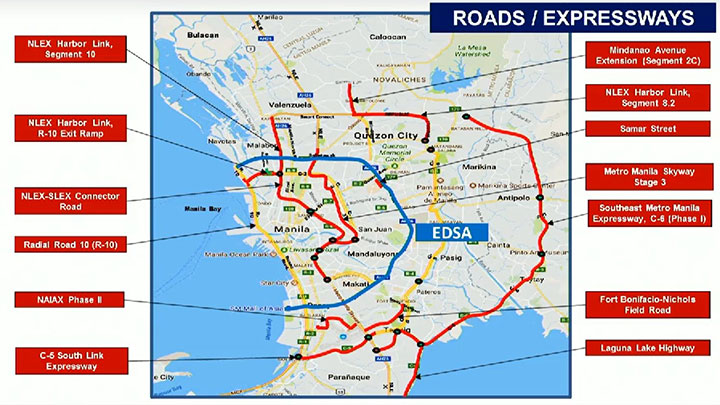 ADVERTISEMENT - CONTINUE READING BELOW ↓
Recommended Videos
Skyway Stage 3
NLEX Harbor Link Segment 10
NLEX Harbor Link R-10 Exit Ramp
NLEX Harbor Link Segment 8.2
NLEX-SLEX Connector Road
C-5 South Link Expressway
Southeast Metro Manila Expressway, C6 (Phase 1)
Fort Bonifacio–Nichols Field Road
Laguna Lake Highway
NAIAX Phase II
Radial Road R-10 widening
Samar Street widening
Mindanao Avenue Extension (Segment 2C)
Bridges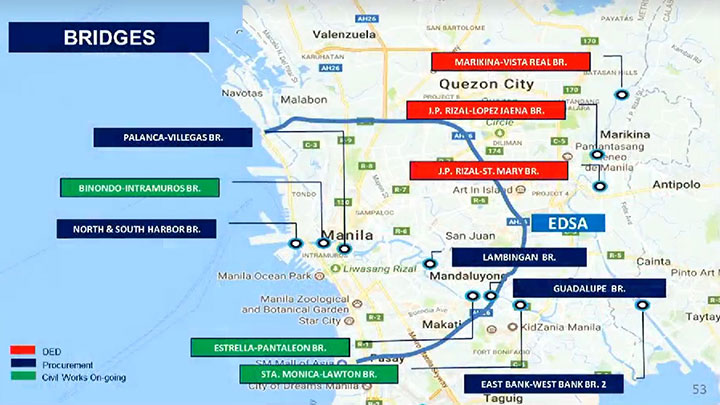 ADVERTISEMENT - CONTINUE READING BELOW ↓
Estrella-Pantaleon Bridge
Binondo-Intramuros Bridge
Santa Monica-Lawton Bridge
Palanca-Villegas Bridge
North and South Harbor Bridge
Lambingan Bridge
Guadalupe Bridge
East Bank-West Bank Bridge 2
Marikina-Vista Real Bridge
JP Rizal-Lopez Jaena Bridge/JP Rizal-St. Mary Bridge
There's still a long way to go, but we're looking forward to seeing all these projects finally completed. How about you? What do you think?
ADVERTISEMENT - CONTINUE READING BELOW ↓