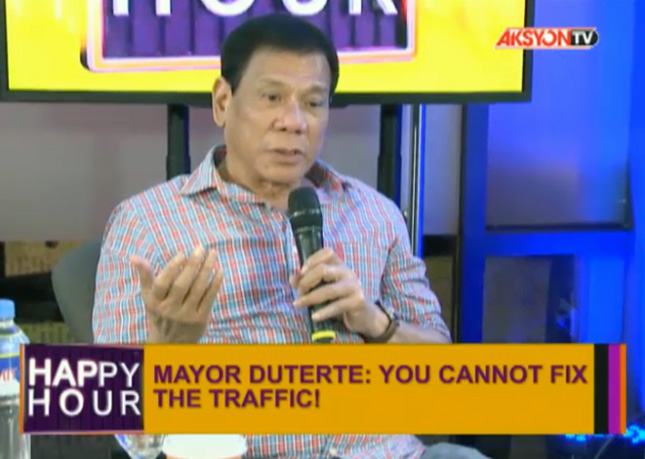 Yesterday, Davao City mayor Rodrigo Duterte granted an exclusive interview to TV5, discussing political issues that ranged from federalism to crime prevention. But the part of the interview we want to share with you, of course, is the one that focused on traffic.
According to the 70-year-old government official--who, up to this point, has said he is not running for president in 2016--traffic cannot be fixed. And that even the next president will not be able to solve the problem within a six-year term.
Here's what he said on the subject (in italics):
You cannot fix the traffic. You would need another guy who will sit there for 10 years so that he can solve the traffic. The reason is very obvious--it's in front of you--every day, thousands of motor vehicles go out of the casa because they are sold. They're being added to the streets.
Kayong mga mayaman, ilan ang kotse nyo sa bahay? Iyo, asawa mo, may tatlong anak ka. Itong color-coding [or number-coding], katarantaduhan. Bibili ng bagong kotse para kung bawal ang number na to, may reserba ka.
You are not retiring motor vehicles however ramshackle and they've been there for the last 10 years. You are not removing any motor vehicles from the streets. But every day, pati yung mga talyer na gumagawa ng mga jeep in Cavite, kasali yun. Because they have to survive...we allow the livelihood. Davao City is selling about 1,000 motor vehicles, but not all are used there.
The only way to do it is to have mass transport, but you cannot plan and implement it within six years. You are asking the next president the impossible. He will fail. Not only that, he will go to prison again.
Do you agree with the lionhearted mayor?