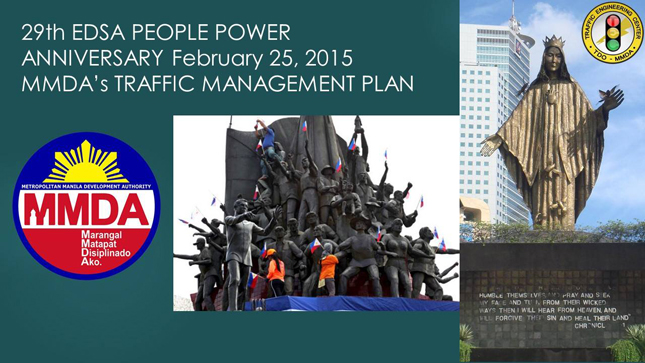 It has been 29 years since the Marcos government left our country in a hurry. Most of us were too young to remember those days, save for our 50-year-old publisher who was already a fully legal adult in 1986. Since then, we have commemorated our peaceful revolution every February 25.
In line with anniversary activities to be held at the EDSA Shrine area, the MMDA will close the stretch of EDSA northbound from Shaw Boulevard all the way to Santolan, from midnight tonight until 4pm tomorrow (February 25).
Here are the alternate routes suggested by the MMDA:
From EDSA northbound
* Right to McKinley Road, to C5, to destination;
* Right at Kalayaan Avenue, to C5, to destination;
* Take Rockwell flyover, left turn on Estrella and take Estrella/Pantaleon Bridge, which is now open to traffic;
* Right on J.P. Rizal, to C5, to destination;
* Right on Pioneer Street, to C5, to destination;
* Right on Shaw Boulevard, to C5, to destination; and
* Right on J. Vargas Avenue, to C5, to destination.
ADVERTISEMENT - CONTINUE READING BELOW ↓
From EDSA southbound
* Right on Santolan, left turn on Ortigas Avenue, right turn on Wilson, left on P. Guevarra and Shaw Boulevard, right turn on EDSA to point of destination.
And here's a list of other roads perpendicular to EDSA that will be closed:
(On EDSA)
* Internal Avenue
* Garden Way
* Julia Vargas
* Bank Drive
* Guadix
* Poveda
* Ortigas Avenue
* Corinthian Subdivision Gate 2
* White Plains
* Santolan
(On Ortigas Avenue)
* Meralco-Ortigas junction (southbound)
* Ortigas Avenue-Connecticut (northbound)
(On White Plains)
* White Plains-Katipunan (southbound)
According to MMDA chairman Francis Tolentino, a total of 1,104 of the agency's personnel will be tasked to man traffic along EDSA and direct motorists to alternate routes. The MMDA would also like to state that the number-coding scheme will not be lifted tomorrow.
Keep safe on the road, and avoid EDSA starting midnight.
Images from MMDA Facebook page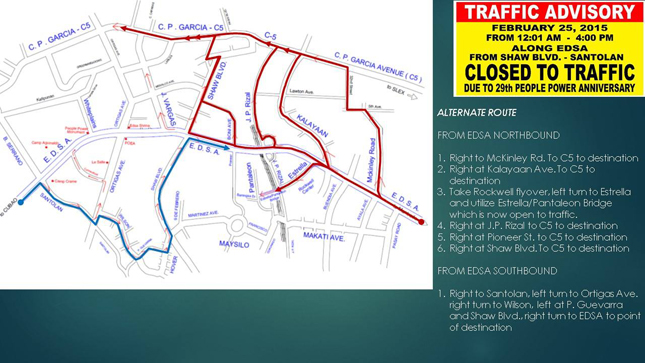 ADVERTISEMENT - CONTINUE READING BELOW ↓
Recommended Videos