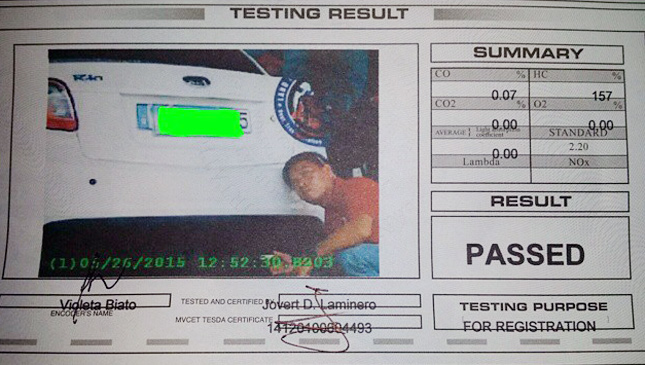 You know that you can't register your car with the Land Transportation Office until it has passed an LTO-accredited emission test. A car owner may have this test either in an LTO-run testing center or through a third-party (and LTO-certified) service provider. We've heard so many stories about how these emission tests are really just a money-making venture, and that the testing centers often do not really test a vehicle for its roadworthiness.
Well, here's an incident that seems to corroborate said stories.
Today, a car industry executive posted the above photo on his Facebook page with the following caption:
My son brought his car to an emission testing center today for the purpose of registration, and paid P400. To my surprise when I got home, he told me that they didn't even start his car! They just stuck a probe in his tailpipe, took a picture, and came out with a "passed" report! Wow!
The Certificate of Emission Compliance indicates that the emission testing center is called JPV Emission Testing Corp. in Marikina.
According to the executive, his son is only 17 years old, and that his son has had his car "for about a year."
When we asked him whether his son is 100% sure that the emission testing center personnel didn't even start the engine, the executive said: "He had the key on him."
He could only heave a sigh of resignation afterward. "Grabe na talaga dito sa atin," he told us.
UPDATE: The industry executive requested that his name and that of his son be removed from the story for security reasons. Their names originally appeared in the article when we first posted it.