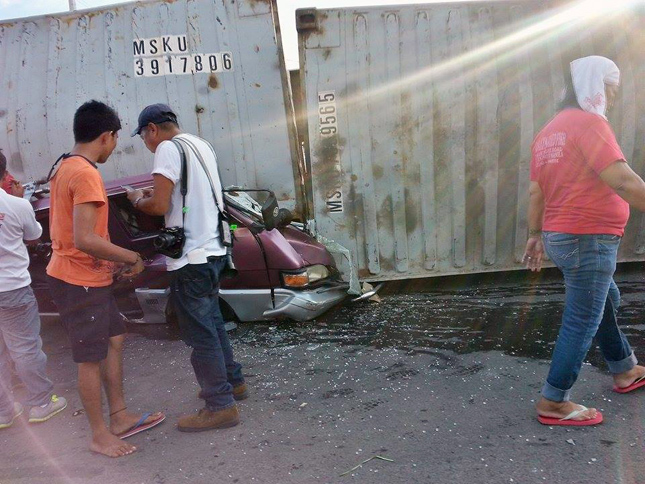 We all know that driving in the Philippines can often be a fatal exercise, what with the sheer number of old or poorly maintained vehicles just waiting to ram into your car. But one particular hazard on our roads is the typical trailer truck that transports a huge, heavy steel container. Running alongside one that's wobbly or visibly unstable is an experience every Metro Manila motorist inevitably has to go through.
It's like playing Russian roulette, we joke. You don't know when a container is going to tip over against your poor sedan and squish you to a pulp. The thing is that it isn't really funny, because it does happen--a lot. We regularly receive photos of trailer trucks whose containers keeled over and crushed smaller private vehicles.
Why does this always happen? Why can't the truck operators prevent their precious cargo container from unhitching itself from the trailer?
The answer, apparently, can be gleaned from this collection of revealing photos, sent to us by various people. We have been filing these away and are now publishing them for everyone to see.
One thing is very obvious from these pictures: Truck operators load containers onto mismatched trailers. As a result, the containers are not able to be secured properly, with the transport personnel resorting to cords, wires or chains to fasten the container to the trailer, instead of using the regular twist-locks. Of course, let's not mention the fact that many of these trucks have worn-out tires, brakes and underchassis. They're literally rolling coffins.
The question is: Why is this being allowed to continue? Who is tasked to regulate these trailer trucks? Let us guess: The inspection officers will flag down a truck that is very obviously not roadworthy, and then the driver of said truck will just hand over an envelope with a prepared amount.
But that's just a guess.
Photos from Warren Marcos, Joanne Villanueva Valenzuela, Dino Patok Orofeo, Riselle Inot, Margaret Pearl Blanco Javillo-Yulo, Sam See, Joseph Librojo, Bingski Cris Caong, Giselle Samontan, Emil Andre, Reiner Scheck, Mark Tuddao, Michael Angelo Ricamora, Gene Anthony Barcelo