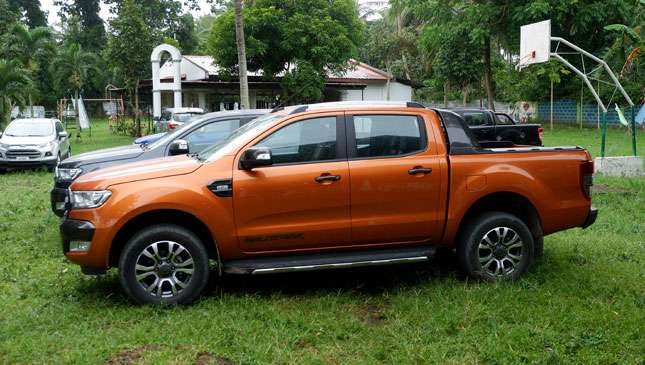 As you know by now, the increased excise taxes for cars have recently been signed into law. So it's officially official and it'll be implemented next year. If you've really been keeping up, then you'll have read that two types of vehicles are exempted from these new rates: electric vehicles and pickups.
ADVERTISEMENT - CONTINUE READING BELOW ↓
As the ratified version of the bill (meaning the one that landed on President Duterte's desk) states: "Provided, further, purely electric vehicles and pickups shall be exempt from excise tax on automobiles."
Yahoo, you might've thought to yourself. Time to buy all the pickups! Ford Ranger Raptor here I come! Well, not so fast there, moneybags. If you recall, the bill went through several revisions in Congress and Senate before President Duterte signed it. The one that was passed by Congress exempted only single cab chassis trucks from the new taxes. Indeed, single cabs are mentioned on the very same page in the ratified bill: "Provided, that for purposes of this Act, buses, trucks, cargo vans,[jeeps/]jeepneys/jeepney substitutes, single cab chassis, and special-purpose vehicles shall not be considered as automobiles."
ADVERTISEMENT - CONTINUE READING BELOW ↓
Recommended Videos
It goes on to define them even further, "Single cab chassis shall mean a motor vehicle with complete engine power train and chassis equipped with a cab that has a maximum of two (2) doors and only one (1) row of seats." That's a description of a single cab pickup right there.
ADVERTISEMENT - CONTINUE READING BELOW ↓
By the time the ratified bill came out, it said that pickups were exempted. We got to thinking, is it possible that the exemption will only apply to single cab pickups? And that all the money we've been counting to buy the upcoming Ford Ranger Raptor has been all for naught?
There are also news reports that President Duterte has vetoed certain parts of the tax reform bill, as is his right to do so. But it hasn't been announced what portions were altered.
We won't know any of this for sure until the full Implementing Rules and Regulations (IRR) document is released. But we're crossing our fingers that we're just too pumped up from overtime coffee. Let's all hope for the best.