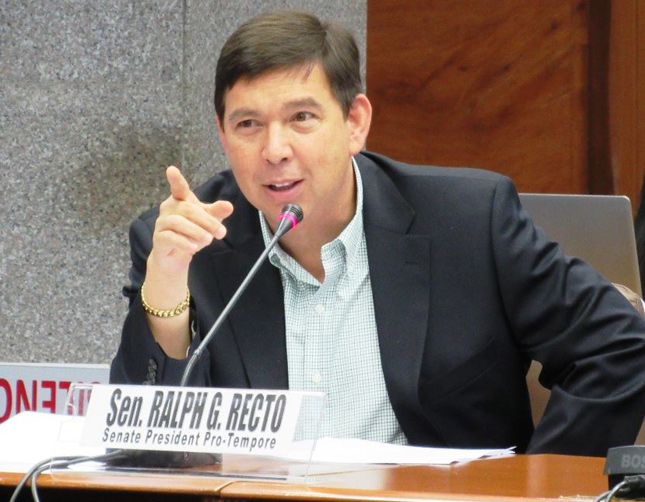 So, you've read the first part of the exchange between Senator Ralph Recto and LTO chief Alfonso Tan Jr. during the May 21st Senate hearing on the new license plates. Here is the continuation, in italics.
SEN. RECTO: For all new vehicles, when did you start releasing plates, April of 20..--
ATTY. TAN: Fourteen.
SEN. RECTO: Fourteen.
ATTY. TAN: Yes, Your Honor.
SEN. RECTO: April of 2014, you released new plates?
ATTY. TAN: Yes, Your Honor.
SEN. RECTO: When did you release--for new vehicles?
ATTY. TAN: Yes, Your Honor.
SEN. RECTO: When did you release for the old vehicles?
ATTY. TAN: January of 2015, Your Honor.
SEN. RECTO: 2015?
ATTY. TAN: Yes, Your Honor.
SEN. RECTO: Okay. So again, let me point out, Atty. [Jose Perpetuo] Lotilla (chairman of the 2013 Bids and Awards Committee on Plate Project, under the DOTC)--and COA is here. We can ask COA kung pwede ba iyon. I have been a member of the House of Representatives for nine years, 10 years in the Senate. My understanding of the General Appropriations Act is that there was insufficient budget for 2013, 187 million lang and you bidded [sic] out a 3.8 billion project. And in March of 2014, we had a hearing and we already, as representatives of our people, warned you of not proceeding with the project, especially with regard to the old plates that you have issued already. Kung sakali, iyong bagong sasakyan lang. And again, as I said, by attrition, we will have a standard plate anyway but you proceeded to change all these plate numbers. And today, as it is ongoing, maraming problema, maraming delays and we will find out later. And I have yet to see what good has it done for motor vehicle owners, whether public or private. Ano ang naging pakinabang ngayon na gumagastos na ngayon iyong tao para diyan? Nabawasan ba iyong trapik? Ang sinagot ninyo, "Hindi." Ano ang additional security feature na sinasabi ninyo? Wala akong nakikita dahil mayroon na akong bagong plaka rin for my old vehicle. What good has it done? Can you explain to the Committee? May pakinabang na ba?
ATTY. TAN: As to the program itself, we would say, "Yes, sir."
SEN. RECTO: Like what?
ATTY. TAN: Again, sir, there are 10 old plate designs being used on cars running the roads.
SEN. RECTO: So how many are there right now?
ATTY. TAN: As I said, Your Honor, we are just starting to replace the old motor vehicle license plates. As to the procurement itself--
ADVERTISEMENT - CONTINUE READING BELOW
SEN. RECTO: Me, as a vehicle owner, I paid you 450 for a new plate in my old vehicle which is only three years old, maganda pa iyong plaka ko. Ano iyong pakinabang ko doon?
ATTY. TAN: May I answer?
SEN. RECTO: Yes.
ATTY. TAN: If that is attached properly, Your Honor, that cannot be stolen easily.
SEN. RECTO: You know, I can steal a car just with the screwdriver. Don't tell that I cannot take away that plate number. That is not true.
ATTY. TAN: That's what the plates were designed for, Your Honor.
SEN. RECTO: Yes. But that is not true because I already have it. I can demonstrate it to you. This is what it appears to me and to many others. Parang negosyo lang ito na binigay natin sa bagong supplier. Parang palitan natin lahat ng plaka. Gagastos ang taongbayan dito na hindi naman kailangan. If at all, for new vehicles only. Let me reiterate that. And then by attrition, five years from now, 10 years from--you will probably have one or two designs left, right? We discussed this in March of 2014 and you proceeded. And today, it is May of 2015, ano ang pakinabang, kung hindi gastos lang. And I don't see any security feature na makakatulong and, you know, there are many complaints on delays. And we will hear from the distributors later on, the consumers, I suppose. Hanggang ngayon, mayroon akong kakilala nagbayad na, wala pa iyong plaka for an old car. Is that happening today, Atty. Tan, or do you deny that that is happening today?
ATTY. TAN: Like I said a while ago, Your Honor, it is true that it is happening in some cases where we see problems in the registration of the vehicle.
SEN. RECTO: Okay. So until today, it is happening.
ATTY. TAN: If there are problems in the registration, Your Honor.
SEN. RECTO: So dinagdagan ninyo iyong problema, in effect. And we will hear later on from our resource persons. I suppose many of them will say the same thing. So, Mr. Chairman, I do not want to take much of the time of the Committee. I think I made my points clear. I am sure we will hear later on from the other resource persons, and many of them, if not all, will probably say the same thing. So, again, thank you very much, Mr. Chairman. And I reserve my right later on to ask further questions.
ADVERTISEMENT - CONTINUE READING BELOW