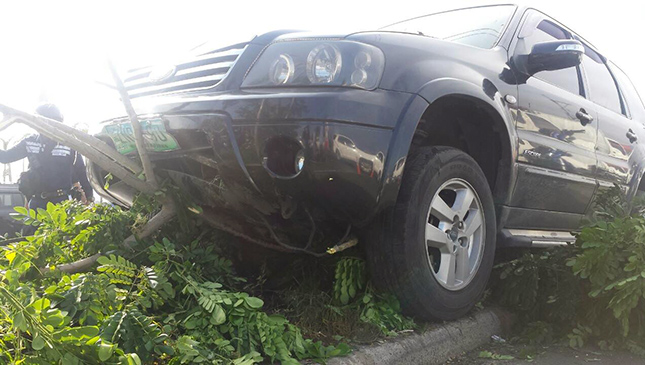 The Philippines is probably one of the worst places in the world to be a bicycle rider. Not only do we lack proper bicycle lanes on our urban routes, most car drivers are not even willing to share the road with people who'd rather pedal to their destination than burn precious fuel. In April, for instance, an avid biker was crushed to death by a wayward jeepney.
If you thought that was gruesome, the accident yesterday on Macapagal Boulevard was even more so--with another cyclist brutally pinned under a Ford Escape (ZNP-690) while stationary and presumably waiting at the stoplight for his turn to proceed. The Escape driver was reportedly doing an overtaking maneuver when the freak accident happened.
These photos were sent by Geminelle Peralta, who wrote: "I'm quite concerned for cyclists due to multiple cases of bicycle accidents. These photos were taken by my co-worker, and this incident took place near City of Dreams. It would really be nice if you could promote awareness on road signs both for motorists and cyclists; what to do when an accident happens; whom to notify/call; and what law protects both parties. It is really alarming because many of us are reckless, and when caught, we pretend to be ignorant and are unwilling to be responsible for our action." 
Before you scroll down, we would like to warn you that what you're about to see are quite graphic and disturbing. In fact, we've withheld one photo that is truly ghastly. But let these images sink in. Understand that our actions on the road have consequences. And it's not child's play, where the worst injury one could sustain is a nasty gash on the knee. Cars kill. Recklessness maims. Stupidity takes away fathers, mothers, sons, daughters, brothers and sisters from their families. UNDERSTAND THAT.
Don't be that one person who orphans a kid just because you drive smugly inside your air-conditioned vehicle, without regard for other road users. The asphalt is not just for cars; it's for cyclists and pedestrians, too.
UPDATE: The family of the victim has requested the removal of the photos in which the deceased is visible, so we have taken them down.