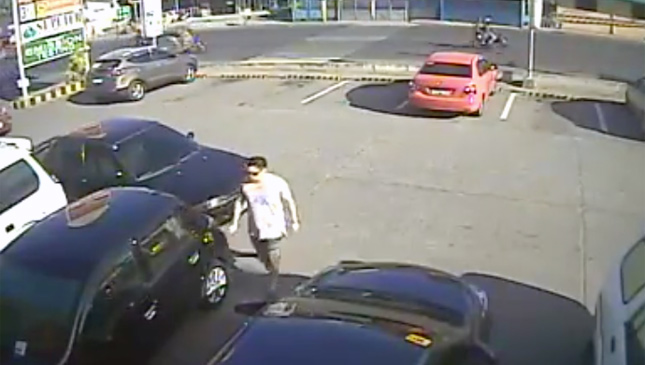 Early yesterday, we posted a CCTV video on our Facebook page, showing an unidentified man alighting from his dark-colored sedan to scratch unattended brand-new vehicles in the parking lot of Robinsons Lawaan in Talisay City, Cebu.
The video was originally shared by Teddy Ticar, who said: "Random and costly scratches on parked new cars at Robinsons Lawaan in Cebu at 3:50pm of April 18. Maybe you can help identify the suspect."
Due to the shocking nature of the video--the sight of a random guy damaging cars seemingly on a whim is definitely appalling--the video post immediately went viral. It has already been viewed more than 370,000 times as we write this, with 3,500 shares and 1,100 comments. Everyone obviously has something to say after seeing such an abominable spectacle as brazen car vandalism.
And then one thing led to another.
A source who requests anonymity for now has contacted us, claiming he and his father have located and identified the culprit. The source, who says he also used to be a motoring writer for a local newspaper before starting his own car/gadget blog, had a weird inkling upon seeing the video on our page. This was because his BMW car had likewise sustained strange scratches which he could never explain.
"My BMW got scratched in that same place," our source shares. "My BMW comes out only on Saturdays and Sundays. It's covered on the other days of the week, so I could never explain why the car would get scratches when it was used just to drive to the gym or to get groceries. That place where it happened is a grocery area. It also has several establishments within its premises, like a gym and a coffee shop. That's where I also go to the gym."
So our source reposted the video. And his father did the same. This was the crucial part, because a friend of his father happens to be a neighbor of the suspect.
"My dad's friend messaged him, claiming to have knowledge of the guy in the video because they are neighbors," our source continues. "Apparently, this guy (the suspect) had been sent home by his parents from Hawaii after having messed around there. They were hoping he could be straightened out here. He now lives here in Cebu alone, and he doesn't associate with neighbors and relatives. His neighbors told us that he would throw stones at their new cars or scratch these cars if he saw the cars somewhere."
ADVERTISEMENT - CONTINUE READING BELOW
Our source and his father were able to speak with the suspect's neighbors when they went to the suspect's house.
"When my dad and I did the stakeout, we were also armed," our source recalls. "We have permits to carry, don't worry. It was only to protect ourselves. Good thing there was no need to use anything. The suspect was inside the house. My dad tried to ring his doorbell; he would pretend to be looking for somebody. But the suspect just peeked out the window and never came out. So my father began asking the neighbors about the guy. While my dad was outside, I was inside our SUV locked and loaded in case something bad happened."
Our source, who also asks us not to publish the name of the suspect, claims that other information they gathered about the suspect include a "pending case in the US (Hawaii) for murder," as well as "several cases of misdemeanor and drug cases in Talisay City." They also learned that the suspect has no means of livelihood, and that his parents merely send him money.
So, if the suspect is said to have been vandalizing his neighbor's vehicles, why isn't anyone doing anything about it? At least report everything to the authorities?
"Oh, they have [filed complaints]. But the most that was done was convince them to settle things at the barangay level. They eventually got tired of it."
As for the source: "My family has taken action already. We've reported this to the City of Talisay, the local LTO, and the NBI. The suspect is under surveillance for now. My uncle is with the NBI of Cebu; he has all the details already."
There is just this impediment to the formal filing of the case, our source says: The authorities need the actual victims--the car owners in the video--to file the complaint themselves. Until they do, apparently, the authorities cannot proceed. At least that's what our source has been told.
Which is the reason he has come to us, in hopes the car owners in the CCTV footage may read this and come forward.
"There are three reasons I'm passionate about this case," our source declares. "First is that I'm a car enthusiast. Second is that this city is my family's foothold. My great, great-grandfather was the first Cabeza del Pueblo of this city, and our clan is the biggest here. Third is that we have been seeing an increasing number of crimes in our city, and I hate to see it deteriorate this way."
ADVERTISEMENT - CONTINUE READING BELOW
Our source has also provided a photo of the suspect's car. Asked what the exact model and color the car is, he replies: "It's a mid-'90s Mitsubishi Lancer, color black. The model before the 'pizza pie' Lancer. It has the same rear spoiler and wheels as the car in the video."
He closes our conversation with this offer: "If you're coming to Cebu for the next Vios Cup race, I can drive you to where he lives. You can have a look yourself."