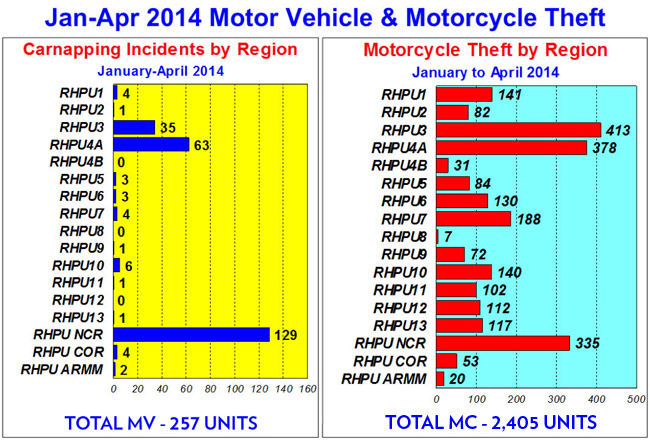 The public information office of the Philippine National Police has released a Highway Patrol Group report detailing the number of motor vehicles and motorcycles reported stolen in the country in the first trimester of the year. According to the report, there were only 257 reported cases of car theft from January to April this year, and 2,405 reports of motorcycle theft.
During this period, the National Capital Region (or Metro Manila) recorded the most number of stolen cars at 129, while Region 3 (Central Luzon) registered the most number of stolen motorcycles at 413.
In January, a total of 81 motor vehicles and 542 motorcycles were reported stolen in the country. In February, a total of 67 motor vehicles and 701 motorcycles were reported stolen. In March, a total of 58 motor vehicles and 636 motorcycles were reported stolen. And in April, a total of 51 motor vehicles and 526 motorcycles were reported stolen.
Of the above figures, the HPG was able to recover 132 motor vehicles (51.4%) and 63 motorcycles (2.6%), according to the report from the office of PNP PIO Director Chief Superintendent Reuben Theodore Sindac. This means one in two stolen cars in the Philippines is still able to be recovered, while stolen motorcycles are practically as good as gone.
Continue reading below ↓
Recommended Videos
Our colleague Ira Panganiban will discuss the HPG's report on his radio program today at Radyo Inquirer 990AM, from 9am to 10:30am.
How do you feel about car security in the country after reading this report?