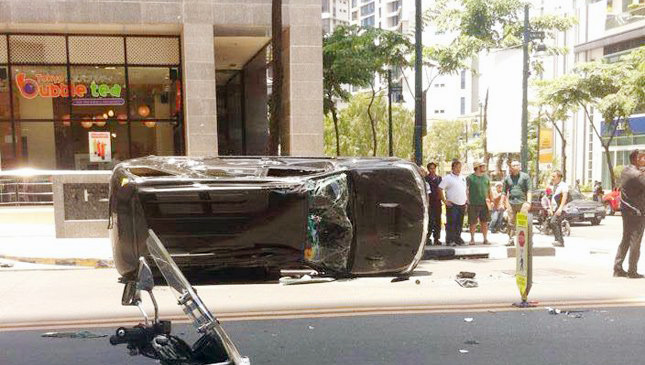 Of course you remember our report on yesterday's accident in Bonifacio Global City, in which a Toyota Fortuner hit a pregnant woman, who was subsequently rushed to the ICU. Quoting social-media users, we wrote that the overturned Fortuner with plate number AAL-6646 (above photo) had been speeding.
Well, it turns out that this Fortuner was itself a victim of another Fortuner, which was also speeding. Hence, the confusion. The Fortuner you see in the photo was indeed the one that hit the pregnant victim, but only because it was rammed by the other, speeding Fortuner. This was revealed to TopGear.com.ph by a former colleague's sibling, who works in the same company as the victim's husband.
The victim, who is now recovering in the hospital, has been identified by the Philippine Daily Inquirer as Jecinta Coote, supposedly a Thai national.
"The Fortuner in your photos was just hit by another Fortuner, which isn't seen in any of the photos you published," our source said. "The Fortuner in the photo merely lost control after getting hit by another Fortuner, and it unfortunately struck the victim."
The Inquirer has named the drivers of the two Fortuners as Rolando Manese (overturned Fortuner) and Anne Alison Soriano.
Our apologies for the confusion our first report may have caused.