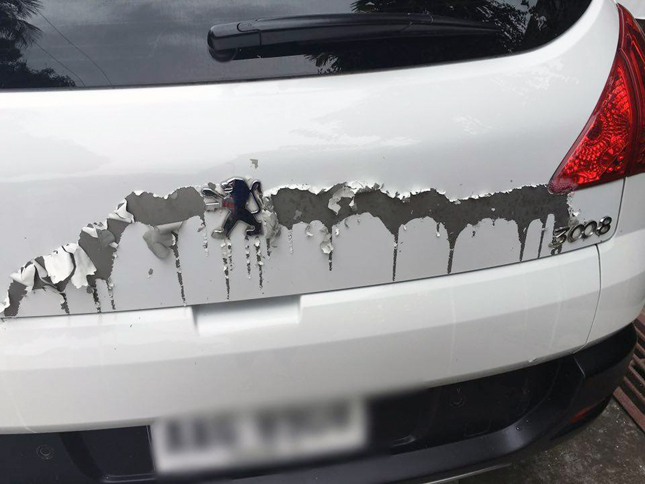 Metro Manila residents are quite used to car vandalism, but apparently this crime also happens elsewhere--and in Davao City, of all places. A Peugeot 3008 owned by corporate lawyer Ramon Edison Batacan was vandalized Friday (February 26) with paint stripper in the basement parking of Ayala-owned Abreeza Mall. The story and the photos you see here were sent to us by the car owner's daughter, Maria Ayra Celina Batacan.
"My father is a lawyer, and his office is located at Abreeza Corporate Center here in Davao City," she shared. "When he went down to the basement parking at around 5pm last Friday, he found his car looking like that. According to the police, the vandal (or vandals) used paint remover. The police also said this could be related to my father's work. It's under investigation now."
Unfortunately for the vehicle owner, the area where he parked his car didn't have CCTV cameras.
According to Sun Star Davao, Batacan is offering P20,000 to anyone who can help them identify the culprit.
While this may have indeed been work-related, there is also as much possibility that this was a random act. Stupid people do this all the time. Our suggestion: Get a dash camera that features parking mode, which allows the recording of video even when the car is parked and the engine is off. Our dashcam has this feature, and we make sure we select this setting when we park in a public place. Sure, it won't stop anyone from damaging your car, but at least you can identify the person later (unless he carries out the act from an angle outside the camera's field of coverage, but that's a problem that can be solved by adding another camera).
Just take double care out there, guys--especially if you suspect there are individuals out there who are conspiring to harm you and your family.
Photos from Maria Ayra Celina Batacan