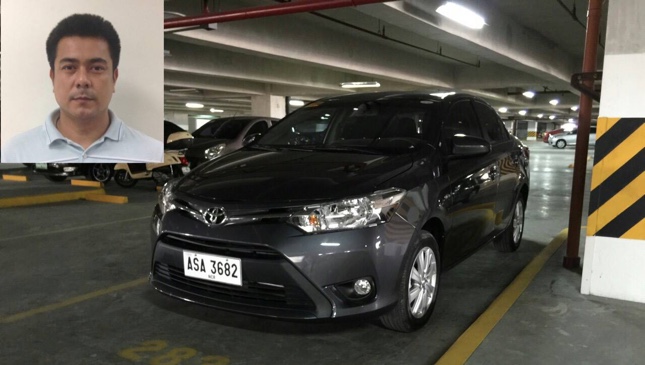 Many people are now being lured into the app-based transport business like Uber and GrabCar, particularly now that the DOTC has declared these companies legal. If you're one of these people, this story should make you extra cautious before diving headlong into the venture.
Jan Galang, a software engineer who develops mobile apps, purchased a brand-new Toyota Vios (ASA-3682) in March this year. That's the 25-year-old's first car, bought cash with his hard-earned money. He wanted to use it as his personal car, but also liked the idea of becoming an Uber operator for the extra income. Long story short, he filed an operator application with Uber Manila and got approved.
After three months, he found himself--or so he thought--a "trustworthy driver" recommended by a friend.
"I hired Israel Marte de Leon Olan as my driver," Galang told TopGear.com.ph. "He was highly recommended by my long-time friend from college. I did as much as I could for the background check before hiring him. However, It is only now that I've learned that he has several criminal offenses that didn't reflect on his NBI clearance. And surprisingly, he was able to pass Uber's background check as well."
As you might already guess where this story is going, Galang lost his car after being driven by Olan on the first day of their Uber employer-employee relationship.
"June 7 was his first day on the job," shared Galang. "He left with the car at around 7am, and his duty was supposedly until 7pm only. Unfortunately, he still hasn't returned the car until now. He is currently missing and we are no longer able to contact him."
Monitoring his car that day through Uber's tracking system, Galang saw that Olan drove to Malate and lingered there the whole morning, prompting him to call Olan and tell him that there were not many prospective passengers in the area and that he should drive to other places. It turned out Olan was in Malate because that's where his last known boarding place was, as well as his previous place of employment (a tapsilogan owned by a police officer). Galang found out about this when he went to the address stated in Olan's papers.
Olan's neighbors at the boarding house address told Galang that Olan had indeed dropped by the boarding house on the morning of June 7, and even showed them "his new car at work." According to Galang, his car went offline at around 4pm. He also lost contact with Olan, whose phone he could no longer reach at around the same time. Olan's room in the boarding house, pointed out Galang, only has clothes in it, and it looks like their owner has no plans of returning for them.
ADVERTISEMENT - CONTINUE READING BELOW
Past 7pm on June 7, the designated time by which Olan needed to return the car, Galang began to seriously worry and fear the worst. After visiting Olan's boarding place, Galang was led to the tapsi restaurant where Olan had supposedly been employed as a utility worker. There, he was told that Olan had in fact passed by "at around 7:30pm" of June 7, which should rule out the possibility that Olan may have been involved in an accident or may have been a victim of a crime.
Galang then made a few calls, including to one number indicated in Olan's employment documents. That number--scribbled under "emergency contacts"--turned out to be one belonging to an employee of the Makati City Jail, where Olan had supposedly also worked as a utility guy. That was when Galang found out that Olan actually has a questionable history.
Olan's NBI clearance indicates he is from Lipa, Batangas, and that he is 34 years old, Galang added.
"I'm a big follower of Top Gear Philippines, and I can't believe I'm now actually writing to ask for your help," Galang said. "We have already filed the necessary police reports, and I am now asking for your assistance. If by any chance, someone would see the driver and the car, please contact me at 0998 958-6946."
Galang has also notified Uber Manila, and the initial feedback he received is that Uber isn't involved in the operator-driver relationship. This after Uber conducted a one-day seminar which the driver attended, and performed a background check that took at least five days.