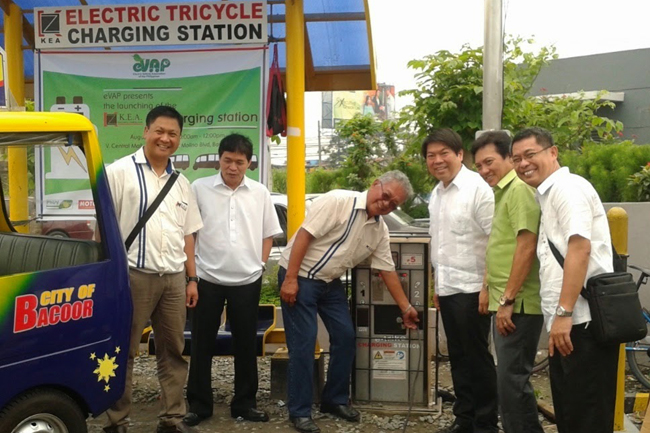 The clamor to pass laws supporting hybrid and electric vehicles (EVs) is becoming a tired tune. But there's no avoiding progress; the so-called alternative-fuel vehicles are here to stay. The government is only delaying the inevitable.
In fact, a local group believes the time for EVs in this country is now.
"Public transport operators are realizing that using electric vehicles for their fleets is not only environment-friendly and good for the air around us, but is also much quieter, more convenient to use, requires less maintenance, and most important, cheaper to operate," says Rommel Juan, president of the Electric Vehicle Association of the Philippines (EVAP). "With the cost of electricity to operate it being only 40% of the money you spend on fuel for the same distance traveled, you cannot go wrong with an EV."
Organized in 2009, EVAP wants to bring together the major EV players in the country to push their advocacy, and to secure fiscal and non-fiscal incentives from the government.
Elaborating on how other countries are embracing an EV motoring economy, Juan explains, "In Norway, the electric-powered Tesla is the second-best-selling vehicle because regular cars are charged a horrendous amount of tax, but the Tesla is exempted. In Turkey, the majority of new taxis bought are electric, owing to the fact that EV taxis are charged a reduced franchise fee by the government. China is the most incentivized EV industry as the government gives as much as $10,000 in subsidy if one buys a new EV."
Continue reading below ↓
Recommended Videos
But more than the reward for the consumer, there's an economic bonus if an EV industry is established here.
"We estimate that some 10,000 new jobs may be created, including downstream and upstream industries with the development of an electric vehicle industry in the Philippines," EVAP executive director Atty. Bodie Pulido points out. "The manufacturing facilities now being set up by both local and foreign players will be needing skilled local workers such as welders, painters, machine operators, body makers and general vehicle assembly workers."
More than that, Pulido adds there are benefits to be reaped in terms of tax revenue as well as population health because of reduced emissions.
The Alternative Fuel Vehicles Bill is the law that EVAP believes will open the doors for EVs in our country. This bill is being championed by Senator Bam Aquino and Congressman Mark Villar in the Senate and the Lower House, respectively.
Let's hope 2015 is finally the year of hybrids and EVs in the Philippines.