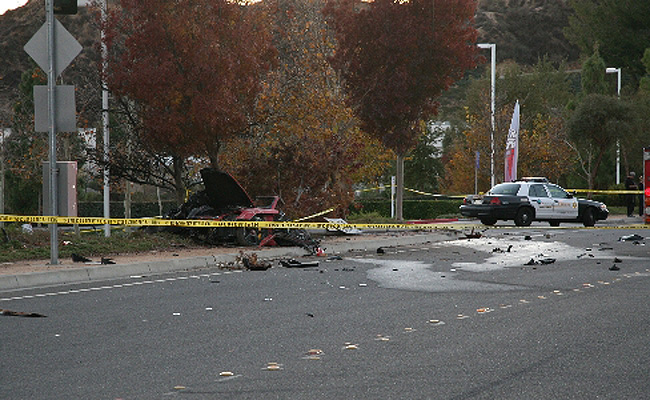 The Los Angeles County Sheriff's Department has officially released its report on the car crash that claimed the lives of Paul Walker and his Always Evolving tuning company partner Roger Rodas, saying that "the cause of the fatal solo-vehicle collision was unsafe speed for the roadway conditions."
Based on the report, the Porsche Carrera GT, which was being driven by Rodas with Walker as his passenger, was traveling "between 80mph and 93mph (128kph and 149kph) at the time the car impacted a power pole and several trees."
The report added that investigators conducted a thorough mechanical inspection of the Carrera GT, and though no pre-existing conditions were revealed that would have caused this collision, "an aftermarket exhaust system had been installed which would have increased the engine's horsepower." It was also noted that the Michelin tires on the car "were more than nine years old."
In response to the aforementioned report, Porsche released a statement: "According to all the available evidence, this crash was caused by dangerous driving at speeds much too high for the road in question. There is also evidence that this particular vehicle had been altered from its original design state and had not been maintained properly. However, there is no evidence of any mechanical malfunction. We stand by our Carrera GT and by the investigation and conclusions of the responsible authorities."
We hope that this report will finally let Walker and Rodas rest in peace.
Photo from the Los Angeles County Sheriff's Department
ADVERTISEMENT - CONTINUE READING BELOW ↓