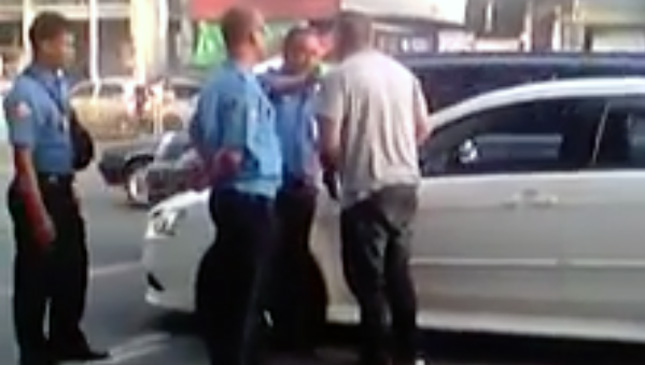 Another traffic officer of the Metropolitan Manila Development Authority was bullied by an enraged private motorist, as seen in this viral video. The video is almost reminiscent of the August 2012 incident in which an MMDA traffic constable named Saturnino Fabros was verbally and physically harassed by motorist Robert Blair Carabuena--except this latest one dragged a bit longer.
We don't have accurate information about what provoked the private motorist to get out of his car and aggressively confront the MMDA officer, who has been identified by his own agency as Renato Villafuerte. But the MMDA has released a statement, and we'd like to share it with you. Here it is in full (in italics):
This incident happened last June 25, Thursday, at around 6am along Commonwealth-Tandang Sora. The driver was apprehended by our lady constable, Fatima Factor, for obstruction. Upon slowing down, he almost hit Factor. This was witnessed by another constable of ours, Renato Villafuerte, who came to Factor's aid beside the car, and then the driver became visibly agitated.
The video in question occurs after that. Our traffic constables were subjected to prolonged verbal abuse and physical assault, at which point police assistance was sought. The driver managed to leave before the police arrived, but our team was able to take down the plate number of the vehicle.
Throughout the incident, Villafuerte and our constables maintained their professionalism and conducted themselves responsibly. We commend them for rising above the situation even when faced with unwarranted disrespect and hostility. We will be filing an official complaint against the driver with the LTO, and further evaluate the possibility of filing a criminal complaint against him.
We would like to thank everyone who expressed their support to Villafuerte and our Commonwealth traffic constables. We train our constables to treat everyone with nothing but respect and courtesy, and only hope that they be treated the same way by the people that they serve. Thank you very much.
Of course, this is only the side of the MMDA. We are open to hearing the side of the guy in the video, and we will also publish his account of the story should he wish to provide it.