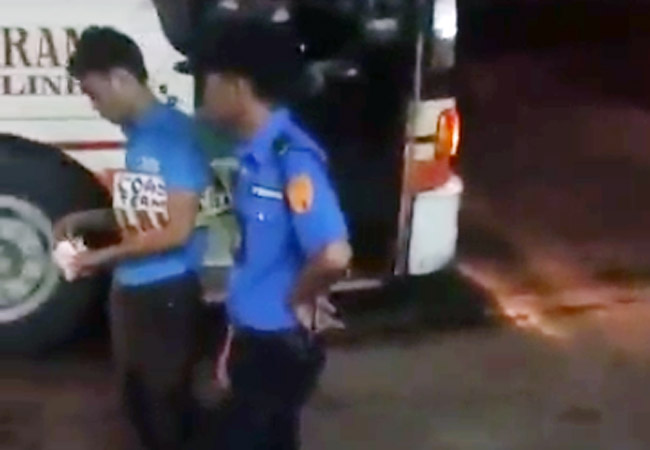 Yesterday, we posted on our Facebook page a video showing a traffic officer of the Metropolitan Manila Development Authority accepting what appeared to be money from a bus conductor on EDSA-Shaw in Mandaluyong. The fix was apparently given to the MMDA traffic constable so that the bus would be allowed to stay longer on the spot to pick up passengers.
The video was submitted to us by a concerned citizen by the name of Jay Ramirez, who said:
Please help me share this video. I already complained about this on MMDA's website, but I got no feedback. This is an MMDA traffic officer at Starmall on EDSA-Shaw. He doesn't do his job and he just sits around. He only stands up to collect money from the buses (P20 per bus). I see this almost every day. Sorry for the vertical video recording. I had to record this stealthily.
As expected, the video immediately became viral. As we type this, it has now been shared almost 8,000 times, collecting more than 1,600 comments from a very angry social-media mob. This prompted an admin of MMDA's official Facebook page to post what seemed to us like a generic reply:
Hello, Top Gear and Mr. Jay Ramirez. Thank you for calling our attention to this matter. We are already having our Traffic Discipline office investigate and look into the identity of the enforcer. We will make sure that this is properly addressed. Again, thank you.
Today, the MMDA announced on its Facebook page that the traffic officer in question had already been suspended, although his identity wasn't revealed. Here is the full text of the announcement, which was titled "MMDA chairman suspends traffic constable on Top Gear video":
Metropolitan Manila Development Authority (MMDA) chairman Francis Tolentino today ordered the suspension of the traffic constable allegedly involved in an extortion incident caught on video in front of Starmall on EDSA-Shaw Boulevard.
"The traffic constable involved has been suspended indefinitely, pending the investigation of the case wherein due process of law will be strictly observed," Tolentino said. "If proven guilty, he faces possible termination from the service."
The video-taped incident, uploaded on the Facebook page of Top Gear Philippines and [which] has gone viral, shows an MMDA traffic constable apparently receiving money from bus conductors.
The MMDA chief stressed that illegal street activities will not be tolerated among the agency's personnel.
"I am encouraging motorists and the general public as well to use video cameras to record and document perceived illegal or unlawful activities by our employees or by anybody to help attain a disciplined society, and also for evidentiary purposes."
ADVERTISEMENT - CONTINUE READING BELOW
Further, Tolentino urged the public to use MMDA's Metro Solusyon website, which aims to foster transparency and active civic participation in finding solutions to various metro-wide concerns. The Metro Solusyon website be accessed through www.metrosolusyon.mmda.gov.ph. The public can report complaints/incidents involving MMDA employees, or laud or commend a good deed done by MMDA personnel through the website.
Anyone who wishes to report any incident must log in first. Complaints must include the full name of the complainant together with the specific date, time and place where the incident happened. They will receive a confirmation notice if their report was received successfully, and will be given a reference number which they can use for follow-up.
According to Tolentino, complaints reported through the website will be verified initially. "This way, we can protect our personnel from malicious or prank reports. But we will immediately investigate legitimate complaints."