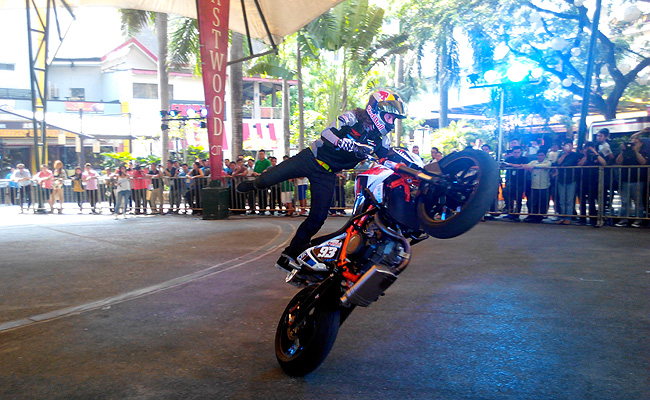 A couple of weeks ago, we reported that Red Bull-sponsored extreme athlete and motorcycle freestyle stunt rider Aaron Colton would be in the Philippines to give us a sample of his riding skills. Well, he has been here since May 5 apparently, and he'll be demonstrating for the public this week the skills that made him famous.
Using his KTM 690 Duke, Colton will perform freestyle stunts that include lots of wheelies, endos, burnouts, drifts, and acrobatics.
According to Colton, he has visited the Philippines before and spent a few days in Boracay. During his previous visit, he was amazed at the number of motorcycles on the streets and has since looked forward to showing off his skills to the locals.
Colton's stunt exhibition will be held in the following venues beginning at 8pm:
May 13 - Eastwood, Quezon City;
May 14 - Capitol Commons, Pasig City;
May 15 - A. Venue, Makati City; and
May 16 - Fort Strip/Bonifacio High Street, Taguig City
According to our source from within the public relations company handling Colton's tour, a press conference and exhibition was supposed to be held in Cebu City but was canceled.
As to why Colton has been here since last week, he is apparently doing promotional video shoots for Red Bull, showcasing his stunts in places like Tondo and Baclaran.
Continue reading below ↓
Recommended Videos
"I see a lot of potential for my sport of motorcycle freestyle riding to expand in the Philippines," Colton said. "I started with 50cc scooters and transitioned to 125cc motorcycles before I moved on to the really big bikes like the 600cc, so the Philippines has a lot of potential (in freestyle motorcycle)."
Colton has good advice for local riders who want to follow in his tire tracks: "Always wear the proper protection. I've been lucky enough to not be seriously injured in the 10 years I've been riding professionally. Besides luck, I can only credit it to the gear I use. And practice riding in a place where you won't endanger yourself or others."
So, you know where to stalk Colton this week.
Photo by Patrick Everett Tadeo