"New year, same policy from the Metropolitan Manila Development Authority (MMDA): The agency has announced that as of January 4, 2021, the number coding scheme remains suspended until further notice.
"You may recall that the MMDA initially suspended the number-coding scheme—also known as the Unified Vehicular Volume Reduction Program—at the start of the COVID-19 pandemic due to the absence of public transportation in the metro especially at the height of the quarantine. Public utility vehicles such as buses and jeepneys as well as the MRT-3, LRT-1, and LRT-2 lines have since resumed operations in the city, but number coding remains suspended nevertheless."
"San Miguel Corporation (SMC) recently announced that there will be temporary closures along Skyway Stage 3 in preparation for the new expressway's official opening on January 14.
"Skyway O&M Corporation has announced that from January 8 to 13, the Buendia-Balintawak portion of the new tollway will remain closed from 10pm to 4am. If you were planning to pass through here in the next few days, take note.
"In addition, from January 10 to 31, the Alabang-Zapote northbound on-ramp and southbound off-ramp will both be closed from 12am to 3am. Meanwhile, the steel ramp near Alabang will also be closed to southbound motorists following the same schedule."
"The Department of Trade and Industry (DTI) has announced that it will impose certain cash bonds on imported vehicles as provisional safeguard duties.
"This decision comes as a response to the Philippine Metalworkers Alliance's petition to protect the local automotive manufacturing industry amid the influx of imported vehicles in recent years. With this new measure, a cash bond of P70,000 per unit for imported passenger cars and P110,000 per unit for imported light commercial vehicles shall be imposed.
"'The Philippines has one of the most open markets relative to our ASEAN neighbors. While we generally do not restrict products coming into the market, we also need to ensure the level playing field for our local industry,' said DTI secretary Ramon Lopez.
"Once a verified petition has been filed with the DTI, the agency—under Republic Act No. 8800 or the Safeguard Measures Act—must take actions to remedy any severe injuries to the domestic industry caused by the increased imports of a like or directly substitutable product.
"In this case, the DTI has found that any delay in the imposition of safeguard measures will cause damages to the local manufacturing industry that will be 'difficult to repair.'
"'The provisional safeguard measures will provide a breathing space to the domestic industry which has been facing a surge in importation of competing brands. To clarify, importation is not being banned, and consumers will still have the options to choose, but imported vehicle models covered by the rule shall have safeguard import duties,' added Lopez. 'With that being said, it will also facilitate the structural adjustment of the local industry to be more cost-efficient and technologically advanced.'
"The DTI's findings also show that the amount of which passenger car imports exceeded domestic production increased from 295% in 2014 to 349% in 2018. In the same period of investigation, imports of light commercial vehicles (including pickup trucks) relative to local production also increased from 645% to 1,364%.
"This increase in importation is reflected in terms of actual market share. Imported passenger cars and LCVs accounted for more than 70% and 93% of the market share, respectively, in 2018.
"The safeguard measures will come into effect 15 days from today, January 5, 2021. It will initially be in effect for 200 days. During this period, the Tariff Commission is expected to conduct a formal investigation which will include public hearings in the next several weeks before further action is taken."
"In a statement, the Association of Vehicle Importers and Distributors (AVID) likens the DTI's implementation of safeguard duties to 'pulling the rug from under the auto sector,' stressing the move will only serve to hinder the local auto industry as it tries 'to get back on its feet with a 40% drop in sales in 2020.'
"'This further dampens the recovery outlook of the industry at a time when all players and stakeholders are appealing for government support,' the statement reads. 'The measure will aggravate the already anemic demand and make it harder for Filipinos to afford personal mobility with the projected price hikes.'
"It goes on to add that the DTI's measures will do more harm than good, saying 'penalizing imports will not trigger investments or create more jobs, much less address issues on the regional competitiveness of our local manufacturing sector.
"'Alternatively, we call for long-term policies that will further improve the ease of doing business which would open opportunities for investments, create jobs for our workers, and provide the Filipino reliable and affordable means of transport.'
"Prior to the DTI's announcement, a report based on ASEAN Automotive Federation data forecasted that Philippine car sales would grow by 21.5% compared to the country's disheartening 2020 performance during the height of the COVID-19 pandemic. There's no telling yet how these measures will affect this outlook."
"After partially opening the Skyway Stage 3 to the public, SMC has announced it is setting up to shift to 100% cashless transactions along all its tollways come January 11.
"As a matter of fact, SMC shared that it was able to accomplish its goal of establishing 156 Autosweep RFID installation sites on December 29, 2020. Check out the full list below for reference. Take note that this is updated as of January 5, 2021.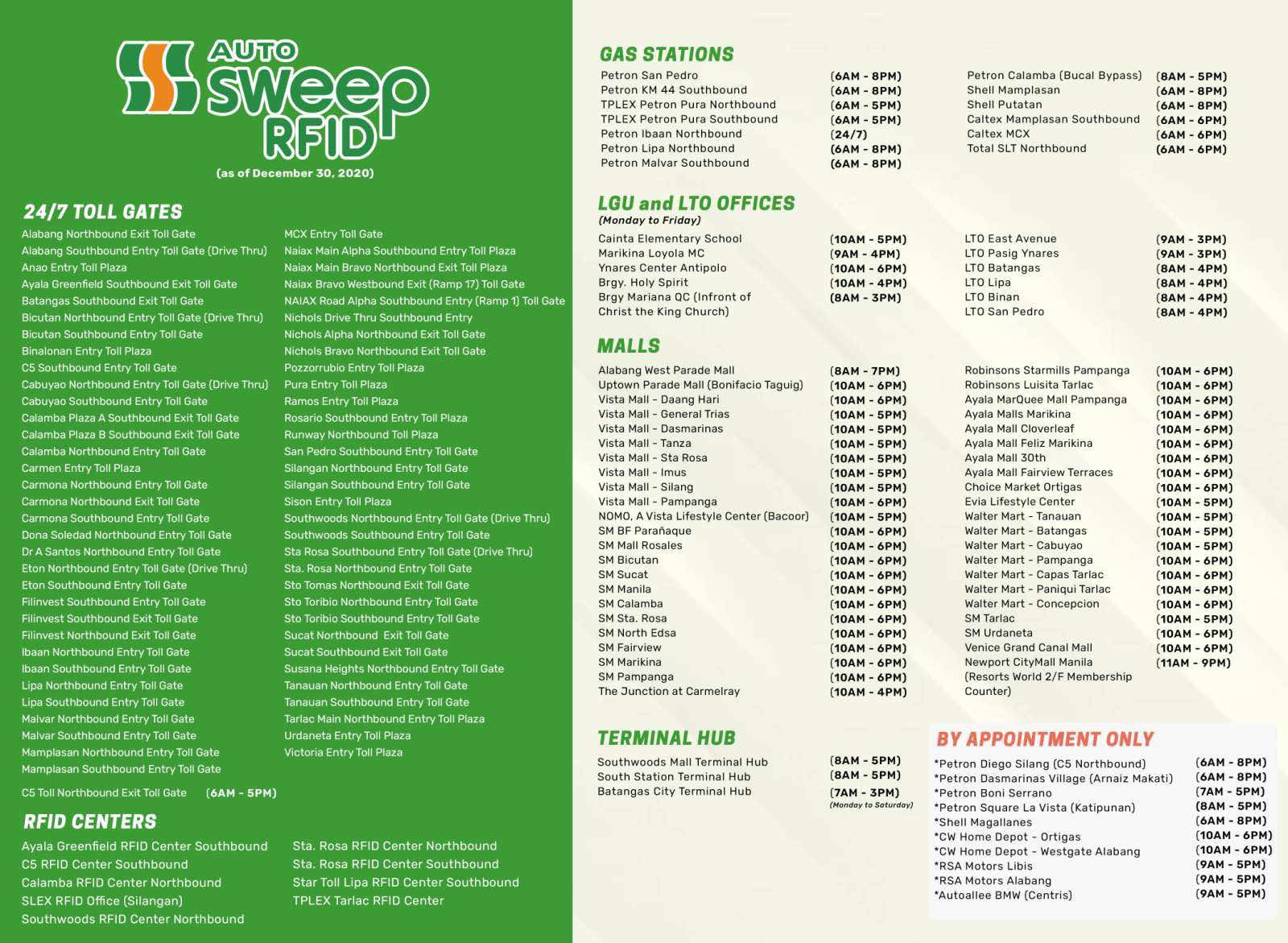 "'With the amount of stickers we have already issued over the past few months, particularly from November through December when we started increasing the number of stations, coupled with now 156 total RFID stations that are well spread out through Metro Manila and neighboring cities and provinces, we see no major problems in serving the remaining number of motorists without stickers yet,' said SMC president and chief operating officer Ramon S. Ang.
"'But of course, we want to reiterate that our installation activities will continue even after January 11. There is no need to panic and rush to the stations. We will retain our installation activities and even expand programs to reach villages and barangays,' he added.
"MMDA chairman Danilo Lim passed away on January 6, a little over a week after announcing he had tested positive for COVID-19. He was 65 years old.
"The news was confirmed by MMDA spokesperson Celine Pialago. In a statement, Malacañang Palace expressed its condolences to Lim's family, saying he fulfilled his role in the current administration 'with professionalism, competence, and integrity.'
"Lim shared his positive COVID-19 diagnosis in a Facebook post just before the new year. At the time, he said he was only suffering from mild symptoms and was in self-isolation. The official also expressed relief after both his wife and child tested negative for the virus, and said he would continue to work remotely.

"Lim began his term as MMDA chairman in 2017, after taking over for then-serving general manager Thomas Orbos."
"The MMDA is looking into yet another adjustment to EDSA's lane layout. This time, the agency says it is looking into placing the busy thoroughfare's motorcycle and bicycle lanes side by side.
"In an interview with Cito Beltran on One News, MMDA traffic chief Bong Nebrija shared that a side by side positioning on the rightmost side for EDSA's motorcycle and bicycle lanes is a possibility the agency is now studying: 'There are portions of EDSA that have already started the repainting or the changing of lane markings. You can see it's already aligned with the busway that we have, and there will be an excess, I think, two meters or so on the right side, on the curbside. And that's the plan, where to put the bike lanes.
"'And just like what you said, we're still working on the possibility of putting it side by side with the motorcycle lane, if only we can get the protected bike lane. It should be protected bike lanes so that it can be side by side with motorcycles.'
"The official added that funding is already available and that this move is now in the hands of the Department of Public Works and Highways (DPWH). Nebrija also clarified that if this pushes through, only the bicycle lane will be protected by barriers as the MMDA doesn't want to hamper the maneuverability of motorbike riders.
"Another initiative Nebrija highlighted during the interview was the MMDA's plan to set up a bike-share program on EDSA: 'If you could see the old waiting areas or bus stops that you still have on the side of EDSA, we will be transforming that into a bike-share program wherein we're going to put bicycles for rent.
"'Just like in other countries these are locked bicycles, you will need to swipe your Beep card or credit card or ATM card, and then you can pull out the bike [and use it] to any point of destination along EDSA, and return it to any station near your point of destination and you'll be charged accordingly.'"
"In July 3030, the Department of Public Works and Highways (DPWH) said that the Estrella-Pantaleon Bridge renovation project is on track for its December 2020 completion, but it appears that the timeline has been adjusted. The agency has now shared that the project is 72% complete and is scheduled to open in the second quarter of 2021.
"The project will result in the expansion of the Estrella-Pantaleon Bridge—also known as the Rockwell Bridge—into a two-way, four-lane structure that is expected to serve 1.3 million cars daily.
"It will span 506.46 meters long and 21.65 meters wide, with three-meter sidewalks on both sides of the bridge. It will connect Estrella Street in Makati City and Barangka Drive in Mandaluyong City."
"Good news for motorists from the southern province of Cebu: The DPWH has completed paving a new road leading to the coastal areas in the town of Aloguinsan.
"The agency started the project back in February 2020. Now, it has released photos of the new 1.38km, two-lane road that leads to several tourist destinations in the area. This is part of the DPWH's tourism road project in partnership with the Department of Tourism, and it involves the construction of the Barangay Malolos-Barili-Kantabugon Road, which also provides access to Hermits Cove, Bojo River, and Lunhaw Farm Resort. This newly paved stretch spans over six meters wide with a 1.5-meter paved shoulder, a drainage canal, and traffic safety devices.
"'This will not only serve tourists who want to explore Central Cebu, but also directly benefit locals with improved mobility and investment potential of their area,' said DPWH secretary Mark Villar."