"Some Filipinos choose vehicles based on how capable they are of surviving situations like this. Unfortunately, no amount of ride height could prepare many car owners in Marikina City for the downpour Typhoon Ulysses let loose overnight.
"Images captured on November 12 in and around Baranagay Tañong, Marikina City, show submerged cars and residents wading through waist-deep floodwaters—scenes reminiscent of when Typhoon Ondoy devastated the same locality back in 2009. In some areas, the flood crept all the way up to the second floor of people's homes, forcing many to climb up onto their roofs and wait for evacuation."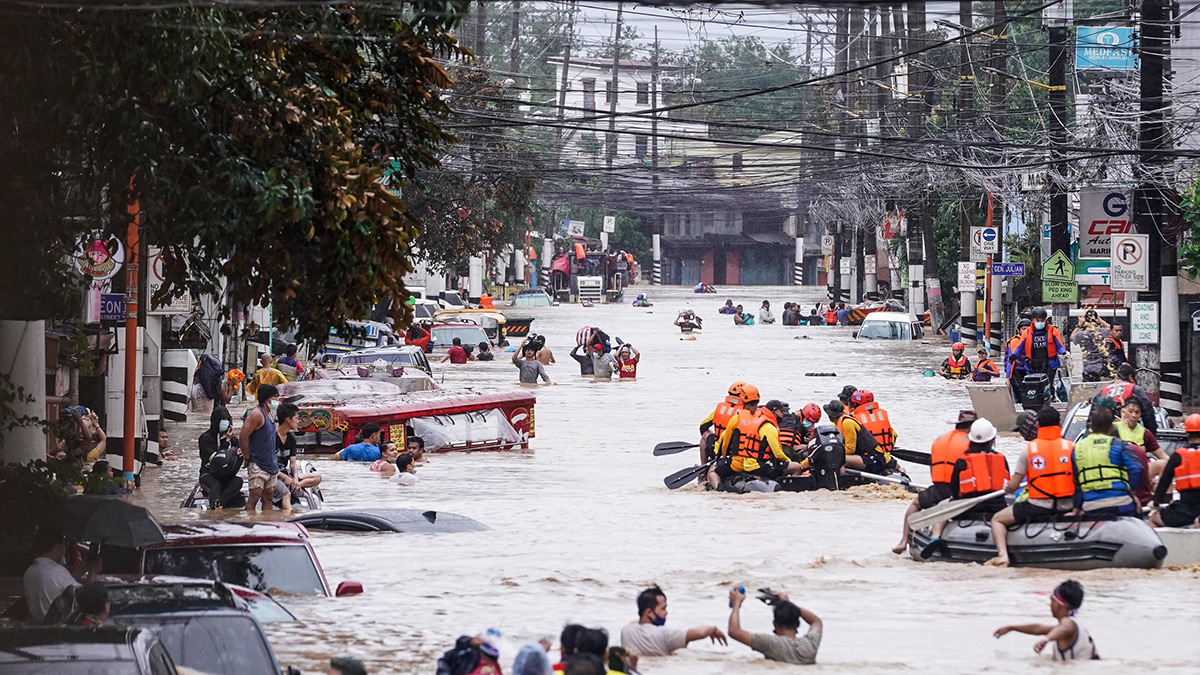 For more images of the typhoon's destructive effects in Marikina, click here.
"Autosweep applications just recentlyshifted to an appointment-only basis. Now, Easytrip is doing the same. This is the Online RFID Reservation and Appointment System (ORRAS) that the company announced a while back.
ADVERTISEMENT - CONTINUE READING BELOW ↓
"If you still haven't secured your Easytrip RFID yet, you now have to set an appointment online first through ORRAS before driving to an installation site. This new policy will only be implemented in select locations for now. Metro Pacific Tollways Corporation (MPTC) has confirmed that other installation booths will follow suit. Here's the initial list of sites that will follow this new appointment system:
Cavitex Parañaque Plaza (northbound and southbound)
C5 South Link (westbound)
CALAX Greenfield (Mamplasan)
Shell Pamplona, Alabang-Zapote Road, Las Piñas City
Shell Panapaan, Bacoor, Cavite (in front of Puregold Bacoor)
Shell Real 2, Aguinaldo Highway, Imus, Cavite (near Maynilad – Welcome to Imus Arch)
NLEX Drive and Dine, Canumay West, Valenzuela City
"To book an appointment, you need to scan a QR code to access the registration form. You then select a time and location, submit your registration, and save the verification details. You must then present this to Easytrip personnel once you arrive at your selected installation site.
"Motorists are advised to be at these sites within the hour of the selected schedule. Applicants also won't need to get out of their cars to better enforce social distancing. To register, scan the QR code below:
ADVERTISEMENT - CONTINUE READING BELOW ↓
Recommended Videos
"The MPTC has also confirmed that motorists can book appointments even past December 1, 2020. If you won't be driving out anytime soon, rest assured you'll still be able to schedule your application beyond the deadline."
"MPTC will once again make Easytrip RFID stickers available through Shopee and Lazada in the coming weeks, a reliable source within MPTC tells us.
"We say 'again' because MPTC previously tapped the two online-shopping platforms to give motorists better access to RFID stickers. The setup, however, was eventually paused after motorists who had purchased Easytrip tags online experienced technical glitches due to the improper placement of the RFID stickers on their vehicles.
"This issue of self-installation, our source says, has been ironed out by rolling out more detailed instructions on the proper placement of the tags. In addition, our source also warns owners of small-displacement motorbikes—particularly those with engine displacements below 400cc—against buying RFID stickers online and installing them on their units. These two-wheelers are not allowed on tollways.
"'Lookout ng patrol namin yun. But if their OR/CR indicates a 400cc displacement kahit [the actual displacement is] lower like the KTM [390 Duke or RC 390, which both have 373cc engines], we will give RFID [stickers],' the MPTC official explains. 'Because we will follow the class set by the [Land Transportation Office].'
"What traffic violation awaits owners of sub-400cc bikes that enter the tollways? They call it 'DTS' or 'disregarding traffic signs' that state such motor vehicles are unauthorized to travel on these roads."
ADVERTISEMENT - CONTINUE READING BELOW ↓
"The Inter-Agency Task Force for the Management of Emerging Infectious Diseases (IATF) has issued Memorandum Circular No. 03-2020, or the operational guidelines for motorcycle taxis and tricycle backriding.
"On November 9, the National Task Force against COVID-19 (NTF) and the Department of Transportation (DOTr), along with other transport officials, held a press conference to discuss the resumption of the motorcycle-taxi pilot study, which will give the public more commuting options amid the pandemic-induced community quarantine.
"As was the case before the pandemic, three motorcycle groups are allowed to join the pilot run: Angkas, JoyRide, and Move It."
Click here to read about the important points of the memo.
"After suspending its operations this weekend, the MRT-3 will also be doing the same on November 28 to 30. This is to make way for rehabilitation and maintenance procedures that Sumitomo-Mitsubishi Heavy Industries will conduct along the train line.
"Apart from bushing unit replacements that will be done to the trains, the turnouts near the Taft Avenue station will also be repaired—specifically, the 2A and 2B turnout sections.
"At the start of the month, the DOTr also deployed its 50kph trains. Come December, the agency is hoping to increase the regular operating speed to 60kph."
"A year ago, San Miguel Corporation (SMC) announced that it had successfully built a road out of recycled plastic at its test site in Cavite. Now, the company is looking to use the technology to build bike lanes in its partner cities and provinces.
"'It has almost been a year since we started our plastic road initiative, and so far, our pilot site has held up very well. It's in our logistics facility—used heavily every day by large vehicles with heavy loads,' said SMC president Ramon S. Ang. 'Very soon, I think we can graduate it for light public use, specifically, for bicycle lanes.'
"This comes as a welcome announcement, especially considering how more and more commuters are looking to alternative transport solutions such as bicycles to move around and across cities amid this pandemic. Not only is SMC's initiative sustainable, but it will also help promote the establishment of bike lanes across the country.
"'Because of social distancing and restrictions on transportation, more of our countrymen are now biking to work. It promotes health and fitness, lessens pollution, and provides a cost-free way to get to one's destination, and has also been embraced by many LGUS who have set special bike lanes on roads," added Ang.
"'Our roads are not designed with cyclists in mind. What we hope to do is work with LGUs and technology partners to come up with solutions for people on bikes that are safe and cost-efficient.'"