"According to the latest Social Weather Stations (SWS) survey, 42% of non-home-based working Filipinos find commuting 'very much harder' than before the pandemic hit. Meanwhile, 19% found it 'much harder,' 11% said it was 'slightly harder,' and 28% said it was 'same as before.'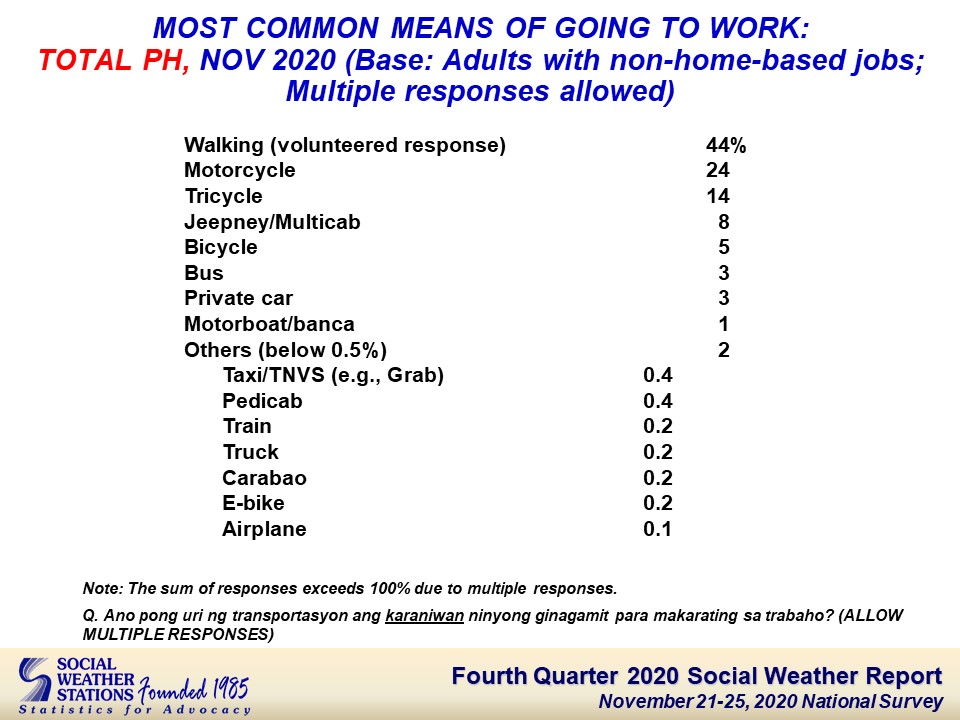 ADVERTISEMENT - CONTINUE READING BELOW ↓
"Among the respondents, the most common mode of transportation to get to work is walking (44%), followed by motorcycles (24%), tricycles (14%), and jeepneys/multi-cabs (8%). Only 5% used bicycles, 3% rode buses, and 3% used their own cars. Taxis/TNVS accounted for a mere 0.4%. For additional context, the majority of those who said commuting is now more difficult than before currently walk to work.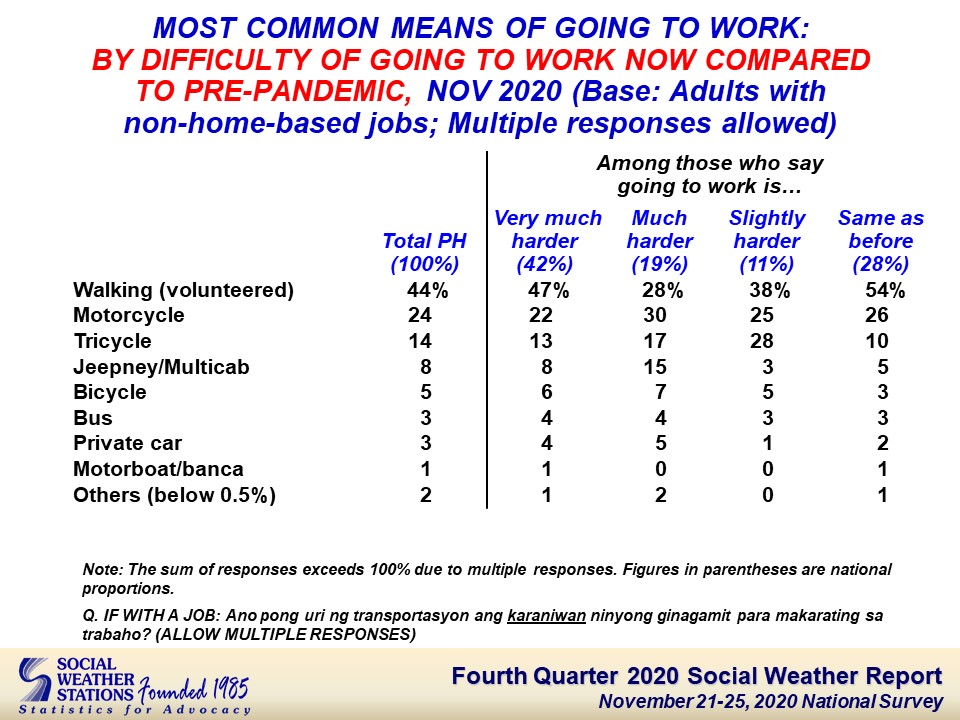 ADVERTISEMENT - CONTINUE READING BELOW ↓
Recommended Videos
"Looking at Metro Manila specifically, the figures change a bit: 25% of respondents took jeepneys/multi-cabs, 21% walked to work, 20% rode motorcycles, 14% rode the bus, and 11% rode bicycles. Private cars are still the least-used among all options at just 5%.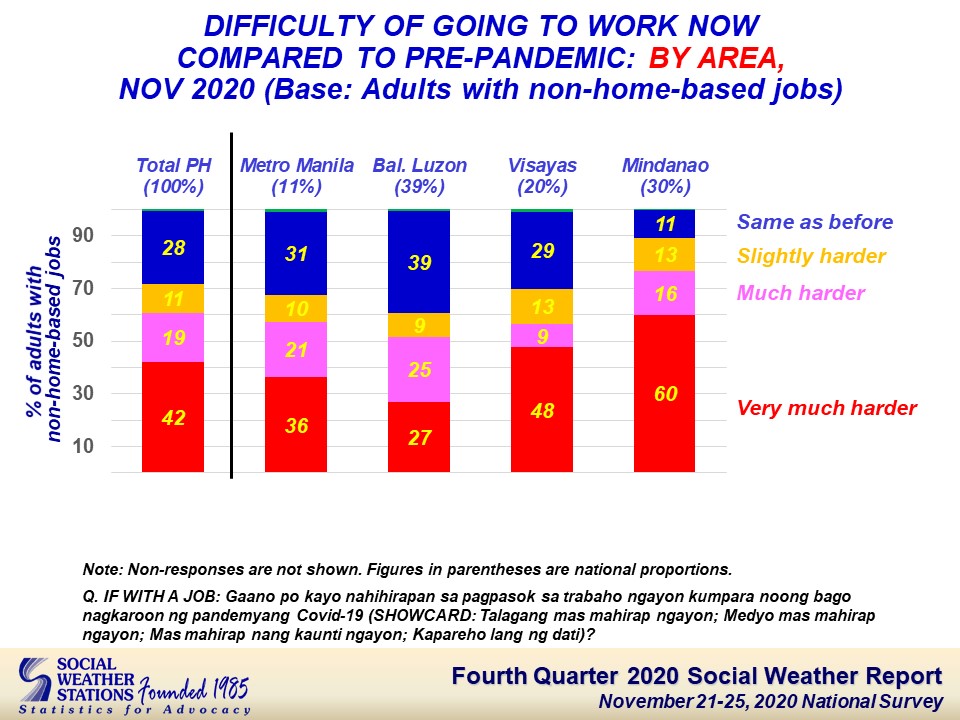 "Across the country, it has generally become more difficult to get to work, but the negative impacts are much more apparent in Visayas and Mindanao. In those regions, 48% and 60% of the total respondents said it is 'very much harder' compared with 36% in Metro Manila and 27% in Balance Luzon.
ADVERTISEMENT - CONTINUE READING BELOW ↓
"The survey results also showed more people in rural areas opted to walk to work (55%) versus those in urban areas (31%). In both settings, motorcycles and tricycles remain the second and third options, respectively.
"The survey was conducted from November 21 to 25, 2020, using face-to-face interviews of 1,500 adults (aged 18 years old and above), 600 of which were from Balance Luzon, and 300 each from Metro Manila, Visayas, and Mindanao. About 82% of the respondents had non-home-based jobs, while the remaining 18% were working from home."
"In a statement, the San Miguel Corporation said that it has tapped urban planner Jun Palafox to make sure that the Pasig River Expressway (PAREX) and future infrastructure projects and existing road networks will 'further meet social, economic, and environmental needs.'
"'For our next-generation developments, like the airport, airport city, PAREX, and expressway and mass rail projects benefitting our provinces, we can be more deliberate and purposive in terms of urban planning and design. We can incorporate learnings from previous developments in the country and around the world," SMC president Ramon S. Ang explained, also saying that the country is now playing catchup after neglecting urban planning over the past 30 years.
ADVERTISEMENT - CONTINUE READING BELOW ↓
"'This is where Palafox can help us greatly, because he is a visionary with a lot of great ideas and solutions to start solving problems we encounter living in our cities today. It will be a process and it will take time, but I believe we will have better, more efficient, more comfortable and pleasant cities interconnected by sustainable infrastructure in the future.'
"Details as to how Palafox's input will improve plans to develop PAREX are still scarce at the moment, but Ang did share some information regarding SMC's Airport City development in Bulacan, saying 'parks, wider pedestrian areas, and dedicated bicycle paths' are just some of the things SMC plans to include in the project's masterplan.
"Palafox's architectural firm, Palafox Associates, operates by the principle of 'integral ecology' and aims to balance 'social equity with protecting and conserving natural environments, inclusive economic growth, culture, history, and interfaith spirituality. 'We have a strong commitment to preventing negative development impacts on people and the environment,' the company's website reads."
ADVERTISEMENT - CONTINUE READING BELOW ↓
"North Luzon Expressway (NLEX) management has announced that it is already piloting the implementation of smart cameras capable of automatic license plate recognition (ALPR) along the tollway. These smart cameras, which are initially being installed at 25 toll lanes in Valenzuela City, are meant to help enforce traffic laws on NLEX.
"The NLEX Corporation says the installation of ALPR-equipped cameras will allow for easier matching of entry and exit transactions while the toll barriers at Mindanao, Karuhatan, Paso de Blas, and Lawang Bato remain raised.
"'It also helps in identifying vehicles passing the RFID lanes without RFID stickers, as well as those with insufficient balance, and vehicles that pose potential safety issues,' the company said in a statement.
Other tech improvements that NLEX management is making at the moment include equipping 127 more toll lanes with contactless Easytrip card readers and the realignment of 56 RFID antennas to boost reading efficiency. The company also says its toll-collection system is being upgraded to provide faster turnaround time for transactions and reloads. Supposedly, this has reduced data transmission between the toll collection and Easytrip systems from 45 minutes to real-time.
ADVERTISEMENT - CONTINUE READING BELOW ↓
'Aside from infrastructure building, we are also persistently working on digitizing and automating our business processes,' NLEX Corporation president Luigi Bautista said. 'We are continually adjusting our systems so we can provide a more efficient service to our motorists and afford them ease of travel.'"
"A few weeks ago, Grab announced that it will be giving free COVID-19 vaccines to its driver and rider partners in Southeast Asia. Now, it appears Grab Philippines will be starting its initiative for its delivery partners through the GrabBayanihan Vaccination Support Program.
"The program will focus on two main points: access and education. Through GrabBayanihan, the company aims to subsidize COVID-19 vaccination for its driver and delivery partners who are not covered by the national vaccination program. This will be subject to the availability of vaccine supply.
"Grab Philippines will also work with its driver and delivery partners before and after vaccination to connect them with their respective LGUs for inoculation. It will extend its Post-Vaccination Livelihood Protection insurance policy free of charge, which will cover the potential loss of income that may be incurred while recovering from potential vaccine side effects.
ADVERTISEMENT - CONTINUE READING BELOW ↓
"The company will likewise be creating a specialized fleet of vaccinated driver-partners that will provide discounted rides to and from vaccination centers for senior citizens, high-risk individuals, or people with comorbidities.
"In addition to all these, Grab Philippines will work closely with government units and agencies to offer them mobility, communications, and logistics support for their respective vaccination programs, leveraging on the company's ground fleet network and mobile app. It will collaborate with the Department of Health to spread valuable information regarding vaccination not just to its partners, but also to the general public.
"In a Facebook post, Metropolitan Manila Development Authority (MMDA) traffic chief Bong Nebrija warned habal-habal customers to stop pretending to be illegal riders' significant others. According to the official, footage of MMDA operations is commonly uploaded to social media, and the agency receives reports from people who know the habal-habal rider captured on camera.
ADVERTISEMENT - CONTINUE READING BELOW ↓
"'We document our operations and most times they make it to be uploaded in Facebook or YouTube,' Nebrija warned.
"'What is alarming is that we are receiving feedback that what was claimed by the rider is not true and that the backride is someone else's wife, even we already blurred the faces,' he added, explaining that this situation can potentially lead to scandal among family, friends, and colleagues. 
"The official also provided an example wherein a habal-habal rider asked his passenger to show affection to prove his legitimacy to MMDA personnel. Instead of getting in on the scheme, the female passenger allegedly went 'berserk' and snitched on the rider instead.
"'Nagbayad ako ng P100, gusto mo pang makaisa! Hindi ko asawa yan—habal-habal po yan," Nebrija recalled the passenger saying.
The MMDA has announced that it will resume the implementation of the truck ban in Metro Manila on Monday, May 17. This comes following the shift of Metro Manila, Bulacan, Laguna, Cavite, and Rizal from modified enhanced community quarantine (MECQ) to general community quarantine (GCQ) with 'heightened restrictions.'
ADVERTISEMENT - CONTINUE READING BELOW ↓
"The truck ban will be in force from Mondays to Saturdays, 6am to 10am and 5pm to 10pm. A total truck ban will be enforced along EDSA, from the Magallanes Interchange in Makati City to North Avenue in Quezon City, 24 hours from Mondays to Sundays. Trucks carrying perishable goods and agricultural products are exempted.
"Metro Manila, Bulacan, Laguna, Cavite, and Rizal will be under GCQ with heightened restrictions until May 31."