"Metro Manila and the provinces of Bulacan, Cavite, Laguna, and Rizal are set to go back under enhanced community quarantine (ECQ) from March 29 until April 4, 2021. Unlike last year's version of this quarantine, however, public transport will remain operational, with passenger limits to be announced by the Department of Transportation (DOTr).
"A daily curfew lasting from 6pm to 5am will also be imposed in all aforementioned areas, with more uniformed personnel being deployed to enforce quarantine protocols. Only authorized persons outside their residence (APOR), workers in permitted industries and establishments, cargo vehicles, and public transportation shall be exempted from curfew.
"The following are considered APOR:
Essential workers (must present IDs showing place of work and place of residence)
Health and emergency frontline services personnel
Government officials and government frontline personnel
Authorized humanitarian workers
Persons required to travel for medical and humanitarian needs
Persons en route to airports for essential travel abroad
Persons crossing cities and towns to get to their place of work/business or their residence
Returning overseas Filipinos (ROFs) and overseas Filipino workers (OFWs)
ADVERTISEMENT - CONTINUE READING BELOW ↓
"No travel pass is required for the said individuals, said Presidential spokesperson Harry Roque during his briefing on March 27.
"During non-curfew hours, movement of all other individuals is limited to accessing essential goods and services. Persons aged below 18 and above 65, those with immunodeficiency, comorbidity, and other health risks, and pregnant women must remain in their residences at all times, except when obtaining essential goods and services.
"Gatherings of more than 10 persons outside of the household are prohibited, as are indoor gatherings with any persons outside of one's immediate household.
"On the community level, authorized personnel will be deployed to actively look for COVID-19 suspect cases for testing, contact-tracing, and isolation. Aside from RT-PCR tests, antigen test kits will also be procured for use in the expanded testing efforts.
"Only the following industries, businesses, and establishments are allowed to operate at full capacity:
Public and private hospitals
Health, emergency, and frontline services
Manufacturers of medicines, medical supplies, devices, and equipment
Agriculture, forestry, and fisheries
Delivery and courier services transporting food, medicine, and other essential goods
ADVERTISEMENT - CONTINUE READING BELOW ↓
Recommended Videos
"Essential and priority construction projects, both public and private, may be allowed to continue in accordance with guidelines to be issued by the Department of Public Works and Highways (DPWH). 
"The following, meanwhile, are allowed to operate at up to 50% capacity:
Private establishments, but only for essential goods and services
Media establishments
Workers accredited by the DOTr
"Of note, only essential stores like groceries, pharmacies, and hardware are allowed to remain open in malls. Restaurants may provide only take-out and delivery services—even al fresco dining is now prohibited."
"Last week, MRT-3 management announced that the rail line will be temporarily ceasing operations this Holy Week to make way for scheduled rehabilitation works. Now, the LRT-1, the LRT-2, and the PNR have announced closures and adjusted hours, too.
"In a Facebook post, the DOTr shared the updated Holy Week schedule for the LRT-1, the LRT-2, and the PNR.
ADVERTISEMENT - CONTINUE READING BELOW ↓
"'To give way to the thorough maintenance program being conducted yearly to our railway lines, please be informed of the following Holy Week Maintenance Activities that shall be undertaken,' the announcement reads.
"From March 29 to 30, the LRT-1 will make its first trip from Baclaran and Balintawak at 4:30am, and will commence its last trips from these stations at 10pm and 10:15pm, respectively. The rail line will be closed from March 31 to April 4, and regular operations will resume on April 5.
"On the LRT-2, the first trip on March 29 from Recto and Santolan will be at 5am, and the last trips of the day from these stations will be at 9pm and 8:30pm, respectively. On March 30, the first trip from Recto and Santolan will also be at 5am, but the final trips from both stations will be at 8pm. The rail line will also be closed from March 31 to April 4.
ADVERTISEMENT - CONTINUE READING BELOW ↓
"Finally, the PNR will cease operations from April 1 to April 3. Beginning April 4, the rail line will resume the following routes:
Tutuban-Alabang  and vice versa
Tutuban-Calamba and vice versa
Tutuban–Governor Pascual and vice versa
Governor Pascual–Bicutan and vice versa
Naga-Sipocot and vice versa
"The PNR will resume regular operation on April 5. You can check out the Holy Week operating schedule for the MRT-3 here."
"The DOTr has just announced that it will roll out its EDSA Carousel Bus Augmentation this Holy Week in order to provide essential workers with additional means to go around the city. A number of public utility buses will be deployed along the EDSA Busway and will cover the same route that the MRT-3's.
"MRT-3 director for operations Michael Capati has assured the public that there will be enough buses for all commuters who will be needing transportation during this period. These PUBs will be traversing the thoroughfare from 5am to 10pm daily on the week of March 30 to April 4. 
ADVERTISEMENT - CONTINUE READING BELOW ↓
"The MRT-3 will be resuming operations on Monday, April 5."
"In its latest progress report, the DOTr has announced that the Common Station on North Avenue is currently 48.48% complete, with construction now happening round the clock to meet the December 2021 target completion date.
"The transport hub, also known as the Unified Grand Central Station, is located between Trinoma and SM City North EDSA. It will interconnect four rail lines: the LRT-1, the MRT-3, the MRT-7, and the Metro Manila Subway. The latter two are currently under construction, but once those lines and the Common Station are completed, the DOTr says 'travel to Bulacan via Commonwealth, and from Valenzuela to NAIA will be faster and more convenient.'
"The report also shows the facility's Atrium or Area B as being 100% complete. Once fully operational, and with all four rail lines up and running, the Common Station will serve around 478,000 passengers daily."
ADVERTISEMENT - CONTINUE READING BELOW ↓
"The Toll Regulatory Board (TRB) has given provisional approval to the toll fees proposed by San Miguel Corporation (SMC) for Skyway Stage 3. The approved provisional rates are as follows:
Buendia to Santa Mesa (Phase 1): P105 (Class 1), P210 (Class 2), P315 (Class 3)
Santa Mesa to Ramon Magsaysay: P30 (Class 1), P60 (Class 2), P90 (Class 3)
Ramon Magsaysay to NLEX Balintawak (Phase 2): P129 (Class 1), P258 (Class 2), P387 (Class 3)
Buendia to NLEX Balintawak: P264 (Class 1), P528 (Class 2), P792 (Class 3)
"SMC, however, may not yet begin collecting toll fees until TRB gives it the green light to do so.
"'Ang provisional rates po kasi, ang ibig sabihin niyan ay hindi pa final at pwede pa 'yang magbago,' said TRB spokesperson Julius Corpuz in an interview with PTV. 'For the meantime, ito muna yung rates na pwede nilang kolektahin sa panahong bibigyan na sila ng authority.
ADVERTISEMENT - CONTINUE READING BELOW ↓
"'Pero hindi pa agarang makapapaningil ng toll fee ang SMC sa Skyway Stage 3 hangga't hindi pa nabibigyan ng authority to collect ng TRB,' the official stressed."
"In a statement, the NLEX Corporation has bared that it is now in close coordination with the DPWH to make connecting the Subic-Clark-Tarlac Expressway (SCTEX) to the latter's road network a reality. There are ongoing road projects in Pampanga, and company engineers are already looking into how to go about incorporating them into the existing expressway system.
"'We are actively coordinating with DPWH in laying out the plans for the interconnection of NLEX-SCTEX, with some of these projects included in the Pampanga Circumferential Road,' NLEX Corporation president Luigi Bautista said. 'The team is carefully studying the safety and security aspects of the projects, and making sure that both local and NLEX motorists get to benefit from these.'
ADVERTISEMENT - CONTINUE READING BELOW ↓
"Plans include a road network to connect NLEX to MacArthur Highway in Santo Tomas, a new interchange to improve access to the expressway system for places like Santo Tomas, Minalin, Guagua, and Lubao, and a new interconnection in Mexico that's expected to decongest MacArthur Highway. As of now, the DPWH and NLEX Corporation are consolidating their engineering plans and right-of-way issues for a road that will connect Santa Ines to SCTEX."
"Remember the BGC-Ortigas Center Link Road Project? Part of it is the fancy new Santa Monica-Lawton Bridge, also known as the BGC-Ortigas Bridge, which Bonifacio Global City regulars have been looking forward to for the past couple of years. Last we saw, the two sides of the infrastructure project were finally about to meet—and this was back in August 2020. 
"Well, the 'superstructure,' as the Department of Public Works and Highways (DPWH) is calling it, is about to cross another milestone: The agency says that it is targeting a May 2021 partial opening for the new BGC-Ortigas bridge.
ADVERTISEMENT - CONTINUE READING BELOW ↓
"The DPWH says that the structure itself is already completed, but that some construction works still have to be accomplished. The agency is excited, though, for the partial opening of the four-lane, two-way bridge.
"The entire BGC-Ortigas Center Link Road Project's completion is set for September 2021. Once this is finished, travel times between Pasig City, Mandaluyong City, and Taguig are expected to be reduced. Traffic along EDSA and C5 will supposedly benefit from the project's completion as well."
"San Miguel Corporation (SMC) has just announced that the northbound portion of the Skyway Extension Project is now structurally complete. This will surely come as good news to motorists from down south who regularly use the South Luzon Expressway (SLEX) and the Skyway to get to the metro.
"'I'm happy to announce that soon, we can open the northbound section of the Skyway Extension for our motorists coming from the south,' said SMC president Ramon S. Ang. 'This almost 4km, three-lane expansion will have an additional capacity of 4,500 vehicles per hour, significantly easing congestion and allowing motorists to bypass the Alabang viaduct. Those coming from SLEX or MCX (Muntilupa-Cavite Expressway) can go up the ramp at Susana Heights and directly go to Makati, Manila, Skyway Stage 3, all the way to Quezon City and the North Luzon Expressway (NLEX).'
ADVERTISEMENT - CONTINUE READING BELOW ↓
"Asphalt-laying is scheduled to be done at the end of this month, so we'll probably get to see the northbound segment in its final form in a matter of weeks. By the looks of it, SMC will be coming through on its promise to open this portion in the second quarter of the year. The southbound portion of the Skyway Extension Project, meanwhile, is currently at 52.31% completion. This one is targeted to be finished by July 2021."
"The DPWH has announced that it is set to begin working on the Panguil Bay Bridge Project, which will connect Tangub City in Misamis Occidental to Tubod in Lanao del Norte. At 3.169km, the upcoming piece of infrastructure is about a kilometer longer than the current longest bridge in the Philippines, the San Juanico Bridge in Eastern Visayas.
"The DPWH's latest project update says contractors are now ready to go 'full blast' in equipment and material delivery. This, despite restrictions on movement due to the ongoing COVID-19 pandemic.
ADVERTISEMENT - CONTINUE READING BELOW ↓
"It adds that revolving cranes, tug boats, barges, excavators, dump trucks, and payloaders, among other necessary pieces of equipment, are now on-site at both Tangub City and Tubod, Lanao Del Norte. Earthwork, embankment activities, and jacket fabrication are already ongoing, and concrete pouring for one of the piers is expected to be finished by April.
"With a total budget of P7.375 billion that includes a P5.207-billion loan from Korea Eximbank, the Panguil Bay Bridge Project is considered by the DPWH to be one of Northern Mindanao's major infrastructure developments. Once complete, it will cut travel time between Tangub City and Tubod to just seven minutes."
"During a Zoom conference that included Top Gear Philippines, DPWH head Mark Villar shared that the DPWH is making it a point to be inclusive when it comes to the infrastructure projects the agency takes on.
ADVERTISEMENT - CONTINUE READING BELOW ↓
"'Me, personally, I'm a big advocate [of alternative mobility],' the official said. 'To cite some examples, you can look at the Laguna Lake Highway, which was finished a few years ago early in this administration. That's the first major in Metro Manila that has an independent bike lane.
"'I mean it's really part of our program—pedestrian infrastructure, building promenades. We realize that infrastructure is not just about cars, it's about people walking,' he added, stressing that several upcoming bridges crossing Pasig River will feature much wider sidewalks.
"Villar also said that, as far as he can recall, no administration has built as many highways with bicycle lanes as the current one. He did, however, acknowledge that the DPWH isn't always able to accommodate the alternative mobility sector—mainly due to right-of-way issues.
"'Where applicable, we really do try to incorporate bike lanes in all our major projects, especially going toward the future,' he said. 'There are certain projects where the right of way will not allow us, but as much as possible, when applicable, we always go out of our way to ensure there's a large pedestrian component.'"
ADVERTISEMENT - CONTINUE READING BELOW ↓
"Through the Luzon Spine Expressway Network (LSEN) Program, the DPWH eyes cutting travel time from Ilocos to Bicol to just nine hours. Some of the main roads of LSEN are, of course, the existing thoroughfares we know—SLEX, NLEX, Skyway Stages 1 to 3, SCTEX, and the Tarlac–Pangasinan–La Union Expressway (TPLEX).
"Recently, DPWH secretary Mark Villar shared with us a few updates on the other major roads under the LSEN that are set to be completed soon. One of the biggest roads is the SLEX extension also known as TR4. Construction started way back in March 2019, and now the DPWH says that Package B is at 2.58% accomplishment and Package C is at 30.61%. The agency also shared that the right-of-way acquisition for SLEX-TR4 is still also ongoing.
"SLEX-TR4 will then connect to SLEX-TR5, a 416.48-kilometer, four-lane toll road with eight segments in total. The road starts in Lucena City in Quezon and stretches all the way to Matnog in Sorsogon. Construction for this one is still yet to commence.
ADVERTISEMENT - CONTINUE READING BELOW ↓
"The southernmost road that will be part of this whole network is the Camarines Sur Expressway, a 15.21 kilometer, four-lane road that will connect the municipalities of San Fernando and Pili. It is currently 15% complete, and the DPWH estimates the project to finish beyond 2022.
"Other expressways—both completed and still under construction—that don't directly connect the metro to the southern provinces are also considered part of the LSEN, including the soon-to-rise Central Luzon Link Expressway (CLLEX), the NAIA Expressway, the Manila-Cavite Expressway, the Cavite-Laguna Expressway, the Muntinlupa-Cavite Expressway, and the Cavite-Tagaytay-Batangas Expressway."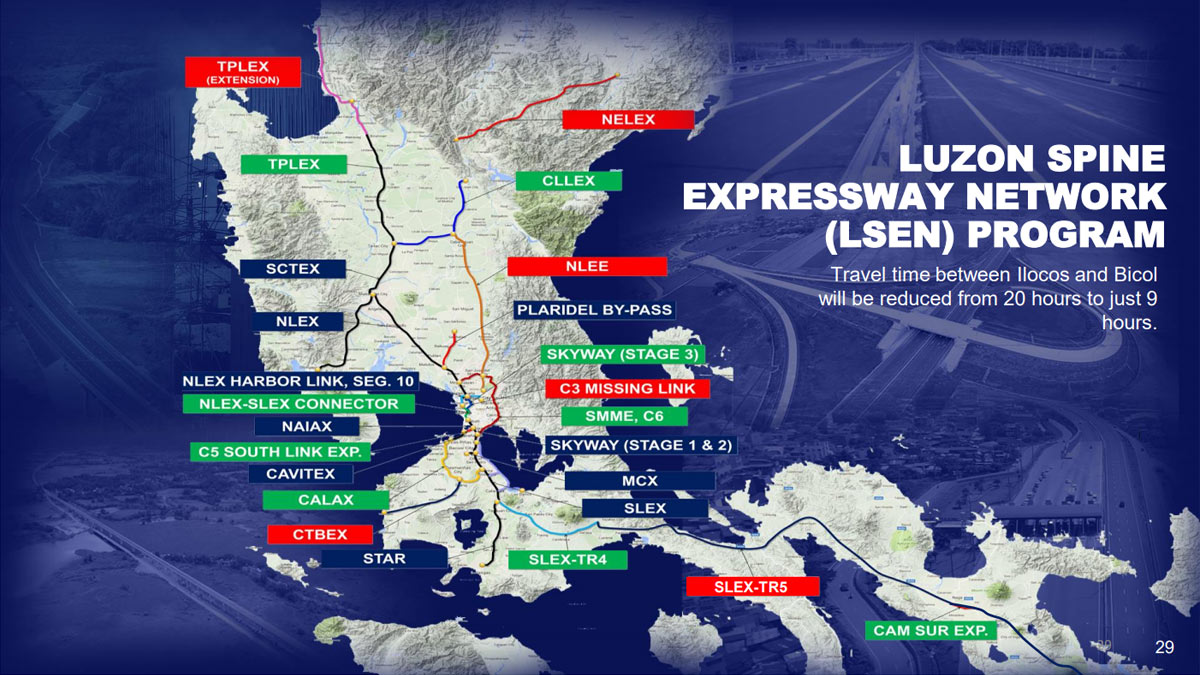 ADVERTISEMENT - CONTINUE READING BELOW ↓