Here's where we are so far in the implementation of the Child Safety in Motor Vehicles Act: By operation of the law, Republic Act No. 11229 already took effect on February 2, 2021, but the Department of Transportation (DOTr) has stressed that no apprehensions for non-compliance will be made for at least the next three to six months. A Senate resolution seeking to defer the full implementation of the law has also been filed. 
"Under RA 11229, the mandatory use of child restraint systems (CRS) applies to children who are 12 years and below with a height of 4'11" and below. The CRS used must be appropriate to a child's age, height, and weight, and must be mounted in a rear seat of the vehicle.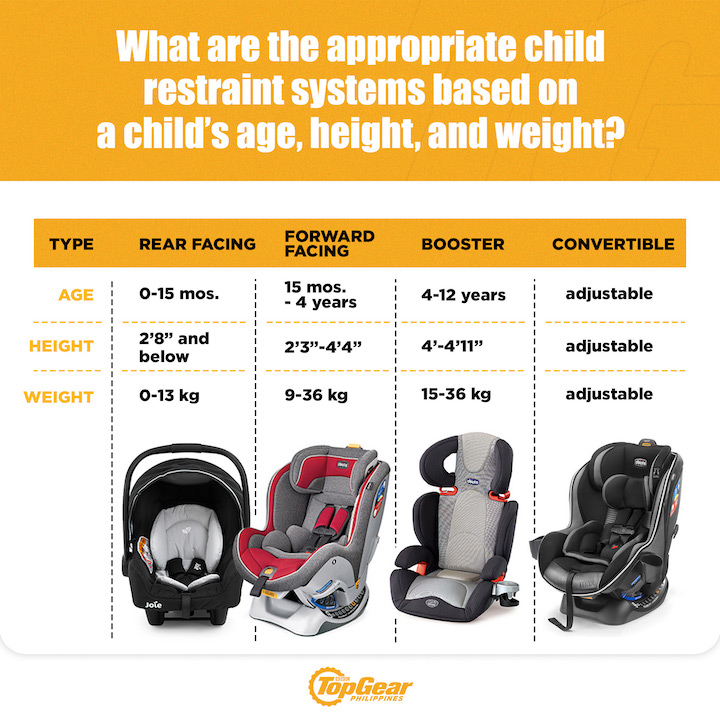 Continue reading below ↓
Recommended Videos
"In addition, the CRS must meet the standards set by the Department of Trade and Industry (DTI), as specified in DTI Department Administrative Order No. 20-03. It follows the CRS standards under United Nations Regulations 44 and 149, as well as evolving and other international standards. The DTI will also eventually publish a list of brands that meet the requirements of RA 11229, and which have already been granted a Philippine Standards mark or an Import Clearance Certificate."
"One common question parents have about RA 11229 is this: 'Are child car seats also needed in public transport?' The quick answer is, not yet. The DOTr is mandated by the law to study the use and the feasibility of using CRS in PUVs.
"There is, however, a new suggestion on the use of CRS in public transport, this time from former senator JV Ejercito—the principal author of the Child Safety in Motor Vehicles Act himself.
"In an interview with DZMM TeleRadyo's program Sakto, Ejercito said that for parents who intend to ride transport network vehicle service (TNVS) cars or taxis, it will be better for them to bring their own child car seat: 'Siguro pag meron kayong sanggol, mas magandang meron na rin ho kayong car seat. Siyempre hindi naman natin siguro mai-e-expect na ang mga taxis ay meron silang car seat.'"
The DOTr has decided to open up applications for an additional 200 private motor vehicle inspection centers (PMVICs) to be able to accommodate the millions of registered vehicles in the country.
"Mark Steven Pastor, DOTr assistant secretary for road transport and infrastructure, announced the move during a recent virtual presser on February 2. 'Nagpalabas na po ang kagawaran ng LTO (Land Transportation Office) at DOTr ng memorandum circular kung saan tayo ay magdaragdag ng 200 additional site ng motor vehicle inspection centers,' he said.
"Of the initial 138 inspection facilities approved by the two agencies under DOTr Memorandum Circular 2019-9, 115 were awarded to private entities. Of the 115, only 24 are now operational, although 13 of them have yet to be given the authority to operate by the DOTr after they failed the LTO's evaluation. 'Ito po ay patunay lang na patuloy ang pagbubukas at pagdaragag ng MVIC facilities para po mailunsad itong programa,' Pastor stressed.
"Meanwhile, LTO chief Edgar Galvante assured motorists that private emission testing centers (PETCs) will be allowed to operate in areas where PMVICs have yet to be activated. However, the emission testing procedure must be accompanied by a visual roadworthiness check at an LTO branch."
"The Vehicle Inspection Center Owners Association of the Philippines (VICOAP) has asked the LTO to tighten the 'change venue' policy for vehicle registrations following the alleged proliferation of the 'no show' scheme at some private emission testing centers (PETCs). VICOAP is made up of PMVIC owners.
"The group claims it has been receiving reports that unscrupulous fixers at PETCs are luring vehicle owners to avail of their services—which don't require the appearance of the owner and the vehicle itself—instead of going personally to a PMVIC facility for actual vehicle testing prior to LTO registration. Under this scheme, a vehicle owner changes the venue for the LTO registration of his unit to one near a PETC where the fixer operates.
"'We urgently seek your good office to swiftly act to halt this practice that makes a mockery of the vehicle registration regulatory framework our country, which your agency is mandated to uphold,' wrote VICOAP chairman Inigo Larrazabal in a letter to LTO chief Edgar Galvante dated January 28, 2021.
"To curb this illegal practice, VICOAP came up with these suggestions for the LTO:
Require the submission of a photo showing the vehicle being registered by an inspection officer at the LTO branch. This will ensure that the person appearing in the photo did indeed avail of the 'change venue' transaction himself.
Increase the fee for the 'change venue' option to address the big gap between the testing fee being charged by PMVICs and PETCs. The current fee for a 'change venue' transaction for light vehicles is pegged at P100.
"'It is humbly submitted that this will serve as a deterrent for those circumventing the PMVIC requirement,' Larrazabal stressed.
"During an online press conference, VICOAP president Inigo Larrazabal addressed concerns brought up regarding PMVIC retesting fees. According to the group, which is made up of the country's PMVIC operators, the vehicle testing guidelines approved by the DOTr and the LTO permit them to collect these fees, and that some PMVICs offer free re-inspection.
"'Every time po na nag-test kami ng sasakyan, may actual cost po na nangyayari. Siyempre nagpapasuweldo tayo, may kuryente na ginagamit. Ang pinakamataas na cost namin, kuryente. So pag bumagsak po kayo, kailangan niyo umulit po ng test, assuming na pinagawa mo ang sasakyan mo.'
"Larazabal explained, however, that PMVICs will not test a car and charge its owner if personnel already observe that a vehicle will not pass upon pre-inspection: 'Pagdating pa lang ng sasakyan, we give them a pre-inspection. Kung ano yung pwede sa visual lang po. Tsine-check din natin yan. Madami po yan: May ilaw ka, may signal lights ka, umaandar ba ang brake lights mo, yung mga pintuan mo, nabubuksan at nasasara ba? Those are part of our checks. Pag pumasok at nagbayad ka at sa tingin namin babagsak kayo, hindi po namin pinapatuloy. 
"'We give you the option to please have your vehicle repaired first before coming back. And true enough, a lot are appreciative of that. Ang dami na nahuhuli na konti lang naman ang sira,' Larazabal said, referring to this practice as 'free advice.'"
During the same briefing, the VICOAP head also explained why PMVICs cannot lower their testing fees: "For our program to be sustainable, hindi na po pwedeng babaan kasi we have to assure the quality of our service." Check out the story here.
"Senator Ralph Recto has filed a resolution urging the DOTr) and the LTO to suspend PMVIC operations in light of mounting opposition from motorists.
"Recto's Senate Resolution No. 638, which was filed on February 4, cites five reasons PMVICs should cease operations:
Unfair treatment to vehicle owners. The policy of subjecting private vehicles to annual roadworthiness tests and franchised vehicles to semi-annual checks five years after the initial registration is seen as unfair by the motoring public.
Lack of public consultation. The DOTr and the LTO implemented Memorandum Circular 2020-2240, dated December 29, without exhaustive public consultation or an information campaign for motorists. Recto considers this ill-timed because citizens are still reeling from the effects of the COVID-19 pandemic.
Exorbitant testing fees. The legislator also questioned the basis of the testing fees amounting to P1,800 for light vehicles, P600 for motorcycles, and P300 for public utility vehicles.
Questions on the policy's legality. While expressing fears that the roadworthiness testing procedure is prone to corruption, some sectors have raised doubts on the legality of Memorandum Circular 2020-2240, saying it did not pass through Congress or even the Office of the President.
Opposition from LGUs. The number of local goverment units opposing PMVIC operations in their respective areas has been increasing in the past few days. The LGUs cited mounting complaints about poor Internet connections at local LTO offices, erroneous readings of testing results, alleged instances of mechanical damage to vehicles due to improper handling by technicians, and faulty equipment.
"'The stakeholders are calling on the DOTr and the LTO to first address these concerns and issues regarding the operations of the PMVICs in order to ensure the smooth implementation of the program,' Recto cited in his resolution.
Prior to this, Senator Grace Poe had called for a probe into the various issues raised against PMVICs. VICOAP said that it would welcome a Senate probe. During its press conference last week, the group also acknowledged that a PMVIC had indeed damaged a Subaru Forester's all-wheel drivetrain due to improper handling, but said that the facility already "got in touch with the vehicle's owner to quickly settle the matter and pay for all of the Subaru's repairs."
"The DOTr and Department of Health (DOH) are ending the confusion once and for all: No, a mask is not necessary as long as you, the driver, are alone inside your vehicle. You will not be apprehended and you will not be fined.
"Basically, there are two things you need to keep in mind regarding the use of face masks inside cars:
When traveling alone, the driver may remove his or her face mask.
When the driver is with passengers, it is mandatory for all individuals inside the vehicle to properly wear a face mask, regardless if they are from the same household.
"If you're caught on the road disregarding the latter, you will be fined P2,000 for the first offense, P3,000 for the second, and P5,000 plus a one-year suspension of your driver's license for the third. Public-utility vehicles, meanwhile, will be fined P5,000 for the first offense, P10,000 for the second, and P15,000 plus a one-year license suspension for the third."
"The Toll Regulatory Board (TRB) recently announced that the proposed toll fees for Skyway Stage 3 are still pending approval, which means passage through the new elevated expressway will remain toll-free until further notice.
"TRB spokesperson Julius Corpus recently told Balitaan sa Maynila that the agency is still thoroughly evaluating the proposed rates for the tollway. He also reiterated that until the TRB has officially approved the rates, San Miguel Corporation, the operator of Skyway Stage 3, will still not be allowed to collect any fees: 'Hangga't di pa po nag-i-issue ng formal approval ang ating pamunuan dito ay hindi ho rin sila pwedeng maningil pa.'
"The Skyway Stage 3 officially opened on January 15, 2021, and was initially expected to be toll-free for the first month of the year. Recent documents released by the TRB suggest that a one-way, end-to-end trip through the tollway might cost P274."
"The management of Metro Pacific Tollways Corporation (MPTC) and SMC Tollways, along with the TRB, are in the process of drafting a new policy aimed at instilling discipline among RFID users who pass through toll booths with insufficient load.
"The policy would operate on a three-strike basis:
First offense: The motorist is reminded to top up their RFID account before they enter the ETC booth.
Second offense: The motorist is given a stern warning.
Third offense: The motorist will be issued a traffic violation ticket for obstructing traffic flow.
"When asked how tollway authorities will monitor the number of violations, TRB spokesperson Julius Corpuz said they will be able to check them through the RFID account record.
"Although this proposal has been agreed upon by the TRB and the two tollway companies, the implementation details have yet to be disseminated through a memorandum circular. With that, Corpuz says this policy might take place anytime this month, but before its implementation, he assures that there will be an information drive to prevent confusion and chaos at toll plazas—similar to what took place during the first few days of the cashless transaction transition last December."
"Senate Bill No. 1518—also known as the 'Safe Pathways Act'—was filed during the first few months of the pandemic to create a safe network for pedestrians, cyclists, and users of non-motorized vehicles. Well, we have good news for our fellow road users: The Senate has officially approved the bill with 23 affirmative votes and no negative votes and abstentions.
"Once enacted, the law will require the Department of Transportation (DOTr) and the Department of Public Works and Highways (DPWH) to work with local government units to create bicycle lanes that will connect 'essential destinations' like schools, medical facilities, groceries, banks, and workplaces. Public places such as government offices and other commercial establishments will also be required to provide proper parking spaces for bicycles and electric kick scooters."
"House Bill No. 8337—also known as the 'Mandatory Tree Planting for Every Motor Vehicle Sales Act'—seeks to require all dealers or retailers to plant 10 trees for every sales transaction. This should also be accomplished within six months from the date of the transaction indicated in the official receipt.
"The bill was filed by Congressman Luis Raymund Villafuerte Jr. The solon said that the bill seeks to contribute to the reforestation efforts of the government, which will in turn help mitigate the effects of typhoons especially in flood-prone areas of the country.
"Under the bill, the term 'motor vehicle' refers to four-wheeled road vehicles that include not just sedans and LCVs, but also heavy equipment like bulldozers, payloaders, graders, forklifts, cranes, and many others. Even smaller equipment such as street sweepers, lawnmowers, and sprinklers are also considered motor vehicles. 
"Trains and agricultural equipment such as tractors will also be covered by the bill, and trailers built as attachments for trucks will also be classified as separate motor vehicles with no power ratings. Meanwhile, a dealer or retailer is identified as an entity that sells motor vehicles, so this bill is not limited to just car manufacturers.
"Violators will be will be charged a fine not exceeding P10,000 for every tree not planted. Repeated non-compliance for two or three years within a five-year period will result in an additional fine not exceeding P20,000 or P30,000, respectively, for the outstanding number of trees not planted within the said period.
"If you wish to read the entire bill, you can check it out here."
"SM Supermalls has partnered with the Philippine Red Cross to launch drive-through COVID-19 saliva-based testing at SM Megamall in Mandaluyong City and SM Mall of Asia in Pasay City. The facilities will be situated at Mega A Bus Bay of SM Megamall and 5 Ecom Open Parking lot within the Mall of Asia grounds.
"In a statement, the mall operator said the drive-through setup is a safer option as it doesn't require motorists to leave their vehicles for personnel to collect saliva samples for RT-PCR testing. The two drive-through testing centers will be open from 9am to 5pm, and a test costs P2,000. Appointments must be scheduled online, and you can do so at book.redcross.org.ph.
"The LTO is reminding car owners that the registration of vehicles with plate numbers ending with 1 will be considered valid and can be renewed until Monday, February 15. Look:
"No reason was given for the extension on the LTO's official website, and no issuance has been published as of this moment. Last year, though, the agency gave the same consideration for vehicles with plate numbers ending in other numbers to help LTO offices prevent congestion and promote social distancing during the COVID-19 pandemic.
"In a Facebook post, the Department of Public Works and Highways (DPWH) urged motorists to report damaged portions of national roads.
"'Through the DPWH Secretary's Hotline 16502, which is operational 24/7, and social-media platforms, we can promptly attend to complaints on road damage and other DPWH-related concerns,' DPWH head Mark Villar said in a statement.
"'Although our regional and district engineering offices' personnel nationwide are continuously inspecting our roads, we appreciate the public's collaboration in monitoring and keeping the quality and safety of our thoroughfares as we recognize the importance of placing the public at the center of our policies and programs.'"