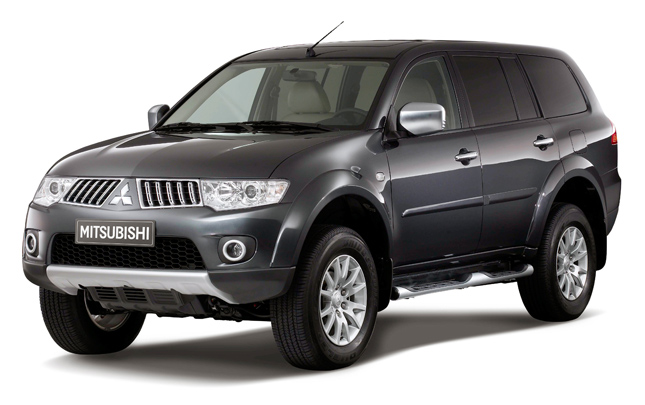 If you're a regular on Facebook, or if you listen to the latest news on TV, you should know that the issue on the Mitsubishi Montero Sport's alleged problem with "sudden unintended acceleration" is once again trending. I can't verify this to be true, but someone told me that this latest round of talks surfaced right after November 9, when Mitsubishi Motors Philippines announced its P60,000 pre-order discount for the soon-to-arrive new-generation Montero Sport.
But let's ignore that and believe for a moment that the resurrected accusations about the Montero Sport's purported defect are actually organic--that nothing underhanded is going on behind the scenes. In other words, let's talk about the topic on its own merits.
If you have been a reader of our website for years, you should be familiar with my personal stand about this, which is that I do not believe in this so-called sudden unintended acceleration. You can read my previous articles on the subject here and here. In a nutshell, my reasons for not believing in this mystifying mechanical gremlin are these:
* It has never been proven or replicated, not even by world-class technical experts;
* The history of these unintended-acceleration claims--dating back to the '80s with the Audi 5000--is littered with discoveries of fraud and deception. More recently, even journalists from reputable American TV news networks have been found to fabricate stuff about the issue. Read this;
* For an unintended-acceleration accident to be true, it requires the failure of both the engine and the brakes. It's just too fantastic that not only did the engine rev wildly on its own, the brakes just stopped functioning altogether as well. Come on;
* The brakes should easily overpower the engine, assuming the latter does launch the vehicle on its own; and
* In all this time we've been test-driving the Montero Sport--with a collective mileage of thousands of kilometers involving multiple variants--we have never experienced anything remotely close to the glitch described by the complainants.
And so when "reports" of sudden unintended acceleration involving the Montero Sport once again cropped up a couple of weeks ago, I decided to keep silent. What's the point of writing another piece when my belief hasn't changed? I'd only sound like an apologist for Mitsubishi.
But then people are now tagging us in social-media posts and sending us private messages. They basically ask: "Top Gear, why are you so quiet with the latest news about the Montero Sport's defect?"
ADVERTISEMENT - CONTINUE READING BELOW
And so last night, I struggled with these two thoughts: Stay silent and be accused of doing a news blackout in favor of Mitsubishi, or write another piece and be accused of being a paid hack? I honestly don't know which one is worse.
As I was mulling this, I got hit by this curiosity: What do the other countries have to say about the issue? The Montero Sport is manufactured in Thailand, in case you didn't know. Surely, there must be countless cases in that country, right? So I googled "unintended acceleration Montero Sport Thailand" and "unintended acceleration Pajero Sport Thailand." (The Montero Sport is called Pajero Sport in that market.) Guess what: I didn't find a single story, case, rumor, blog, whatever.
Benefit of the doubt: Maybe not everything that happens in this world is on the Internet. So I called my contact person over at Mitsubishi Motors Philippines.
Are there other cases of sudden unintended acceleration elsewhere in the world, where the Montero Sport is also sold? "None," said my contact. "We even inquired with our head office in Japan to find out if other markets had reported similar cases. But there was nothing."
Just to give you a proper perspective, the Montero Sport is available in the following markets (other than the Philippines): China, Georgia, Kazakhstan, Nepal, Bangladesh, Sri Lanka, India, Bhutan, Pakistan, Syria, Kuwait, Lebanon, Bahrain, Saudi Arabia, Qatar, UAE, Oman, Jordan, Thailand, Cambodia, Vietnam, Brunei, Malaysia, Indonesia, Laos, Myanmar, Kenya, Mozambique, Zambia, Malawi, Mauritius, Ethiopia, Tanzania, South Africa, Tunisia, Algeria, Sudan, Rwanda, Gambia, Uganda, Senegal, Angola, Canary Islands, Togo, Benin, Cameroon, Burkina Faso, Morocco, Republic of Congo, Mauritania, Panama, Nicaragua, Honduras, Guatemala, Mexico Commonwealth of Dominica, El Salvador, Costa Rica, Virgin Islands, Alba, Curacao, Saint Lucia, Haiti, Grenada, Jamaica, Saint Martin, Dominican Republic, Barbados, Belize, Suriname, Brazil, Peru, Chile, Paraguay, Uruguay, Argentina, Colombia, Ecuador, Bolivia, Australia, New Zealand, Papua New Guinea, Guam, New Caledonia, Fiji, Tahiti, Vanuatu, Poland, Ukraine and Russia.
From the Montero Sport's launch in 2008 until July 2015, the Philippines sold a total of 79,000 units. All the other countries, meanwhile, moved a combined total of 235,000 units.
So let me get this straight: Out of a grand total of 314,000 sold units--all made in Thailand, except for recent units manufactured in Russia--the Philippines had the incredible misfortune of getting ALL the defective units. And to make this misfortune even worse, said defect can neither be diagnosed nor fixed.
ADVERTISEMENT - CONTINUE READING BELOW
Equally amazing is the fact that even in our market, only the Montero Sport is affected by this problem. How come the Strada isn't, when the two are mechanically identical? And how come only automatic-transmission units suffer from the "defect"? If the engines of AT Montero Sport units have this tendency to accelerate on their own, why not the very same engines shoehorned into manual-transmission units?
It's interesting to note that AT units are far more popular in our market, outselling MT units 60,000 to 19,000. Think about that.
The reality is that either elderly or inexperienced drivers not used to driving automatic often commit pedal misapplication--stepping on the gas pedal when they really meant to hit the brakes. They usually panic when they hear and feel the engine revving, and then unwittingly depress the throttle even more.
You'll argue: If all of this isn't true, then why did Mitsubishi equip the all-new Montero Sport with a pair of safety technologies called Ultrasonic Misacceleration Mitigation System and Forward Collision Mitigation System? Like I said in a previous article, it's to protect the Japanese carmaker from allegations of sudden unintended acceleration, and to protect incompetent drivers from themselves.
Let me end this by sharing this photo with you: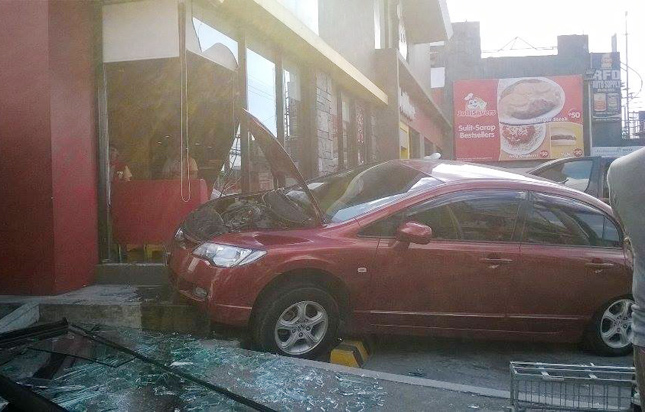 This was sent to us by a guy named Czeon Santos. These are his exact words: "Automatic daw po yung kotse. Nalito po yata yung driver."
Oh, that's not a Montero Sport, by the way.