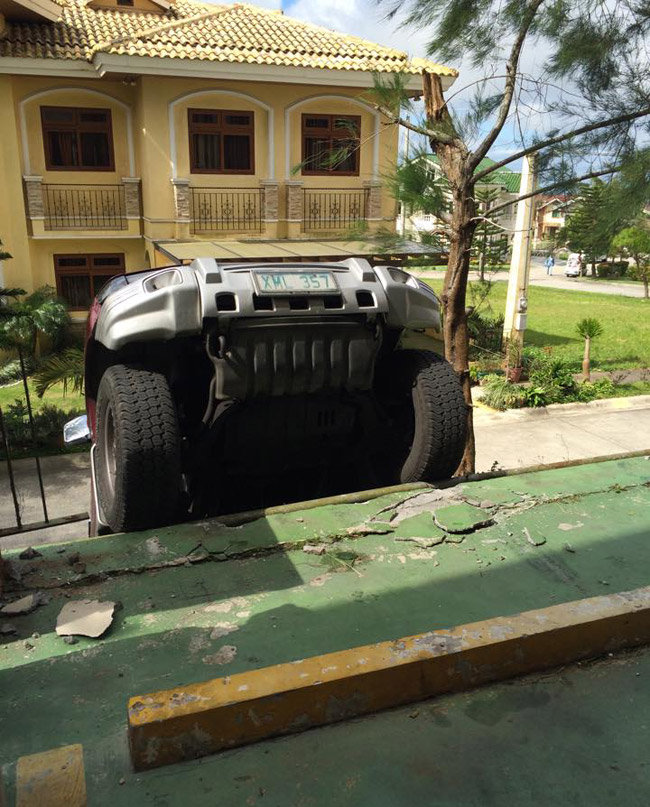 In August last year, a Mitsubishi Galant plunged from a parking facility in Greenhills when its 73-year-old driver suffered a heart attack at the wheel. While that was an unfortunate incident that had more to do with the driver's health condition, the safety features of said parking facility were put under the spotlight. In particular, observers asked why the facility had a flimsy wall that also served as a barrier.
Well, a similar accident happened again today. Reader Leonora Machica Calelero sent these photos, which, according to her, took place after noon today at a hotel's parking facility in Tagaytay. Calelero had just checked out of the hotel when the incident occurred. "Apparently, the vehicle was in reverse, and the driver inadvertently stepped on the gas," she said, although it looks like she wasn't able to confirm this piece of information.
Even granting that this was due to driver error, the photos obviously also show a couple of flaws on the part of the parking facility. First is the unusually low tire stopper, which doesn't seem capable of preventing a tall vehicle from going over it. Second is the lack of a concrete wall that can stop a vehicle from plunging down. According to Calelero, there was a fence-type barrier, but it certainly wasn't strong enough to be a, well, barrier.
The SUV driver, who was alone inside the vehicle at the time of the accident, was safe and hastily left the scene, Calelero said.
This latest accident should encourage owners of parking facilities in the country to ensure that they install effective safety measures to prevent these incidents from ever happening. As for us motorists, knowing that many parking buildings in the Philippines do not meet proper safety standards, it should be incumbent upon us to take extra care when using these parking facilities. Three important tips:
1. Never trust the tire stopper, and always look carefully around the vehicle;
2. Always make sure that you are in the right gearshift position before stepping on the gas pedal; and
3. Maintain a low speed when driving around a parking facility, preferrably no faster than 10kph.
Photos from Leonora Machica Calelero