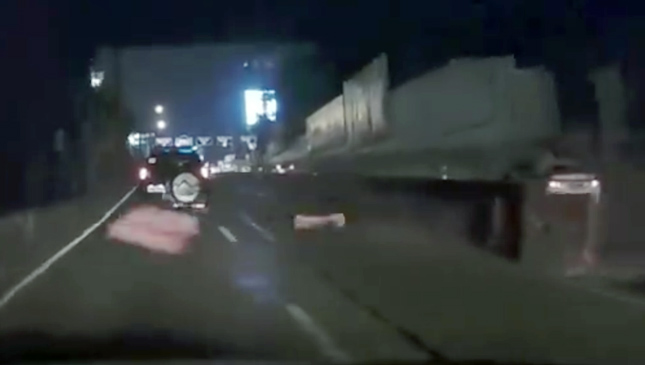 Yesterday, we posted a video on our Facebook page, showing a taxicab hitting the orange barrier on southbound EDSA just past the Guadalupe Bridge. It happened late Thursday evening, January 21, and was recorded by the dash camera of Cesar Arcasitas, who told us that loose pieces of the barrier hit the front part of his car.
The taxicab proceeded on its merry way like nothing happened.
Now, people speculated as to why the cab hit the barrier. Some blamed the lack of reflectors for adequately warning passing motorists. Others criticized the taxi driver for being reckless. But what really happened?
Fortunately, the passenger of the cab wrote us a letter to shed light on the incident.
"I saw your post showing a cab hitting the barrier at EDSA-Guadalupe," the taxi passenger said. "I don't know how I can post anonymously on your page. I don't want my mother to know that I was the passenger of the MGE taxi because she's hypertensive. She might panic. I just feel compelled to tell the story so that other drivers would learn something from the incident."
She went on to narrate what happened during the impact.
"The driver of the cab was looking at his phone to check Waze at the time of the impact," the passenger shared. "He accelerated and then checked his phone. He didn't notice the barrier--he admitted as much. Good thing no one was hurt, but from my perspective, I thought it was our end. Maybe the MMDA was partly at fault for the lack of reflectors, but there was a sign, and the taxi driver would have noticed it if he had given it his undivided attention. As a driver, your full attention should always be on the road. Life is precious."
There you go. Hands on the wheel, eyes on the road. The most basic of driving lessons.
Screenshot from video by Cesar Arcasitas