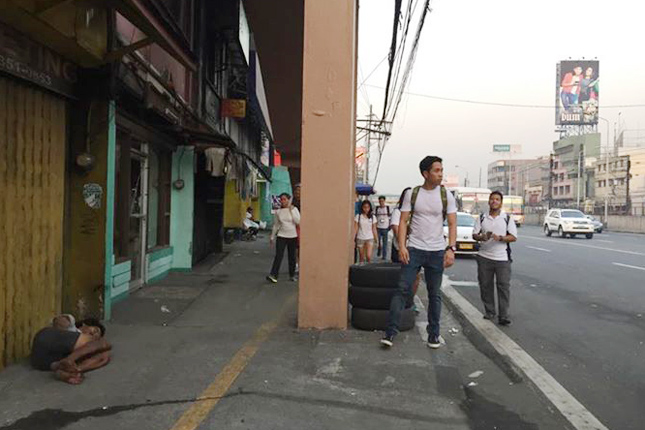 Today, Sunday, a group of pedestrian-safety advocates led by a mountaineer named Gideon Lasco walked the 20km stretch of EDSA from Pasay City to Quezon City, as part of their campaign to make Metro Manila a safe place for walkers.
"I am with fellow advocates in walking from SM Mall of Asia to SM North EDSA as a way of learning about walking conditions and starting a conversation about how we can make Metro Manila a walkable place," Lasco said on his Pinoy Mountaineer Facebook page.
In moderate traffic, Google Maps estimates that the aforementioned distance can be covered by car in 48 minutes. By foot, it's a different story altogether.
"Very glad to complete #WalkEDSA after 21.3km and 5 hours 30 minutes," reported Lasco after the hike. "Saw a lot of problems, but we are very inspired to work toward an advocacy of upholding pedestrian welfare."
Lasco's group identified the following challenges that urban pedestrians face in Metro Manila:
* noise;
* pollution;
* narrow sidewalks; and
* lack of pedestrian lanes. 
Well, the group failed to include reckless drivers and undisciplined pedestrians themselves on the list of pedestrian risks in our beloved NCR.
Anyway, we commend these folks for promoting pedestrian safety. We support their advocacy. If you're interested to join them in this commendable campaign, check out this Facebook page.
Photos from Pinoy Mountaineer