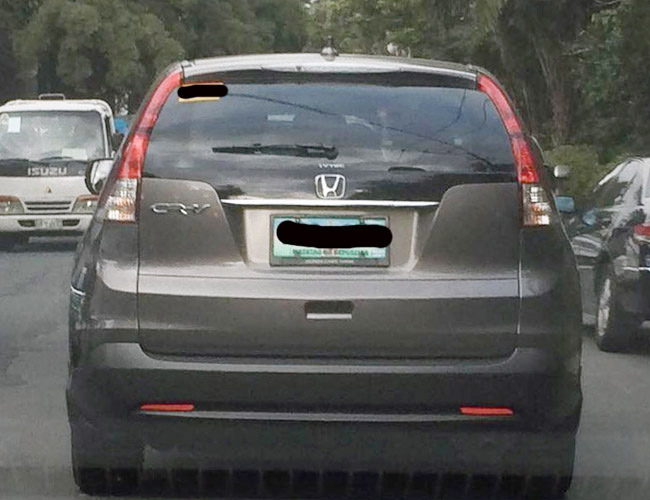 Today, the above photo went viral after freelance photographer Rick Barretto of Pasig City posted it on his Facebook page. His caption was:
This jerk threatened me and my pregnant wife with a gun inside Dasmariñas Village, saying, "Ano gusto nyo magkabarilan tayo dto?" This was after seeing my pregnant wife and grade 3 son. Please pass. Mayabang sya [dahil] may baril. Gusto sumikat. Tulungan natin sya sumikat. This happened just now.
A number of people immediately tagged us in hopes we would share the story either on this website or on our Facebook page. The problem was that we found the story incomplete and obviously one-sided. Our biggest question was: "What provoked the other guy to make such a threat? What led him to do it?" Barretto's terse caption certainly didn't provide any background scenario.
So instead of immediately sharing the post, we sent him a private message. He got back to us after almost an hour.
Now, a full disclosure is in order: Turns out Rick (or RR), 33 years old, worked as the event photographer during our recent 10th anniversary party at Black Sheep in Bonifacio Global City. He says he is usually hired by Summit Media's events department for official functions, but we (the Top Gear Philippines editorial staff) don't know him. We can say with absolute certainty that we are not even remotely familiar with this fellow, so you can rest assured this article has nothing to do with personal ties whatsoever.
So, again, our question: What exactly happened before the gun threat?
According to Rick, at around 3:40pm today, he and his eight-month-pregnant wife went to Colegio San Agustin in Dasmariñas Village, Makati City, to fetch their son from the grade-school department.
After getting their son, "I was about to exit the gate when this Honda CR-V stopped in front of me without using any signals to fetch his kids," Barretto recalls. "We were in the middle of a moving lane. You see, there are normally four lanes inside CSA--three lanes for dropping and going, and then one moving lane for exit. The normal procedure is for you to park your car first and then fetch your child. But this person stopped in the middle of a moving lane and caused traffic."
Like most of us would have done in this situation, Rick sounded his horn to let the guy know that the latter shouldn't be blocking the traffic in that moving lane.
ADVERTISEMENT - CONTINUE READING BELOW
"I did two quick presses of my horn," Rick tells us. "Just a gentle reminder that there were cars waiting behind him. I thought the sound was polite--it wasn't the long honk we usually do on EDSA when we're impatient. For some reason, it agitated him. From that point on, he kept raising his hand, motioning for us to wait. And we did patiently wait; I didn't press my horn a second time."
Then, according to Barretto, the man moved his CR-V and stopped "near the school exit."
What happened next escalated quickly.
"As our car passed his vehicle, he rolled down his window and started cursing at us," Rick shares. "His window was beside my wife's, our car's passenger-side window. As a reaction, my wife flashed him a dirty finger as he continued to cuss at us. And then we drove on."
As you can imagine, that gesture on the part of Rick's wife all the more provoked the CR-V owner, who was then with two high-school boys, presumably his children, according to Rick.
"When we had exited the school, we noticed that he was chasing us and pressing his horn nonstop," Barretto narrates. "He was trying his best to cut us but couldn't do so because of the heavy volume of cars around us. And I wouldn't really let him. When we reached one of the main gates of the village, I slowed down and let him cut me, thinking it was safe to do so since there were security guards stationed there."
At this point, Rick says, the visibly angry CR-V owner got down and resumed cursing them. "So my wife and I also got out and asked him what his problem was."
The guy's response, asserts Rick, shocked them and the security guards: "Gusto nyo yata magkabarilan pa tayo dito." ("You probably want to engage me in a gunfight.")
"This was after seeing my eight-month-pregnant wife and my eight-year-old son," Rick points out. "He really thought he hadn't done anything wrong even after I had explained to him why I'd had to use my horn to call his attention. Talking to him was a waste of time; he obviously wasn't listening."
And then the man allegedly concluded the discussion with a challenge: "Ano? Tapusin na natin 'to sa labas ng village." ("So what now? Let's finish this outside the village.")
"He wasn't able to get his gun since roving guards had arrived at the scene, forcing him to go back inside his car," Rick adds. "I then quickly took a photo of his car."
ADVERTISEMENT - CONTINUE READING BELOW
To be fair to the other guy, it is also possible that he was just bluffing and that he didn't really have a gun, since Rick himself admits that he never saw a gun. Still, making the kind of threat that the enraged CR-V owner made is punishable by law.
"As of this time, we have already traced the owner of the vehicle, and we are planning to file a blotter," Barretto reveals. "We are considering filing a case against him. We've checked with our lawyers, and have been told that we can file grave threats. I could have let it pass if it was just me, but this man was out of his mind blurting out those words again and again in front of my pregnant wife. That was insane."
Well, if you know the CR-V owner, or if you're the CR-V owner and are reading this, our website is open to your side of the story. Having said that, threatening a family with a gun is simply inexcusable. We hope this road-rage case gets resolved fairly and swiftly.
UPDATE: We had to delete the CR-V's plate number after some people began posting threats against the owner. The plate number, however, can still be seen in Rick Barretto's original Facebook post.
Photo from Rick Barretto