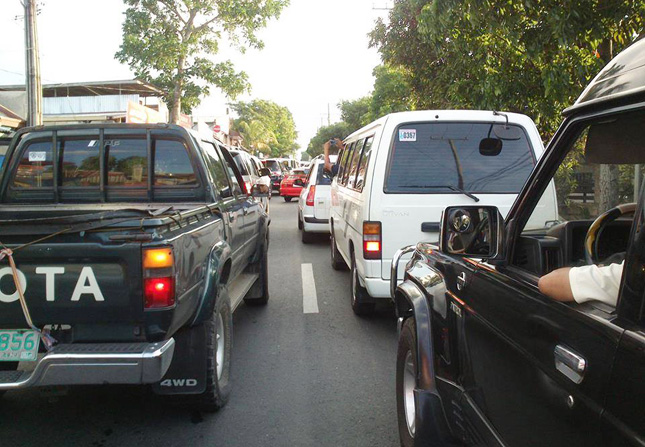 The most engaging motoring topic these days is traffic. Everyone has to deal with it (unless, of course, you work from home or you live next door to your office). Everyone is tortured by it. There's just no escaping it.
More than the wasted fuel, what's truly deplorable in all of this is the time wasted sitting in the car or on a public-transport vehicle. Think of all the man-hours that go down the drain. The thought is extremely depressing.
A friend tells me how worse the situation has become. She lives in the UST area in Manila and goes to work on Ayala Avenue in Makati. "Before, I would reach Makati from the house in less than an hour," she says. "Now, it's two hours going to work and two hours going home."
Damn. That's four hours of travel time on a daily basis. Four hours. That's 20 hours wasted in a five-day workweek. Imagine that.
What's really difficult for my friend is that she's a new mom, so she needs to spend as much time as possible with her kid. Traffic won't let her.
And traffic won't let you, I suppose. Traffic won't let anyone.
Because I live very close to my office building and walk about 200 paces each way, I can't relate to the agony. I read the news and I'm almost apathetic.
So out of curiosity, I want to know: How much time do you waste traveling every single day? I've prepared a poll below, and I'd appreciate if you could take the time to give your input. Please combine the average time you spend going to work and coming home. The key word there is "average," meaning the usual length of travel time it takes you to go about your business every day. Do not answer an aberration you encountered during a hellish Friday night payday when you got caught in a sea of cars making a beeline for a mall's weekend sale event. I just want to know your usual travel time.
I want to have a clearer picture of how bad traffic really is these days, and how it impacts everyone of us in terms of squandered time we can never get back.
Kindly check the poll.
Photo from Chris Cumpio
How much time do you waste on the road every day just sitting in traffic?