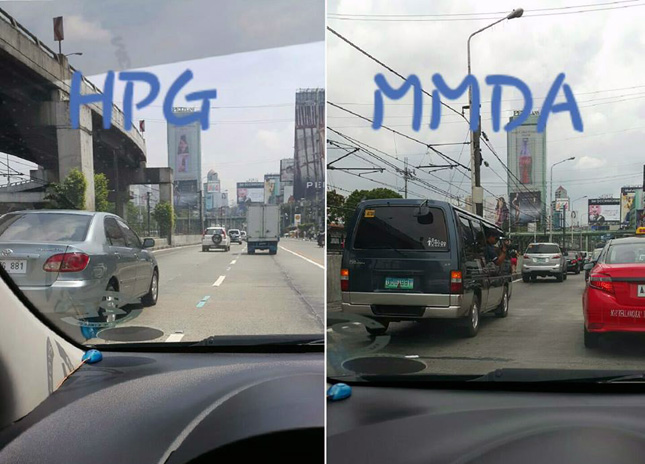 It has been over a week since the Highway Patrol Group officially took over traffic-management duties on EDSA. And save for that motoring nightmare that was September 8--which, by the way, wasn't the HPG's fault--the highway cops are generally seen by motorists as doing a better job of managing vehicular traffic on Epifanio de los Santos Avenue than the widely scorned Metropolitan Manila Development Authority.
So far, at least.
In fact, people have been sending us before-and-after photos of EDSA, just to prove that traffic can still be eased if we only deploy traffic managers who know what they're doing. From where we sit, we can think of three very obvious reasons as to why the men of HPG have been more effective (again, so far) at traffic management than MMDA constables.
1. Motorists fear (or at least respect) the HPG. Drivers know HPG officials will chase them if they run. Whereas MMDA officers were routinely snubbed by arrogant car owners, HPG men are seen as individuals who mean business. There also seems to be this perception that HPG officers know traffic rules a lot better than MMDA constables do. Thus, one can no longer weasel his way out of a traffic violation ticket. Yes, not even if you happen to be a sexy FHM model.
2. HPG officers actually manage the flow of traffic. One of the main criticisms against the MMDA was that they were more focused on issuing a ticket to violators than ensuring that the flow of traffic was smooth. And that was because they had a quota to meet. So instead of really serving motorists, they were merely looking out for violators to apprehend--sometimes even strategically positioning themselves at inconspicuous spots to lure motorists into breaking traffic rules. HPG, on the other hand, is tasked to get the traffic going, not to issue as many tickets as possible.
3. There is that thing called novelty. For some reason, we Filipinos are fond of new things. Anything new, we'll try. Precisely why we line up at newly opened restaurants even if we're already famished. So now, the new thing is the HPG. Obeying them seems fashionable. Falling in line is hip. But until when? How sustainable is this? And can the fine gentlemen of the highway police unit maintain their consistency? Can they keep their integrity intact in a sea of venal drivers? That we'll have to see.
For now, we're all stuck in this little experiment. So in the meantime, we ask you to take our poll below. Tell us which group is better at directing traffic. Your experience may be different from everyone else's.
ADVERTISEMENT - CONTINUE READING BELOW
Photos from Julian Viñas
Who's better at managing traffic on EDSA?
✓
Metropolitan Manila Development Authority