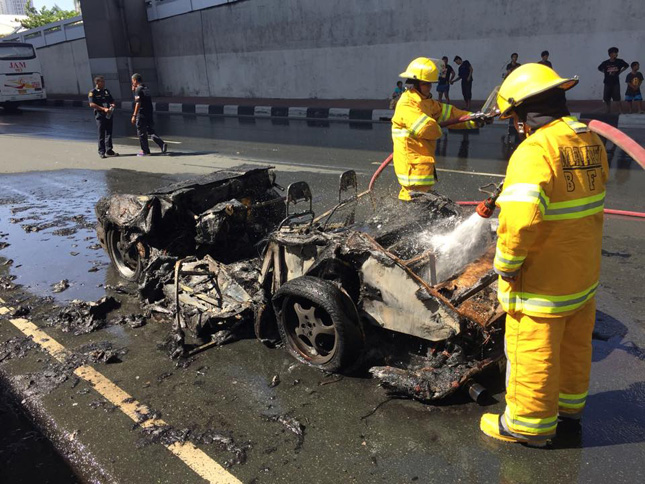 A car that looks like a Porsche 964 burned down on Osmeña Highway in Makati this afternoon. These photos were sent to us by Billy Cancio Clavio, an employee of Barangay Bangkal and one of the first responders at the scene. They were able to interview the driver (the man in the red shirt in the bottom photo), who said he was just a driver of a car shop, and that the car suffered from electrical wiring issues.
A thread on the Facebook page of our legal columnist Robby Consunji under a photo of the incident contains some interesting conversation. Keen observers noted that this car was probably a replica of the real thing, as the original 964 had a steel body and wouldn't have melted in this manner. They offered that this car may have had an aluminum or fiberglass composite body. One person pointed out that a real 964 wheel would have five lug nuts (the car that caught fire only had four). Another added that this car had a Honda engine, although this bit isn't verified.
Anyway, take care out there. And always make sure your car doesn't have faulty electrical wiring--which is often the result of sloppy aftermarket installations.
Photos from Billy Cancio Clavio and Kelvin Cantero