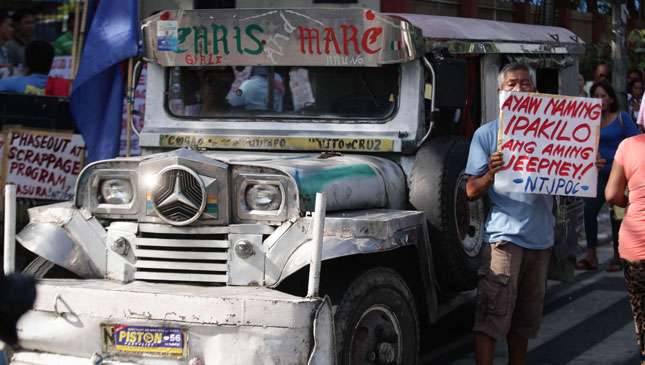 So you might've heard that the government has launched its PUV modernization program. What was interesting though is that on our way to cover the launch at Camp Aguinaldo, we spotted a group of jeepney drivers protesting the program just outside the base.
According to news reports, the group started early morning on Elliptical Road, before heading over to the Land Transportation Franchising and Regulatory Board's main office on East Avenue. By the time we saw them, their jeepneys were parked along one lane of EDSA northbound, just before the right turn into Bonny Serano Avenue. Enforcers and police officers were forced to redirect traffic around them.
It's ironic, isn't it? To make their stand against the supposed phaseout, the jeepney drivers did one of the things that irks motorists the most. Of course, we understand that the drivers don't want to lose their honest living and are doing all they can to save it. No matter your livelihood though, it's always expected that you do things the right way.
ADVERTISEMENT - CONTINUE READING BELOW ↓
The common jeepney-ism of stopping in the middle of the road and blocking traffic has never, ever been acceptable. Yet there they were, fighting for their cause while obstructing the road for other motorists, and preventing others from possibly doing or going to their own jobs.
We live in a democratic country, and you're welcome to stand up for what you think is right. But if you're going to do that, make sure you're not impeding other people who could very well be plying their own livelihood. You might want to read the fine print of the modernization program, too.