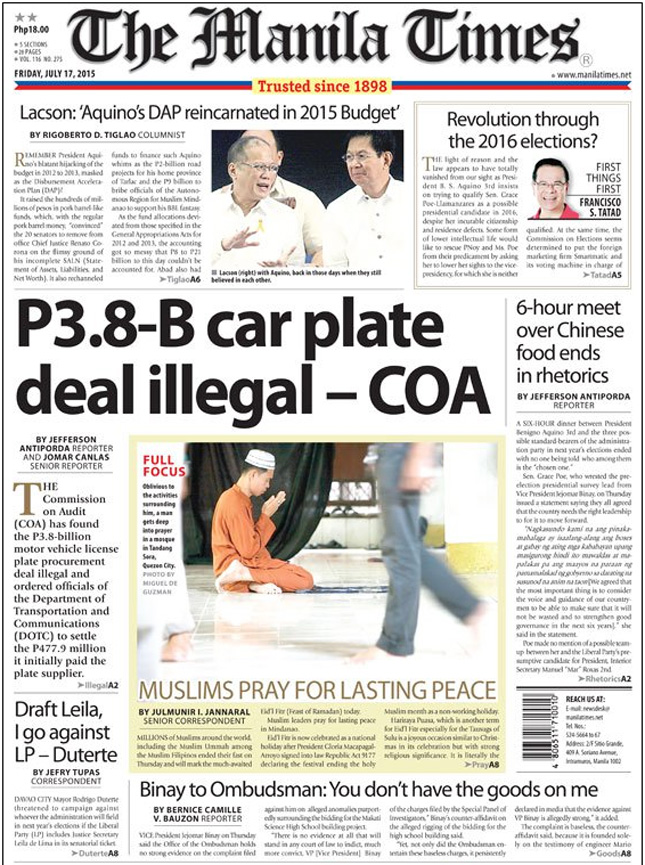 Practically every Filipino motorist doesn't trust the Land Transportation Office--that much is a given. You can conduct a survey if you want. Otherwise, you may believe LTO chief Alfonso Tan Jr. when he says his agency's foul reputation is merely the handiwork of those who spread "disinformation" about LTO, including TopGear.com.ph and its editor-in-chief.
Well, the LTO boss may now add newspapers to his imaginary list of detractors whom he suspects of staging a smear campaign against him and his office. That's because our national broadsheets--including The Manila Times as shown above--have just reported the Commission on Audit ruling that the LTO's P3.8-billion license-plate deal with Dutch-Filipino consortium JKG-PPI is illegal.
You will recall that Senator Ralph Recto grilled Tan in May about this deal. In that hearing, the senator said: "My understanding of the General Appropriations Act is that there was insufficient budget for 2013--only P187 million--and you bid out a P3.8-billion project."
Turns out the lawmaker's understanding is correct--at least according to COA.
From The Manila Times:
In a 10-page Notice of Disallowance dated June 13, 2015, COA said the multibillion-peso transaction was illegal because the contract, which was awarded to the joint venture of Knieriem BV Goes and Power Plates Development Concept Inc. (JKG-PPI), was not in accordance with the procedures prescribed under the Republic Act 9184 or the Government Procurement Reform Act.
From Philippine Star:
The COA named Transportation and Communications Secretary Joseph Emilio Aguinaldo Abaya and LTO chief Alfonso Tan Jr. as liable for the transaction...State auditors led by Ma. Luisa Villanueva, OIC-supervising auditor and concurrent audit team leader, said there was irregularity in the advance payment made by the LTO amounting to P477,901,329 for the supply and the delivery of license plates to JKG-PPI in 2014.
To be fair, there is also news that the Supreme Court has dismissed the petition to stop the LTO's plate-procurement project.
From Manila Bulletin:
The Supreme Court has dismissed the petition against the Motor Vehicle License Plate Standardization Program or LTO Plates project. The petition alleged that the P3.8-billion project was awarded in 2013 without the availability of sufficient funds from the General Appropriations Act, as only P187 million had been allotted for the project...The High Court's decision, however, reveals that Congress allotted P4.8 billion for the implementation of the project under the 2014 national budget. The project contract was entered into in February 2014, which is after the effectivity of the 2014 GAA.
ADVERTISEMENT - CONTINUE READING BELOW
So, which is which? Is the LTO's license-plate procurement project illegal or not? Which authority is more credible: the Commission on Audit or the Supreme Court? Feel free to share your opinion with other readers.