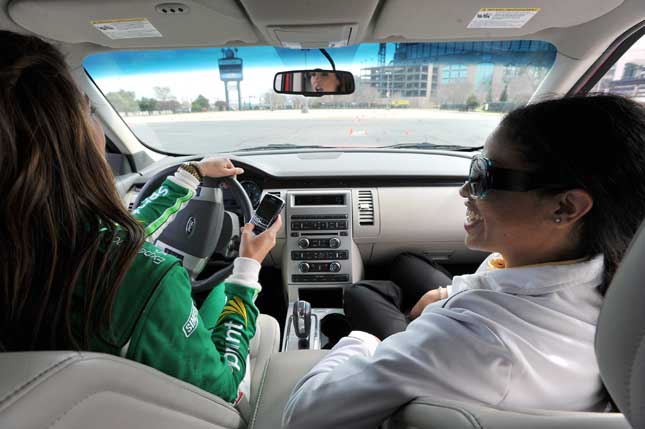 In one of its final sessions before the next administration takes over, the Senate passed an act that penalizes "distracted driving." According to a report by the Inquirer, the bill was approved on its third and final reading.
"While the State recognizes the vital roles of information and communications technology in nation-building, the State also takes cognizance of the inimical consequences of the unrestrained use of electronic mobile devices on road safety as to cause its regulation," Senator Sergio Osmeña III said in a statement.
Officially known as the "Anti-Distracted Driving Act," it defines distraction as the following:
1. Using a mobile communications device to write, send or read a text-based communication, or to make or receive calls; and
2. Using an electronic entertainment or computing device to play games, watch movies, surf the Internet, compose messages, read e-books, perform calculations and other similar acts.
The bill also doesn't exempt those stopped at a red light, so those using mobile phones while waiting at an intersection are in possible violation of this act. And speaking of exemptions, government vehicles are specifically listed as included in this new law--but everyone knows this except those driving them.
ADVERTISEMENT - CONTINUE READING BELOW ↓
It is legal to use a mobile phone when the hands-free function is used. This includes but is not limited to: speakerphones, earphones and microphones, and similar devices that let the driver use his phone without having to hold it.
Drivers of emergency vehicles like fire trucks, ambulances and other emergency vehicles are also exempted, but only in the course of their duties.
Once caught and apprehended, the following are the penalties:
* 1st offense - P5,000
* 2nd offense - P10,000
* 3rd offense - P15,000 and three-month suspension of driver's license.
Is it time to buy darker tint? Let's just follow the law, guys.
ADVERTISEMENT - CONTINUE READING BELOW ↓
Recommended Videos