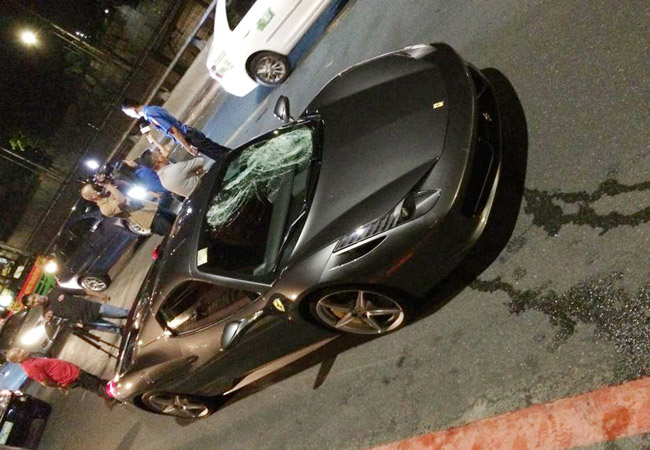 Filipino-Chinese businessman Enrico "Rikki" Dee--a restaurateur who owns the likes of Chin's Express, Crocodile, Mangan, Mesa and Kai, among others--hit a pedestrian with his Ferrari 458 Spider early yesterday morning on the southbound half of EDSA in Makati City. One of our readers, Rico Gonzales, chanced upon the incident and sent us this photo with the following message: "I took a photo of this accident on EDSA corner Pasay Road."
According to ABS-CBNNews.com, Dee's 458 Spider hit an island and struck a pedestrian who had been waiting for a bus. The pedestrian was identified as Dean Pangilinan. The aftermath photo shows Pangilinan made contact with the left portion of the car's windshield.
The report also says that Dee tried to flee, and that he later claimed he was with his driver when the incident happened. Witnesses, however, were quoted to have refuted his claim, verifying that he had been alone and that he had been the one driving the car.