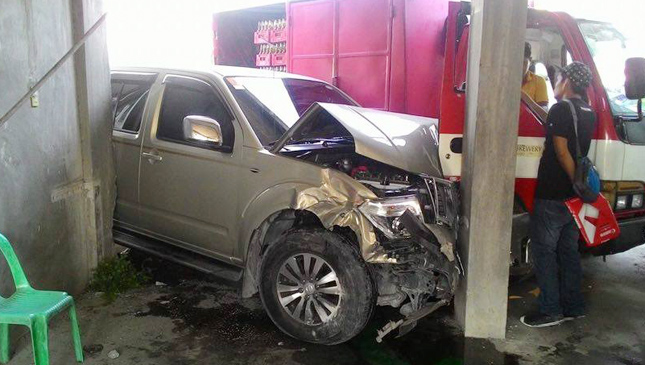 In the past week, we received no fewer than three reports (with photos) of the new-generation Ford Everest being involved in separate frontal crashes. One hit a post by the roadside, another breached the tire stop in a parking area, and still another crashed into a concrete wall. Just by looking at the photos, one would be tempted to blame "sudden unintended acceleration" by the very manner in which the three SUVs rammed their stationary (and thankfully nonhuman) victims. But those vehicles did not have a "Montero Sport" badge on them, so let's rule SUA out.
Seriously, we didn't make stories out of those reports anymore because doing so might only contribute to the disinformation being spread around regarding the so-called SUA. And then we got this report today.
These photos were sent to us by Yang Cleofas, whose family owns the garage that was crashed into by this Nissan Frontier Navara (AEA-2164) at around 10am this morning on Simplicio Street corner Tullahan Road in Santa Quiteria, Caloocan City. According to Cleofas, the automatic-transmission pickup was driven by an elderly man ("more than 70 years old"), and hit a jeep, a tricycle, a truck and the above-mentioned garage. Five people were reportedly injured.
Here is the interesting part: Cleofas told TopGear.com.ph that the driver claimed an SUA-like phenomenon had happened to his vehicle. "He said he wasn't able to control the vehicle after it accelerated wildly," our source said.
Cleofas added that they'd heard a loud engine revolution before the Navara crashed into their garage.
Meanwhile, Cleofas shared, the police who responded to the scene believed it was driver error--that the elderly driver had stepped on the accelerator instead of the brake pedal.
Cleofas also saw TV Patrol's report on the incident, and said that the old driver mentioned SUA--"yung parang sa SUV."
See, this is the danger in a motoring society that believes in sudden unintended acceleration. Every accident like this will now be blamed on the "wildly accelerating" vehicle--even if all indications point to driver error. And because SUA is out there planted in the minds of motorists, we as a motorized community cannot address the real problem, which is the incompetence of many drivers carrying cheap licenses issued by an equally incompetent land transportation agency.
Photos from Yang Cleofas