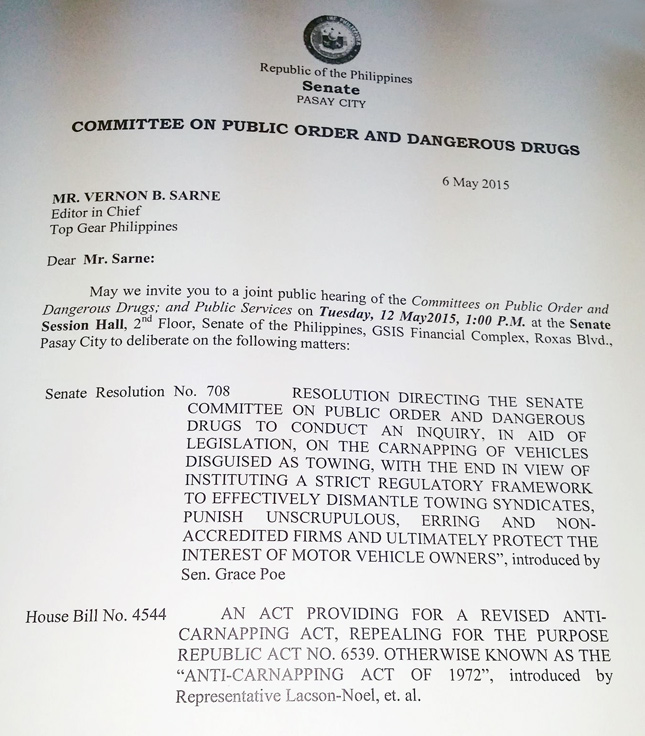 It's quite alarming that there has been a spate of illegal towing activities in Metro Manila (and probably even around the country). We have received complaints about supposedly accredited towing companies that do not practice professionalism or exhibit competence when towing illegally parked vehicles.
Worse, we have heard of stories about crime syndicates that pose as towing companies to steal cars. Really scary, if you think about it.
The other day, we got an invite from the office of Senator Grace Poe, asking us to attend a joint public hearing on these suspicious towing activities. We commend the good senator for aiming the spotlight on this issue, and we'd like to do our humble share to ensure this matter swiftly moves forward.
So now we ask you, dear readers, to share with us any firsthand experience you may have had with dubious towing activities. Send us your story and photos (if any) so we're better informed when we face Senator Poe on May 12, Tuesday, at the Philippine Senate. You can either post your story in the comment box below, or e-mail it to us at vernon.sarne@summitmedia.com.ph.
Let's all do our part in ridding our roads of criminal scumbags.
Bottom photos from Jon Fernando