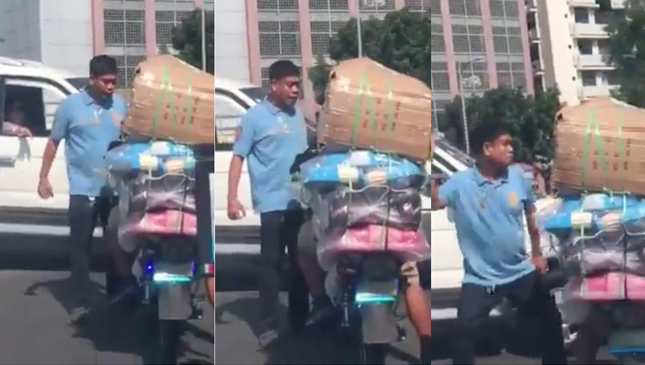 The series of photos you see above is from a viral video we posted yesterday on our Facebook page, showing a man wearing a police shirt (hence the logical assumption that he's a cop, unless the douchebag was merely pretending to be one) verbally and physically assaulting a motorcycle rider.
Video-taker Hayley Catacutan, who tagged us in her post, could only say that the incident had taken place at the Luneta Park, around 3pm. "We don't know what actually happened, but this is too much," she wrote. She also revealed that the plate number of the police officer's vehicle was UEQ-399.
In the video, a female companion of the cop can be seen just casually looking on as the man was aggressively abusing the motorcycle rider, as if she had seen this scene a dozen times before--like this was the man's way of life.
So what prompted the cop to behave in such a violent manner? What unspeakable deed could the rider have committed against him?
It looks like we have the answer now, as one Angeline Reyes Ng, who identified herself as the sister of the motorcycle rider, posted the following comment on our Facebook page (in italics and translated here for the sake of our English-speaking readers):
The rider is my brother. I had mixed emotions while watching the video--both pity and pride. What was done to him was too much, but he managed to stay calm. He had called me earlier to say that he had grazed a vehicle, and that the driver of the vehicle was a policeman. So I told him to talk to the man--to ask the policeman what agreement he preferred, whether to have his vehicle fixed or to issue a ticket to my brother. While we were talking, I heard somebody shouting, sounding very angry. My brother told me it was the cop. I even heard what my kuya said to the policeman (I regret not being able to record our conversation): "Sir, I sincerely apologize; I didn't mean to hit your side mirror. Please forgive me." That was the exact statement my brother gave him, but the policeman kept cursing my brother. So I told my brother to get the name of the cop. The cop replied: "Why would I give it to you?" And then the call was dropped. I didn't realize that this was the ensuing scenario. When I talked to my brother again after the incident, and he told me that the policeman had hit him, I wished that someone had taken footage of what happened--to teach the cop a lesson. In a matter of hours, this video surfaced. God really answers fast. Thank you to the person who uploaded this. It boosted my brother's morale. I even told him that I was proud of him for not retaliating. So now it's the people who will defend and avenge him. Thank you.
ADVERTISEMENT - CONTINUE READING BELOW
On her own Facebook page, Ng posted a quote from former United States Commission on Civil Rights chairperson Mary Frances Berry: "When you have police officers who abuse citizens, you erode public confidence in law enforcement. That makes the job of good police officers unsafe."
Good luck to that police officer (if indeed he is one). Karma isn't only digital--it's 360 degrees and interactive now. Enjoy your souvenir video for the rest of your life.
UPDATE: The PNP has apparently denied that the man in the video is a police officer. If that's the case, he is guilty of another offense, which is usurpation of authority.
Screenshots from video of Hayley Catacutan