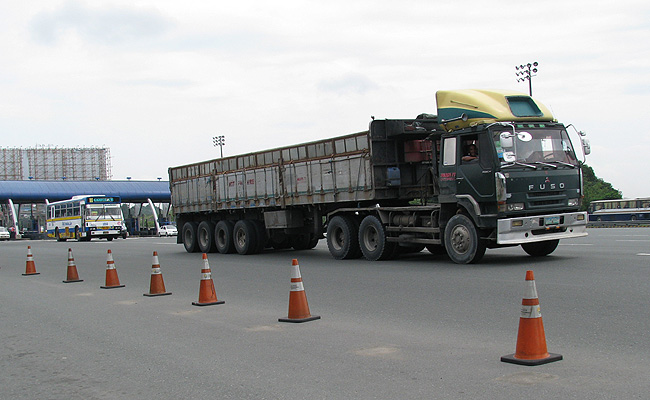 While the Land Transportation Franchising and Regulatory Board has reportedly agreed in principle to install speed limiters on public-utility buses last February, Rep. Eric Olivarez (1st District, Parañaque City) has filed House Bill 3924, which mandates that the device be installed not just on buses but on multi-wheeler cargo trucks as well "for the protection of the riding public."
According to Olivarez, with a limiter installed on every bus and cargo truck, their drivers will have to run the vehicles under a deliberately set speed, minimizing speed-related accidents.
"This bill represents the vigilance of our government with respect to preserving the right of its people to life and property," Olivarez added.
Under the bill, public-utility buses traversing any route in the country will be limited to a maximum speed of 80kph. Multi-wheeler cargo trucks, meanwhile, will be limited to 50kph regardless of the weight of the cargo they are carrying and whether or not they are empty.
Once the bill is passed into law, franchise applicants for the license to operate public-utility buses or multi-wheeler cargo trucks are required to install the speed limiters. Failure to do so will be sufficient grounds for their application to be denied.
Likewise, bus and truck operators who fail to install and maintain the speed limiters will be fined P200,000 and could have their franchise--and the certificate of registration of their vehicles--suspended or revoked. Also, any individual found to have deliberately tampered with the speed limiter "shall be imprisoned for a period of not less than one year but not more than five years, and shall pay a fine of not less than P10,000 up to P50,000 at the discretion of the court of appropriate jurisdiction."
If a bus or truck is involved in a vehicular accident and it has been determined that its speed limiter has been tampered with, or if it has none at all, its driver will face a five-year jail term "without prejudice to the filing of a separate criminal case of reckless imprudence or other quasi-offenses against him." In addition, the vehicle's operator will be fined not less than P200,000 on top of the fine to be imposed for failing to install the speed limiter.