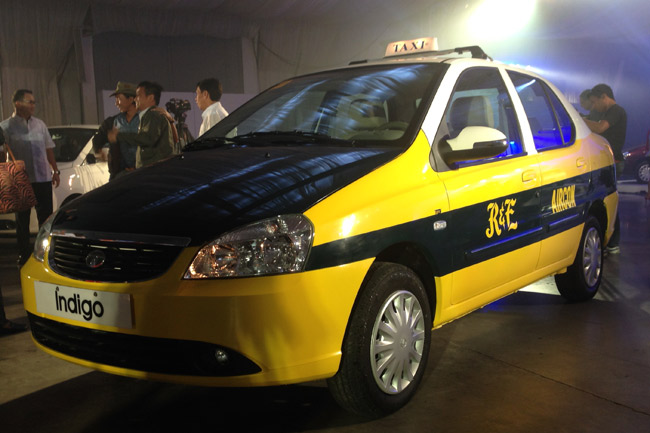 Official Tata distributor Pilipinas Taj Autogroup formally launched seven new diesel variants yesterday, but you already know that because we announced this almost two weeks ago. But it turned out the Indian carmaker still had a minor surprise for us during the event.
In the midst of the presentation, a hidden panel opened and a Tata Indigo rolled out. However, this sedan was decked out in the yellow and green colors of a public taxi--an R&E taxi, to be exact.
It makes sense to promote the Indigo as a fleet vehicle, either for taxicab companies or for companies with a big sales force. The Indian sedan is the right size, with adequate cabin space for passengers, and a rather compact footprint that makes it easy to navigate in city traffic.
The diesel engine is the best selling point for making a case for the Indigo as a taxicab. The engine lowers fuel costs significantly, and the torque makes hauling passengers and cargo effortless.
Some people look down on car models that do duty as taxis. That's just a silly argument. Taxis are among the most used and abused vehicles on the road. If a taxi company keeps repeatedly buying a particular model, it means that car has proven its reliability and durability over time.
Continue reading below ↓
Recommended Videos
So if the Tata Indigo finds success as a means of public transport, that means it is a robust machine. Right?
Photos by Dinzo Tabamo